A meal train is a time for family, friends, and the community to provide meals for those who are directly affected by a serious situation. It could be a death in the family, dealing with a serious ailment, a woman on bed rest, or even the loss of employment. Whatever the situation, the purpose of the meal train is to help a family in need, but in a very organized manner.
When someone suffers a severe loss or is incapacitated due to an illness, doing something as simple as cooking for their children can become an incredibly difficult task. When their friends and family step in to take this daily duty over, it helps more than you can ever understand.
When I was pregnant with my last child, I was placed on bed rest for the third time in my life. When I go on bed rest, it starts around 16 weeks or so. This means there are 5 months ahead of me where I cannot walk which means I can longer contribute to my household in any way, shape, or form. It always ends up being a lot for my husband to take in, and with my third pregnancy, we didn't know how we were going to handle it all … with two little babies at home. When my friends all got together and started a meal train for me, we cried. It saved our sanity.
I know anyone who has been on that side of the coin can say the same thing. This is also why whenever I hear of one starting up in my neighborhood, even if I don't really know the person, I sign up. A few meals from me can make all the world of a difference to someone else.
Why should friends and family participate?
Many friends and families are not aware of the needs of struggling parents at first because usually when something BIG happens, the concern falls on the event. But a car crash or a cancer diagnosis always has a trickle effect.
By participating, communities affirm that they understand the power of taking care of each other. Receiving healthy meals will relieve some of the pressure families carry which will give them one less thing to worry about during their difficult times.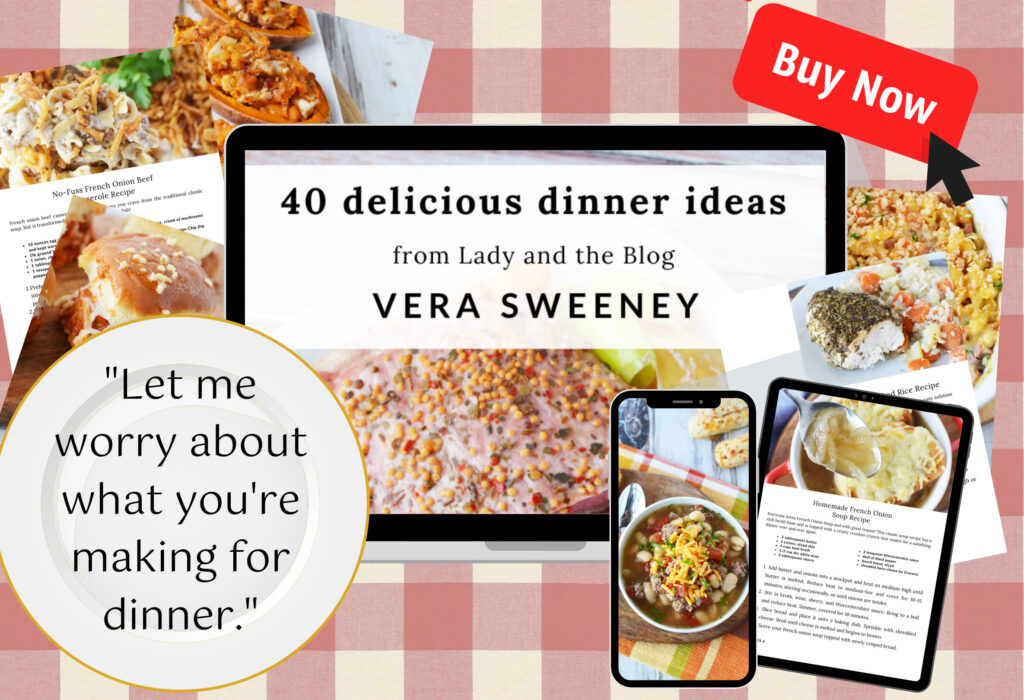 Looking for some easy and delicious dinner ideas? You've come to the right place! "40 Delicious Dinner Ideas" is packed with recipes that are simple to cook and only require ingredients you likely have in your refrigerator right now. So why wait? Get cooking!
How does it work?
Friends and family will organize a train by submitting the names of those who are offering to cook meals plus the dates when the meals will be needed. The coordinator then distributes this information to everyone who has pledged time, typically via an e-mail list, Facebook group, Google Drive, or spreadsheet. There are even calendars (MealTrain.com) online you can use to make the process completely seamless.
When your day arrives, you simply cook your meal and deliver it to the door of the family. You must bake enough servings for the number of people in the house. It should also come served hot if you are sending it over around dinner time.
If you are delivering earlier in the day, you can discuss terms about whether or not you can make freeze-ahead options.
Most families do not want to talk when receiving their dinners. So, understand this is not a time to ring the doorbell and have a chat. Odds are there will be a designated place to leave your meal in its disposable container. Do not feel insulted. This is a very hard time for this particular family. Respect their privacy and don't take it personally.
As a guideline – anyone can participate. Friends, family members, neighbors, co-workers, church members, even people who don't personally know the family! The more people who gather to support the bereaved parents, the better.
When should a meal train be organized?
As soon as possible! Usually, a very close friend starts off with the idea that people should get together and assist a family in need. But it isn't unusual for a church to step in or even for the family themselves to put out a call for help.
Food Suggestions
Although every meal train is different, they usually include meals that are easy to prepare and heat up. Oftentimes, people choose casseroles because they are relatively inexpensive to prepare and feed a lot of people at once.
However, please keep in mind any dietary restrictions or food allergies the family members might have when outlining dishes for the week. You also might try considering making each dinner a healthy meal option, especially if children are involved.
When providing on your designated night, offer disposable plates and use a separate container you wouldn't mind parting with. The last thing a family in distress will need to worry about is keeping track of who gave them each piece of Tupperware.
Just remember to keep each meal family-friendly and you will be good to go! If you have other meal ideas for food items that might be helpful, let us know! We will add them to the list below:
Casseroles
Tuna or pasta salads
Italian sausage and peppers
Roasted sweet potato pasta salad
Shredded chicken and green bean casserole
Ground beef tacos with tortilla chips and guacamole on the side
Chicken noodle soup
Chicken cordon bleu
Chicken sausage and rice
Beer-braised beef tips with flour tortillas and potato salad
One pot dinner ideas
Chicken casserole
Soup in a bread bowl or thermos
Baked Potato Bar (frozen bag of potatoes, sharp cheddar shredded cheese, butter, sour cream, green onion)
Cowboy Chili
Hearty Beef Stew
Chicken Pot Pie
Sandwiches/wrap with chips
Brownies or cookies
Easy-to-peel hard-boiled eggs
Fresh fruit
Frozen fruit pops
Tuna and Wild Rice Casserole
Spinach and Three Cheese Pasta Bake
Pie Iron Pizza
Chicken salad on crackers or in a pita pocket with fruit
Soup or chili in a bread bowl with crackers and fruit (add cut up hot dogs for kids' lunches)
Lasagna
Spaghetti and meatballs
Lasagna in a bread bowl
Remember, you could also do light shopping for the family and include packages filled with granola bars, juice boxes, chips, napkins, milk, bananas, and yogurt. Just think about what you use on a regular basis. How can you fill their need?
Stay organized
Make sure you get started on organizing your meal train as soon as possible. Think about how long you want your help to extend and then use some sort of online system to track requests. A google spreadsheet where people can claim dates and times will work wonderfully and take the burden off the organizer.
Also keep in mind, if you have 100 people sign up, odds are that there might be some who won't be able to find a slot. Especially if close friends want to cook more often and snag several days a week. So, be prepared to set some ground rules if you see a few people claiming multiple days. It's a good problem to have, but it's one to look out for. Trust me! I've been part of MANY spreadsheets and this always happens.
What if someone doesn't want to receive food?
Not every family is comfortable with the idea of receiving food, regardless of their circumstances. However, most families are very grateful for the help and appreciate all offers made by others in the community. If you are making a meal for this family, it's important to offer them alternative ways they can use your service! Here are some ideas:
Deliver meals to other grieving families who live nearby
Meal-in-a-bag – contains all the ingredients needed to prepare one casserole – these can be given directly to grieving families or put into drop boxes at local grocery stores or churches
Offer to sit with children
Offer to pay for a cleaning service
Offer to take their laundry every few days and do a "train" for that instead. I've done this – but this is only for close friends and the list has to be tight.
Offer to pick up children from school
How long should you contribute food to a family?
Meal trains and their volunteers can be particularly useful during the first few weeks of their life struggle, but it is certainly not necessary to stop once that time passes! Some families may continue to have issues with reduced income and/or increased expenses due to travel and other factors – still requiring help even months down the road.
However, please feel free to consider gift cards to a favorite restaurant of theirs or even a blanket Uber Eats credit. This will give them the power to order what they'd like when they'd like.
And remember, most casserole dishes serve a family for more than one night, meaning they will most likely become freezer meals somewhere down the line. This means that you don't have to secure someone baking for the distressed family 7 days a week. Sometimes, 4 nights is sufficient, especially most people are offering up an oversized complete meal every single time.
Which Meal Train Calendar Should I Choose?
There are a number of organizations out there that offer a "meal train" or another equivalent service for families who have experienced a loss, but we suggest signing up with the original and largest website: MealTrain.com. This not only allows you to see all registered meal train volunteers in your area, but it also makes it easy to add yourself as a meal train volunteer for any family that requests your help!