If you are looking to bond with your teenagers, here are some fun things you can add to your family calendar. A teen is not quite an adult but definitely not a kid anymore. So, what you choose has to feel age-appropriate in order to spark (and keep) their interest.
17 Fun Things To Do With Teens
Play Paintball
Paintball is such a crazy activity and one that is rather unusual. Set some ground rules ahead of time and get the whole family involved. Other options include axe throwing, laser tag, and go-karting. Come up with team names and pick a grand prize for the winner to claim at the end of the day.
A Day At The Amusement Park
Teens love amusement parks! That is a universal truth. These are great places to reconnect in between rides and ice cream. Look out for special discount days and promotions.
Comedy Show Or Improv Comedy
Is there anything better than laughing together with someone you love? Check out your local paper for family-friendly comedy shows that you can reserve for your teens to enjoy. Another great place to look for deals on events is Groupon.
A Trip To The Museum
Museums are great places to learn about history and art, which is a good way to get in some quality conversations with your teenagers. You can even have them bring a few friends along if you'd like. Check out the latest exhibitions or maybe try something new that you have never heard of before.
A Day At The Beach
If you live near a beach, a day at the waterfront with your teenagers is something you cannot miss during warmer weather. Bond as a family by playing volleyball, relaxing on the sand, or collecting seashells.
Movie Marathon
My favorite! There is nothing like a good movie marathon at home with your teenagers because it makes them feel cozy and loved. You can suggest watching their favorite movies or trying something brand new and available to rent.
Volunteer Together
You can volunteer together for a cause you care about, which helps you spend quality time together. It helps teach them the value of giving back to their community while allowing them to spend some time with their friends too.
Outdoor Concerts In The Park
Some communities have regular outdoor concerts in the park, which are always free. Pack a bag filled with snacks and grab the largest blanket you own. Then, listen to some music under the stars and enjoy each other's company.
Go Fishing
Far from being a boring activity, going fishing with your teens is a great way to get in some one-on-one time after school or on the weekends. Make sure you pack enough sandwiches and snacks for the trip.
Board Games And Card Games
Sometimes all you need is your teenagers and a couple of board games or card games to teach them about life, love, and everything in between. We have a house full of different options to choose from – including hard-to-play complicated options. Believe it or not, but your teen is ready for those whoppers!
A Scavenger Hunt
Surprise your child with a list that you've made on your own, or have them get crafty and decide what the task is for the day. The prize? A movie night of their choice!
If you don't know where to start, here are some great options I have already created on the blog: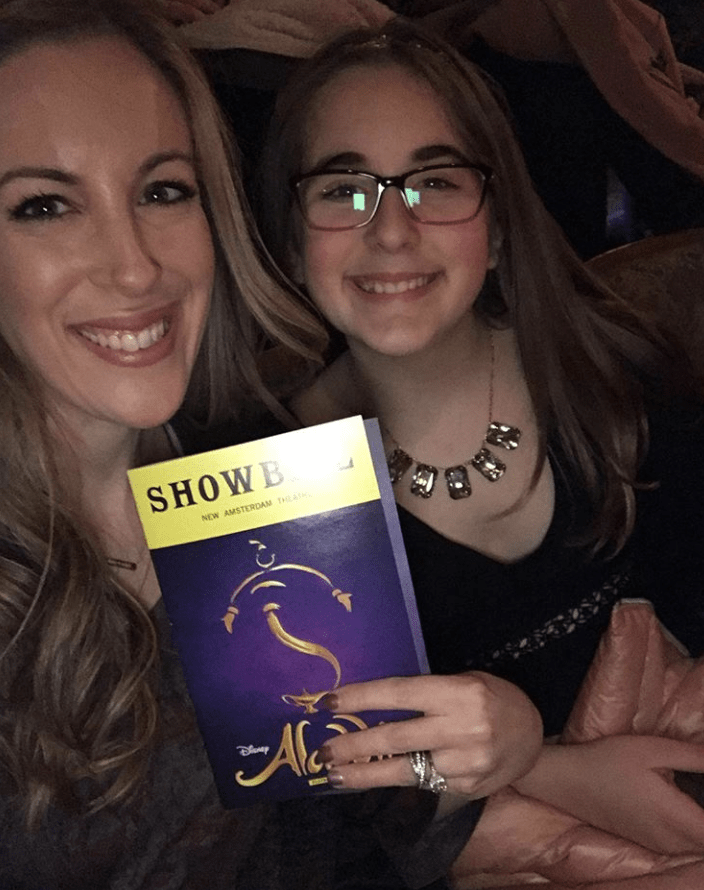 Head To The Theater
Because of the way of the world, you will be able to find discounted Broadway theater tickets without any issues these days. Plan a full day in advance or just check the morning of to see what is 50% off and still has availability.
We are theater NUTS. My teen has seen dozens of shows (some of them twice) and it is one of our favorite activities to do together.
A Day At The Spa
Not everyone loves being touched – especially at their age. So, have a conversation with your teen before booking any facials or massages. While it might seem like a good idea to you, there's a chance this trip might fall out of their comfort zone.
My teen, for example, hates pedicures. She doesn't like it when someone touches her feet and I know that I can never plan a mani-pedi girl with her, even though every magazine tells me I should.
Take A Hike Together
Fresh air always does a body good. So, if the weather is permitting, grab your sneakers and hit the trails. Take snacks with you and make it more fun by turning this outing into an impromptu picnic.
Make S'mores
It is ideal to make s'mores outside and over an open fire. That's the visual, right? But sometimes you want them in the middle of winter and need to use your oven. Here's a quick recipe for making s'mores with your broiler.
Take A Road Trip
If you have a full day ahead of you and feel the urge to get out of town, grab your teen and hit the road! There are plenty of two-hour road trips you can take that will still have you home in time for dinner.
This is the perfect opportunity for you to bond with them, listen to music, talk about their experiences in school or hear any problems they are having.
Attend A Local Festival
You can find all kinds of festivals where you live, so depending on the time of year, look online for the ones that are worth your time. Make sure to find something that is family-friendly, like art shows or theatrical performances in public parks.
How To Get Started Bonding With Your Teen
Now that we've discussed several options for you, propose some of these experiences to your child and gauge their interest. Create a family bucket list and then decide how many activities you'd like to complete over the next few months.
Will you aim for two a month? Or be a bit more daring and go for one a week? That's up to you. Make sure your child contributes ideas of his / her own to make the process feel inclusive.
Fun Things To Do With Teens
Hopefully, these ideas have sparked a great plan for you to do this weekend with your teen. It's a tough stage that we are all going through. Our children are trying to find their independence and we are just looking for more family time.