Here is a list of 100 easy things to draw with chalk that you can share with your children the next time they head outside to work on active play. Drawing on the driveway is such a great way to spark a bit of creativity and have some independent time that we try to include this activity into our weekly schedule as often as we can.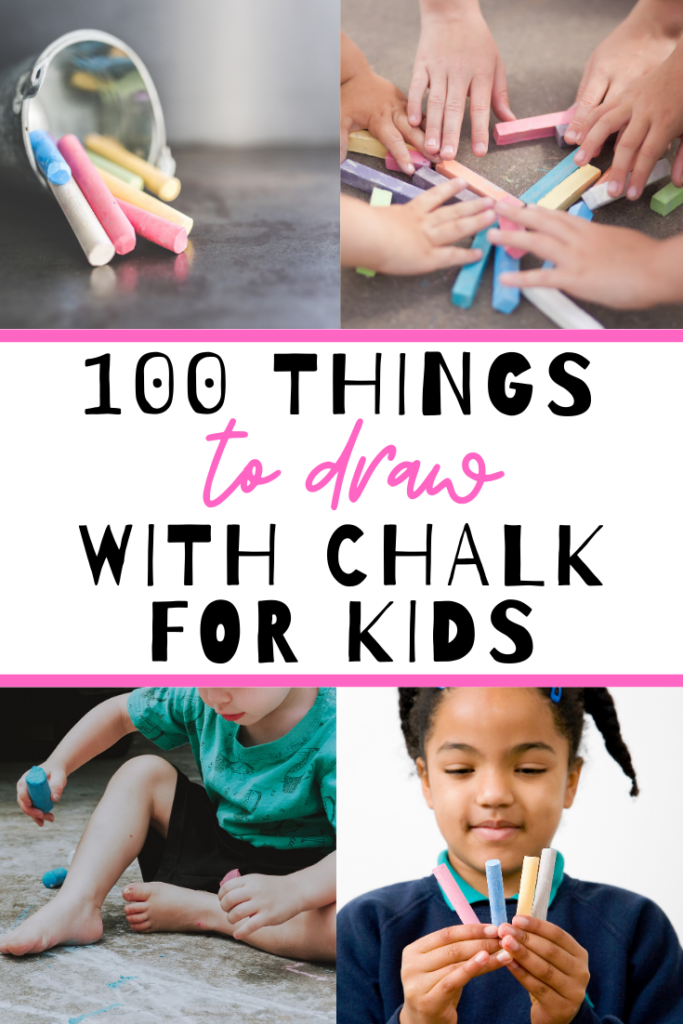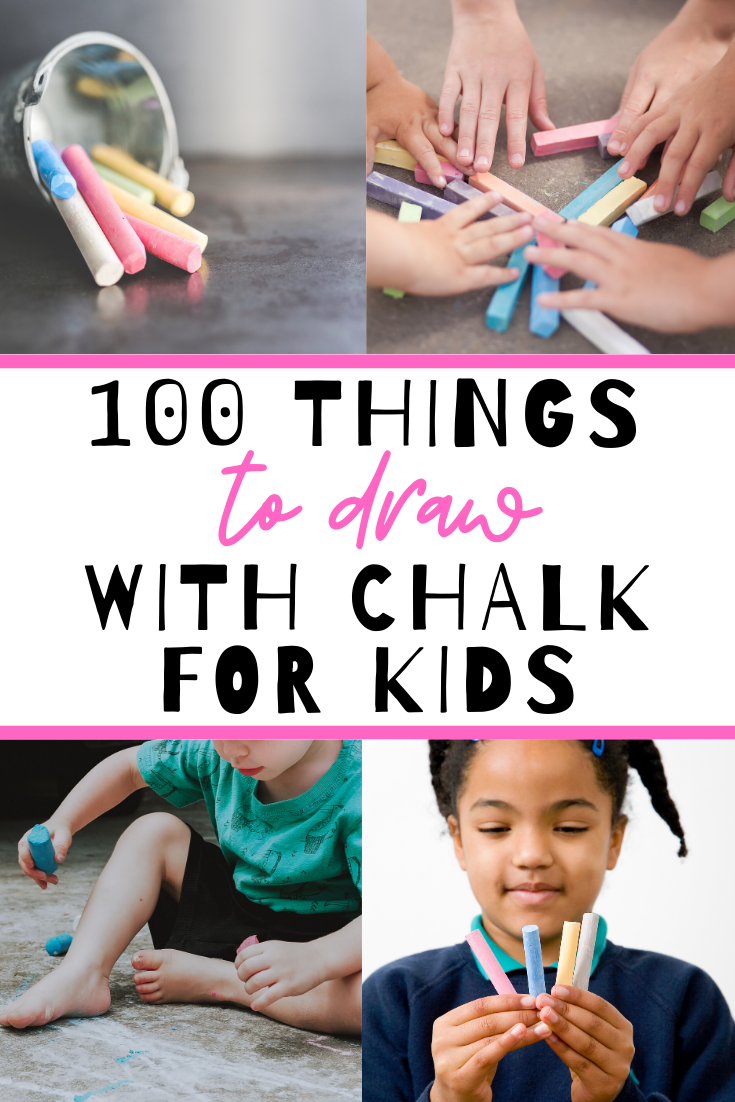 Easy Things To Draw With Chalk – 100 Creative Suggestions
Do you have bored kids at home right now looking to you for suggestions around the clock? When we are finished with our kids activity packs and 100 would you rather questions, we usually take some time to either use this recipe to make outdoor chalk or grab a handful of our favorite colors in the garage and get to work!
But the truth of the matter is that when I'm sitting outside with my littles, they always ask for suggestions. WHAT SHOULD I MAKE, MOM? And sometimes I run out of ideas of cool things to draw with chalk. How many times can I tell them to make a dragon before they are sick of dragons? LOL!
That's why I wanted to create this list of what to draw with chalk just in case you need a little guidance yourself. You can either hand it straight to your children or call it out to them one at a time as they complete an "assignment".
What To Draw With Chalk
Ok! So here are 100+ easy things to draw with chalk for kids. When your child is done with one of them, just shout out the next. That's how I play it. MOM! I'm done with sharks!!!!!!!! (Great, now draw me a spider!)
A picture of themselves
Family
Pets
Hop scotch
Castle
Math problems
Fish
Mosaics
Sharks
Jokes
Teddy bear
Road to drive on
Trampoline
Spider
Obstacle course
Miniature golf course
Monster
Airplane
Army man
A town
Unicorn
Aliens
Crazy hair day
Butterflies
Superman
Hearts and stars
Fireworks
A rainy day
Crowns and robes
Balloons
Cute Rabbits
Christmas presents
Christmas tree
Prince and princess
Neighborhood street
Lemonade stand
Their name
Baseball stadium
The Beach
Their bedroom
Follow a wiggly line
Inside of human body
Flowers
Twister
Batman
The Muppets
Nature
Volcano
Their grandparents
Constellations
Maze
Farm life
Pool life
Jungle
Mermaids
Cupcakes
Colorful lion
Favorite video game
Recreate a picture
Snack stand
Hangman
Alligator
Fireworks
Birthday celebration
Thanksgiving feast
Nemo
Peacock
Long jump game
Checkers
Flag
Something scary
Huge truck
Star Wars
Turtles
Train
Dining room
Ponies
Magical forest
Trolls
Their classroom
Favorite friend
Basketball court
Tennis court
Rainbow – if you like rainbows, go on a rainbow scavenger hunt!
Bowling
Disney World – my favorite easy thing to draw subject!
Cruise ship
Monopoly Board
Ice cream sundae
Favorite stuffed animal
Minecraft
Big Bird
Sunflower
A sunset at the beach
Egypt
Earth
NY Skyline
Minion
Mickey Mouse
Spongebob
Mario and Luigi
Chalk Art To The Rescue!
I hope these easy chalk drawings have inspired to and prepared you for the next coming weeks. I know that my kids are going to spend a ton of time beautifying my driveway and front property with their creativity.
My favorite sidewalk chalk ideas are just a START. It's always fun to see what they come up with, of course! My daughter always comes up with the cute things to draw with chalk which puts a smile right on my face! Always a treat.
Download Your Easy Chalk Art Ideas Here
Click here to download this complete list to make it easier to print it out and hand it over to your children. They can reference it as many times as they'd like or cross off the ideas as they complete the drawing outside!
What is the easiest thing to draw?
People often wonder what the easiest thing to draw is and I would guess a stick figure, right?! But that isn't very challenging. If you told your child to draw a stick figure, they would be done fairly quickly.
These options give them something to think about instead.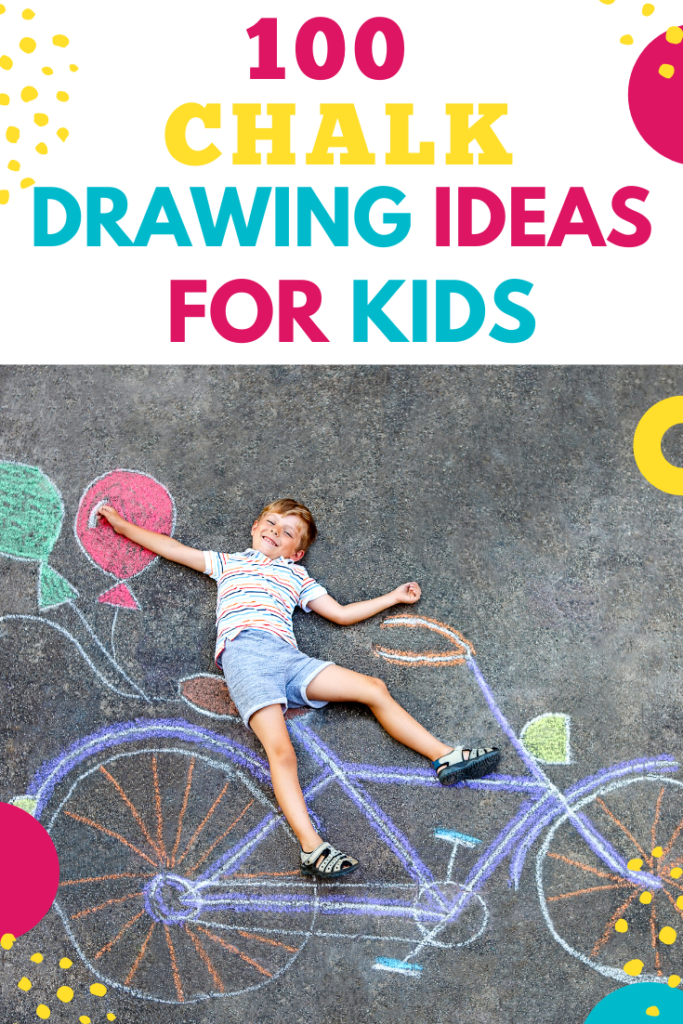 If you have any sidewalk chalk art ideas you'd like to share, be sure to share it below. Otherwise, just pin these images so you can reference these chalk art ideas later.
Related: