Drawing is such an incredible hobby to encourage because you can enjoy it just about anywhere. If your children are trying to figure out how to draw a giraffe, here are several step by step tutorials they can use to find the perfect version as inspiration.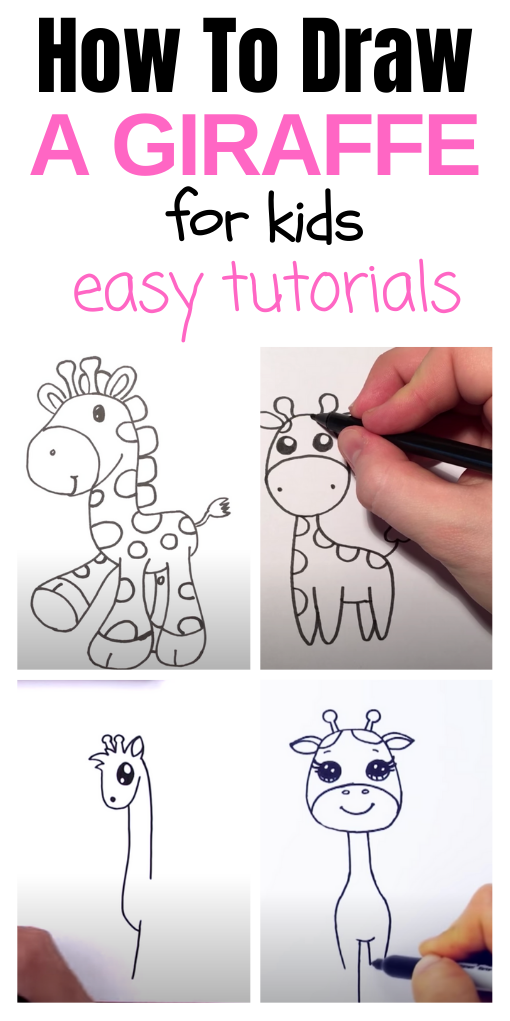 I have three little ones. So, I understand that sometimes you want to draw a cute giraffe while other times you prefer to try your hand at a more realistic looking one. That's why I've included a variety of art lessons to consider.
How To Draw A Giraffe Tutorial For Kids
As mentioned, we love to draw! That's why we have plenty of tutorials already on the blog. How To Draw Disney's Villains, Nature Drawing For Kids Tutorials, How To Draw Disney Characters, Ridiculously Easy Things To Draw With Chalk , and more! There's not a day that goes by when we don't sit down as a family and doodle.
It can feel like meditation if you allow it to – a form of escape. Freedom right from the backseat of your car or your dining room table. We even like to share our sketchbook ideas with one another as a form of family bonding. It's that important to us.
How To Draw A Giraffe Step By Step
So, why the giraffe? My kids asked for it! And here we are! I love to work in their requests whenever I can. If you are wondering what we will be doing this afternoon… now you know!
How To Draw A Cartoon Giraffe
I love this art option because it has a really fun and childish vibe to it! This giraffe looks absolutely adorable!
Related: Take The 30 Day Drawing Challenge
How To Draw A Cute Giraffe
This cute little thing has hearts and eyelashes and twinkles in its eyes. A teen girls' dream come true!!
How To Draw A Giraffe Face
I thought this giraffe tutorial worked for younger kids because it focused on how to draw the face in particular. It was much larger than the others I saw and felt like bigger strokes overall. I have a seven year old and this felt much more up his alley.
A More Traditional Look
I think we can all agree that this animal tutorial is for older kids. Tight detail – but a young teen can handle this no problem!
Related: Observational Drawing for Kids
How To Draw A Giraffe For Kids
This is another super easy giraffe drawing tutorial for kids. Lots of big strokes and simple lines. Little ones will be able to follow along. I love the wide variety that I was able to find online today!
How To Draw A Giraffe Head
Any Toys R Us fans? Doesn't this feel like that vibe? If you want to just focus on the giraffe head, then this art tutorial is for you. She is too cute!
Quick Tips About These Online Lessons
The beauty about video art lessons is that you can pause and go back and forth as you see fit. I usually do one round with the kids to kick them off and watch to see if they start struggling with speed. Then I REMIND them that they can PAUSE the video at any time.
As soon as they remember that they are in control of the teacher – unlike a real class – they feel so much more confident! You will instantly see a switch. When they first start following along, they will probably be shouting frazzled things like, SHE IS GOING SO FAST! I WILL NEVER CATCH UP! I CAN'T DO THIS!
But don't worry! Just pause the video and rewind it 15 seconds. It just takes one time of you showing them that! And BOOM! All the stress disappears. It's so funny because we do these at-home lessons all the time because of the current state of the world and we always start off with hysteria. And then – they end up spending 90 minutes drawing ALL THE THINGS on their own.
But as a mom, I had to tell you that it starts off a little bumpy because it's new. So, be warned. 🙂 Just stay with them until they settle otherwise they won't be able to feel like they can do it.
How To Draw A Baby Giraffe
Last but not least, I am leaving you with how to draw a baby giraffe! Because we all love baby giraffes! Make sure you have lots of crayons on hand so your littles can color their creations once done.
Think You Know How To Draw A Giraffe Now?
Are you set? Ready to give this a go? Can't wait to see what your kids come up with!
Related: