Coming up with unique talent show ideas for kids can be a daunting task. The options are pretty much endless and when a list starts out on such a broad scale, sometimes it's hard to narrow down the scope.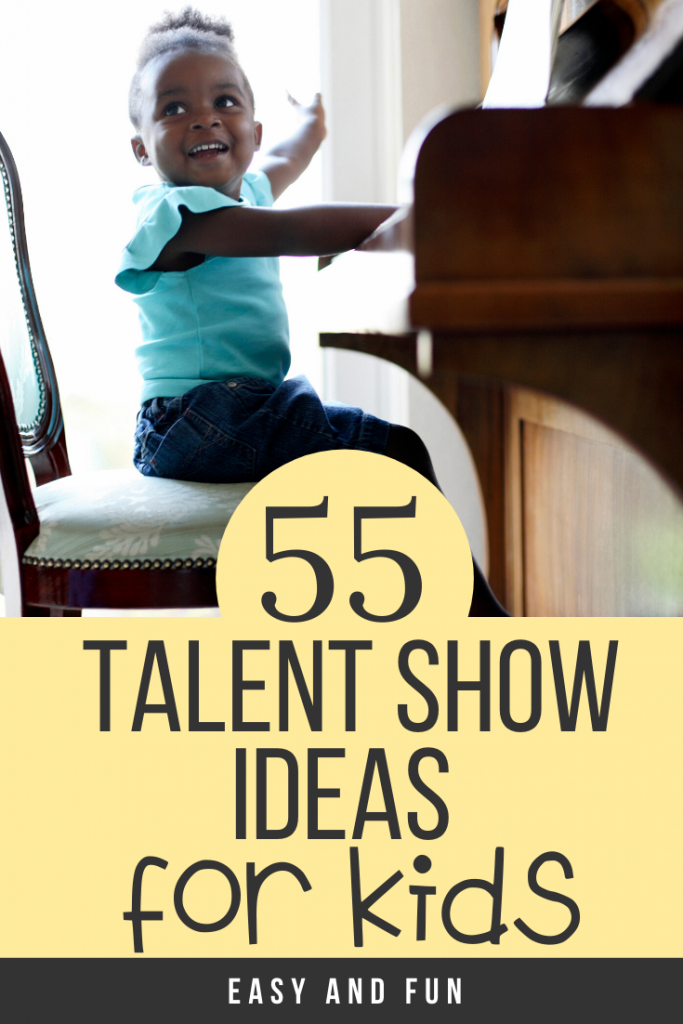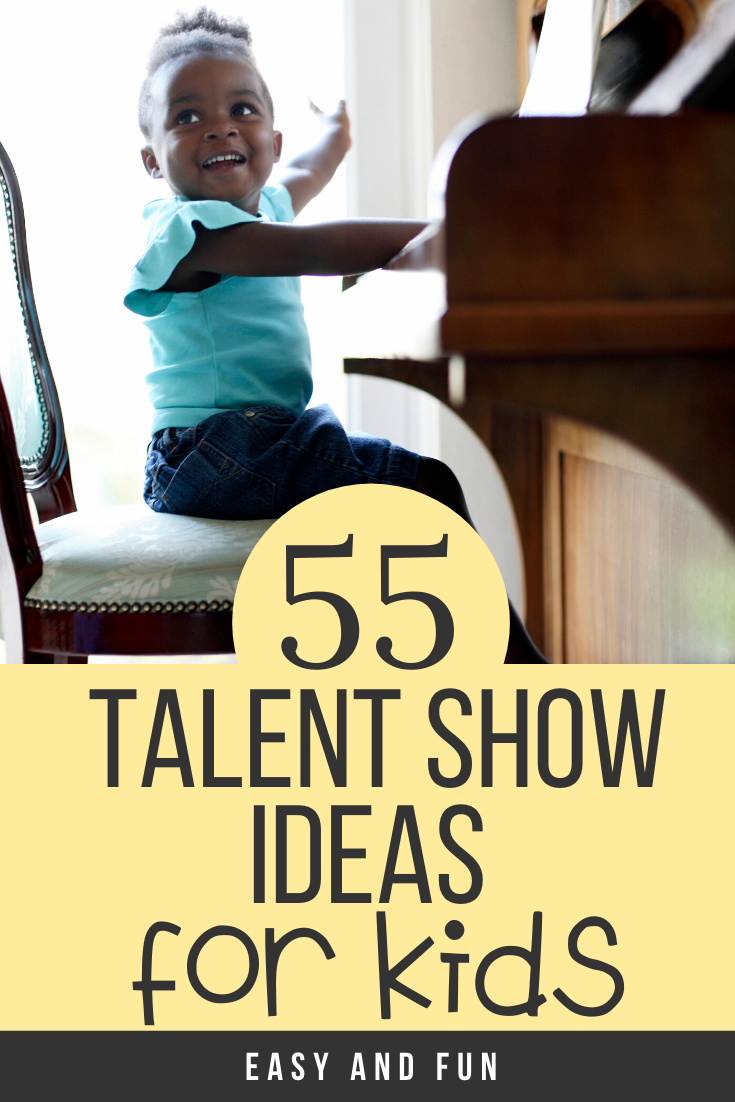 If you are looking for things to do for a talent show that will wow a crowd and won't break the bank, here are 55 ideas to get you started. In this list, there are musical ideas, talent show skits for kids, individual numbers, funny variety show ideas, and more!
55 Talent Show Ideas For Kids – Creative Acts That Are Fun To Watch
Growing up, I participated in two talent shows and I distinctly remember them both! One of the dances was to the tune of "My Boyfriend's Back" and every move was in unison. I thought we were all… amazing! I was ready to get signed – immediately. Where were the scouts?!
Related: 12 Raised Salt Art Projects For Kids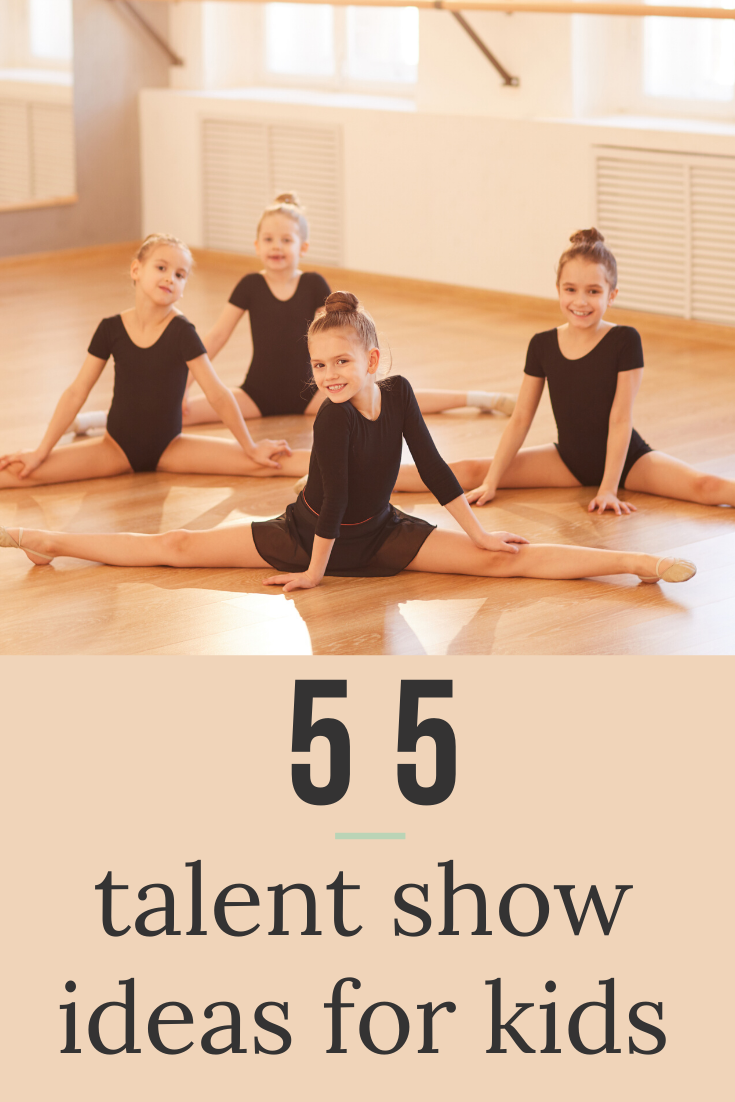 We lost… but that didn't matter. We had so much fun coming up with our little dance that it is still a childhood memory I hold onto with all of my might. Hopefully one of these talent show skits for kids will do the same for your littles.
Take a look at these talent show ideas for kids and let me know which one works best for you and your family! I will break them down into sections.
Funny Talent Show Ideas
This funny talent show ideas section is dedicated to people who like to get a crowd to LAUGH. Big punches, big endings, big rewards! They might take a bit more work in the end, but the results will be worth it.
Glowing Stick-man Dance Routine
Comedy skit
Synchronized Swimming act
Napoleon Dynamite Dance
Rapping a famous speech
Glow Stick Man Dancing
Circus Acts
Pillow People Dancing
Improv
Dramatic reading of a popular song
Mind reader (with staged people in audience)
Synchronized twirling
Synchronized hula hooping
Synchronized yodeling
Musical Talent Show Ideas
Do you have a child who is musically inclined? Then you should push them to show off their artistic talents by entering with a submission that shows off that magic! Check out these musical talent show ideas.
Singing
Bucket Drumming
Involve your audience and play popular songs and get the audience to sing parts of songs
Acapella
Lip-synching
Play the spoons
Do a step routine
Cheerleading
Sing in a different language
Whistle a tune offered by the audience
Ballet dance
Tap dance
Show the evolution of dance – through the eras
Dance a Broadway skit
Play the guitar
Play the violin
Play the flute
Sing the national anthem
Sing a mash up of top ten songs
Talent Show Ideas For One Person
You don't need a group! You can go it alone!! In fact, it will be easier to practice if you don't have to worry about lining up with other people's schedules. Here are some talent show ideas for one person.
Karate
Yo Yo
Ventriloquist
Jumping Rope
Hula Hoop
Skateboarding routine
Beatboxing
Balance on objects
Juggling
Gymnastics
Pet tricks
Hand clapping
Painting
Draw blindfolded
Be a mime
Perform a play – all characters
Pretend to be a teacher
Build a house of cards
Act your favorite movie skit
Face paint an audience member
Show off your fashion designs
Pen twirling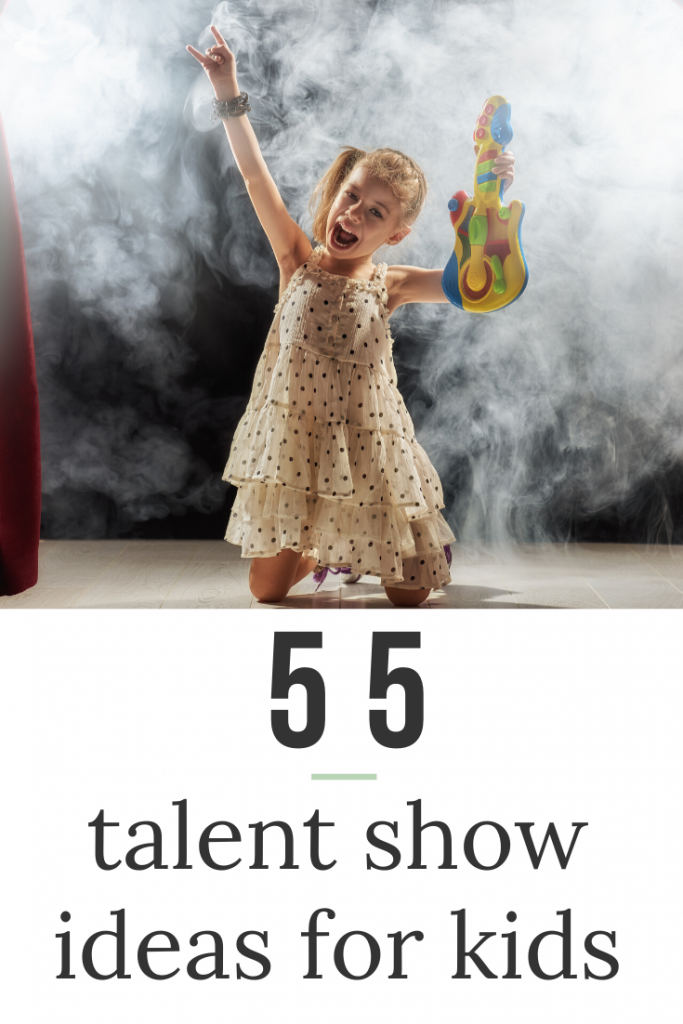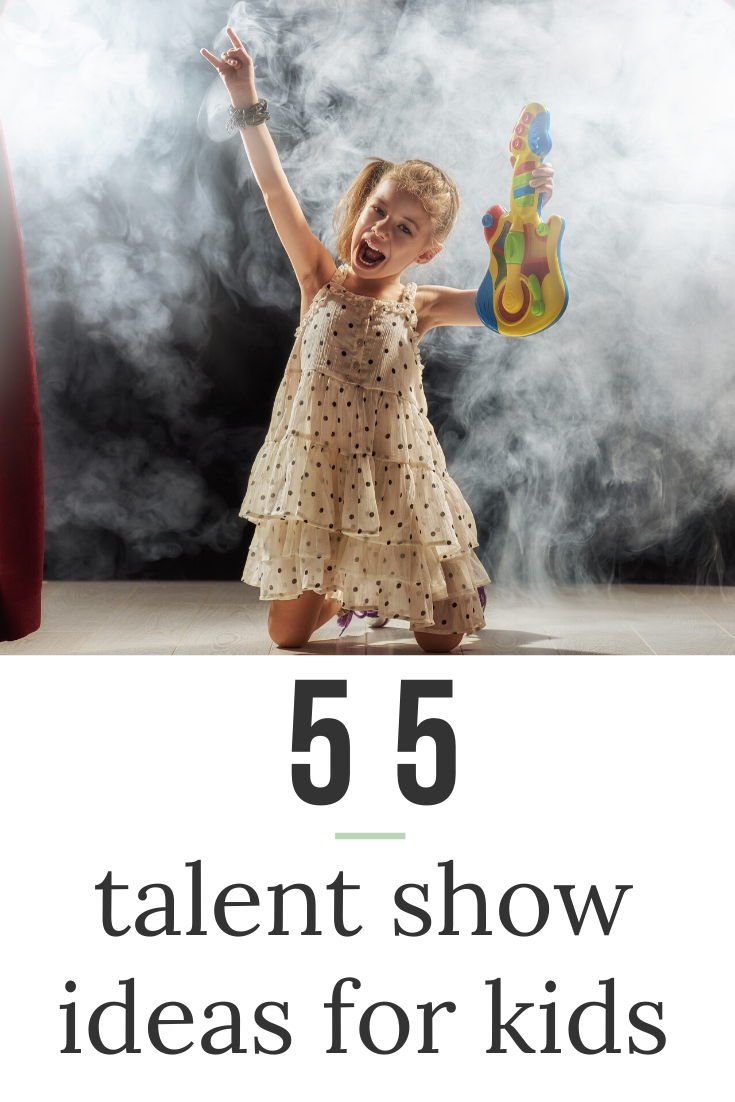 Before You Commit To The Talent Show
Ok, so now you have over 50 talent show ideas, what do you do at this point? You need to think about a few things!
Will you be a group of a solo act?
You've breezed through some of the suggestions. Have you thought about whether or not your want to be a group or a solo act during the talent show. If will feel different on stage depending on if you are alone or not. Decide now and then move forward.
Consider timing restraints:
When is your talent show? Do you have enough time to practice what you want to work on? Will there be enough days left to get it just right?
Think about props:
Do you need props to land the plane for all of these talent show ideas for kids? How many visuals do you need to tell this story? Maybe the answer is none?
Will I have time to practice?
You might not need much practice at all! Maybe you know how to juggle and you can do it in your SLEEP! Or maybe you want to get together with your four favorite buds and there is a lot to figure out? That is on you! Get a schedule in place and figure out if it is feasible.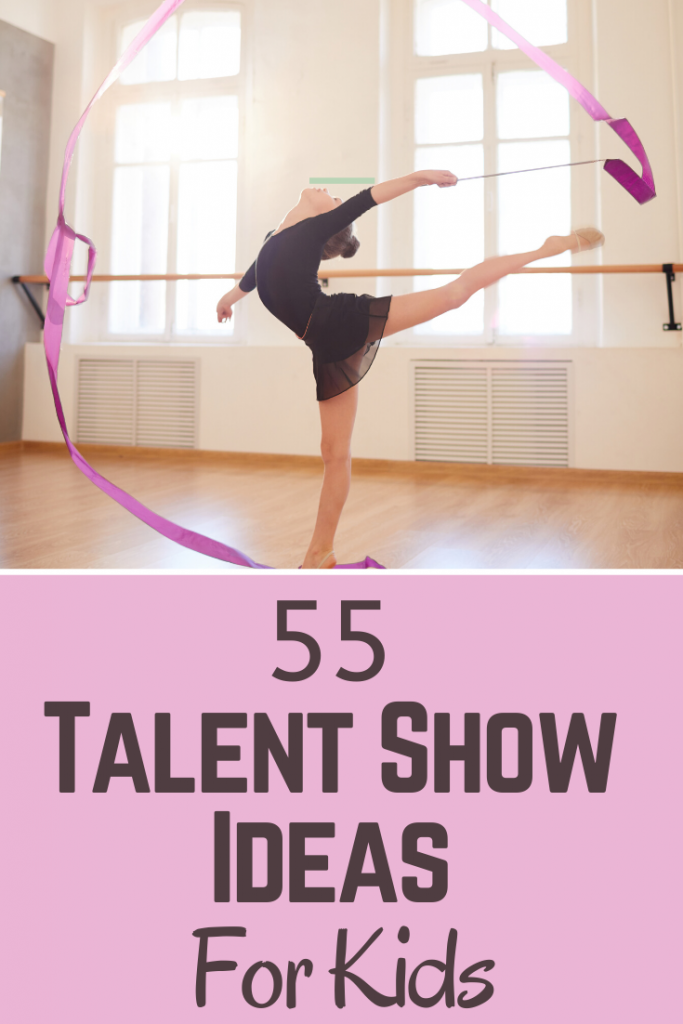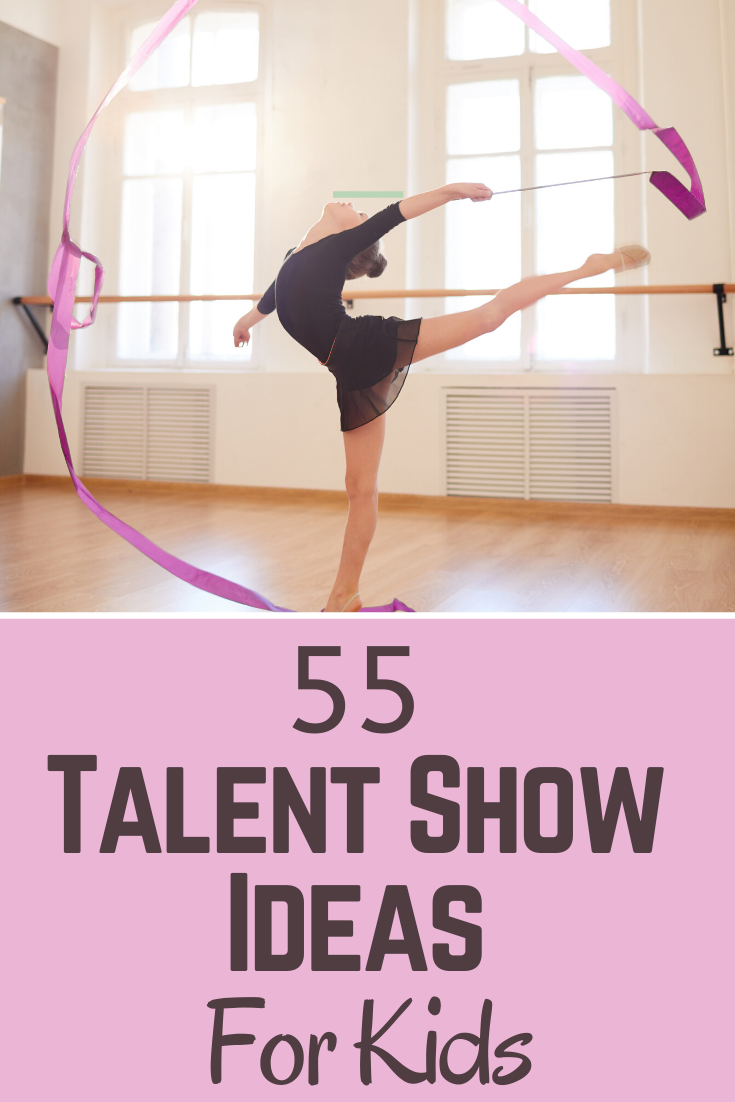 Kids Talent Show Ideas That Are FUN
Well, I hope I left you with a few kids talent show ideas for kids that are fun and easy to work out! The options are endless – it's really all about what you want to do in front of your friends. Enjoy these kids talent show ideas and be sure to clap for every act!
Related: