I have been on a casserole KICK lately, right. Well, this easy breakfast casserole recipe is going to make your mouth water and with good reason. It is so easy to make and is absolutely delicious. A breakfast egg casserole will please everyone in your house and makes the perfect surprise to wake up to for overnight guests. Here's the recipe!
Easy Breakfast Casserole Recipe – Breakfast Egg Casserole
Just as a reminder, if you like vegetables, feel free to include more into the mix. Think about tomatoes or bell peppers – I think either one of those would work great with this breakfast egg casserole.
Easy Breakfast Casserole Recipe Ingredients:
1lb sage ground sausage
1 sweet potato, peeled and cut into cubes
1 dozen eggs
1 teaspoon garlic powder
1 cup baby spinach
salt and pepper
Easy Breakfast Casserole Recipe Directions:
Preheat oven to 375 and spray a square 9×9 baking pan with nonstick cooking spray. Set aside. Brown sausage in a skillet and drain grease. Add the sausage to the bottom of the pan.
Top with sweet potatoes.
Beat eggs together in a large mixing bowl. Add garlic powder and season with salt and pepper and whisk well. Pour into pan.
Top with spinach leaves.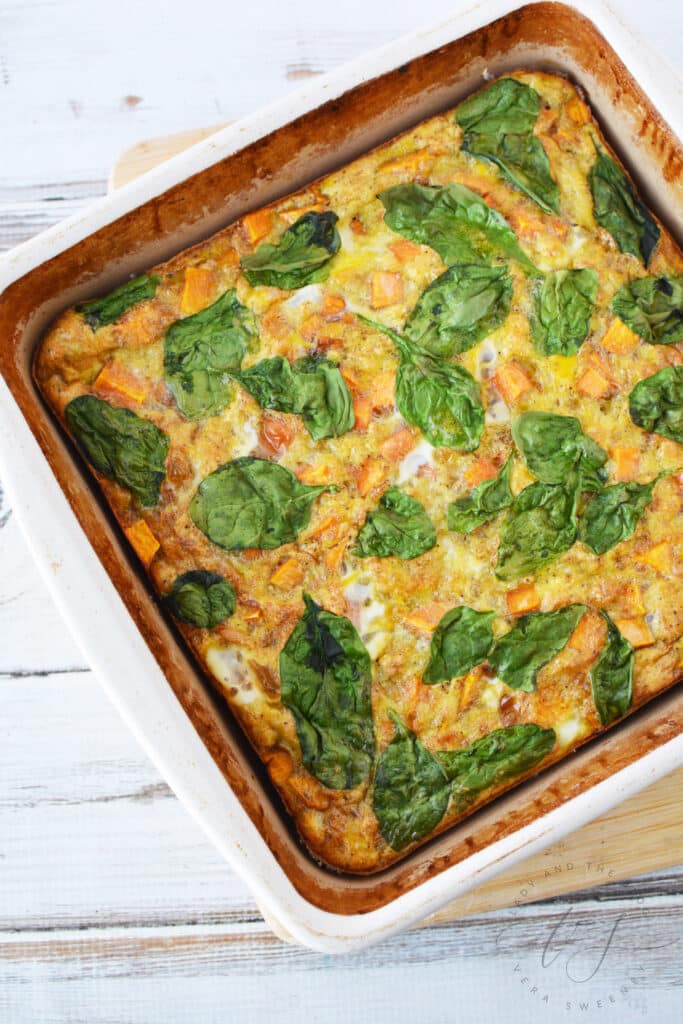 Bake for 30-35 minutes or until center is done. Let set for five minutes before cutting into 9 squares.
Serves 9
I hope you enjoy this wonderful breakfast treat. Do you love to make casseroles for your family? Here are some more recipes to consider:
Print This Breakfast Egg Casserole
Easy Breakfast Casserole Recipe
Print
Ingredients
Easy Breakfast Casserole Recipe Ingredients:
1

lb

sage ground sausage

1

sweet potato

peeled and cut into cubes

1

dozen eggs

1

teaspoon

garlic powder

1

cup

baby spinach

salt and pepper
Instructions
Easy Breakfast Casserole Recipe Directions:
Preheat oven to 375 and spray a square 9x9 baking pan with nonstick cooking spray. Set aside. Brown sausage in a skillet and drain grease. Add the sausage to the bottom of the pan. Top with sweet potatoes.

Beat eggs together in a large mixing bowl. Add garlic powder and season with salt and pepper and whisk well. Pour into pan. Top with spinach leaves.

Bake for 30-35 minutes or until center is done. Let set for five minutes before cutting into 9 squares.

Serves 9
Print This Easy Breakfast Casserole Recipe