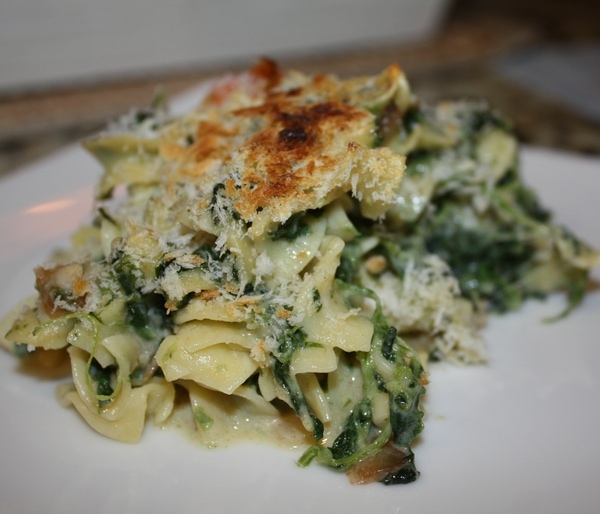 I'm trying to come up with great dishes that incorporate a variety of vegetables that my children will eat – which is harder than it sounds.  My house is BIG on asparagus and broccoli – but not really anything else. I made it my mission to find a recipe that incorporates spinach with pasta and cheese. Here's what I ended up with:
2 packages of frozen spinach
1 bag of egg noodles (a pound or so)
2 tablespoons of olive oil
1 onion chopped
4 garlic cloves chopped   (I used a zester)
4 tablespoons of butter
2 rounded tablespoons of flour
1 cup of whole milk
1 teaspoon of nutmeg
2 egg yolks
handful of cherry tomatoes (sliced in half)
1 cup panko breadcrumbs
1 cup parmesean cheese
1 cup (or 2) of shredded mozzarella cheese
salt and pepper to taste
Microwave the spinach according to box instructions and boil a large pot of water for the noodles.
Meanwhile, sautee the onion and garlic with the olive oil.
When spinach is done you have to drain it. I don't have a cheese cloth but if you do, squeeze all the water out. If you are like me – use your hands.
Add the spinach to the onions and garlic. Add sliced cherry tomatoes and cook for a few minutes.
Pour entire mixture into the drained egg noodles and stir. Add your shredded mozzarella cheese and a handful of Parmesan cheese. Stir once more. Salt and pepper.
Use the pan you just took the onions and spinach out of and melt the butter over medium heat. Whisk in flour and then the milk. Season with salt, pepper, and nutmeg.  Cook until it thickens – around 5 minutes.
In a bowl whisk the egg yolks and then pour some of the butter mixture into the bowl to temper the eggs. Then add eggs into pan and cook for a few more minutes.
Turn on your boiler.
Add the butter mixture to your pasta and stir together. Place in pan.
Top with panko breadcrumbs and Parmesan cheese evenly.Place in broiler for a few minutes. Keep an eye that you don't burn the panko breadcrumbs.
And serve! The kids LOVED it! For more recipes from Inside my Kitchen, click here.
This recipe was inspired by a Rachael Ray recipe I read in one of her magazines.