There are plenty of fun things you can do on a Saturday night to make the evening memorable. Sometimes the last thing you want to do is absolutely nothing… and that's ok. However, if you need a little planning inspiration, here are some entertaining things you can do solo or with friends: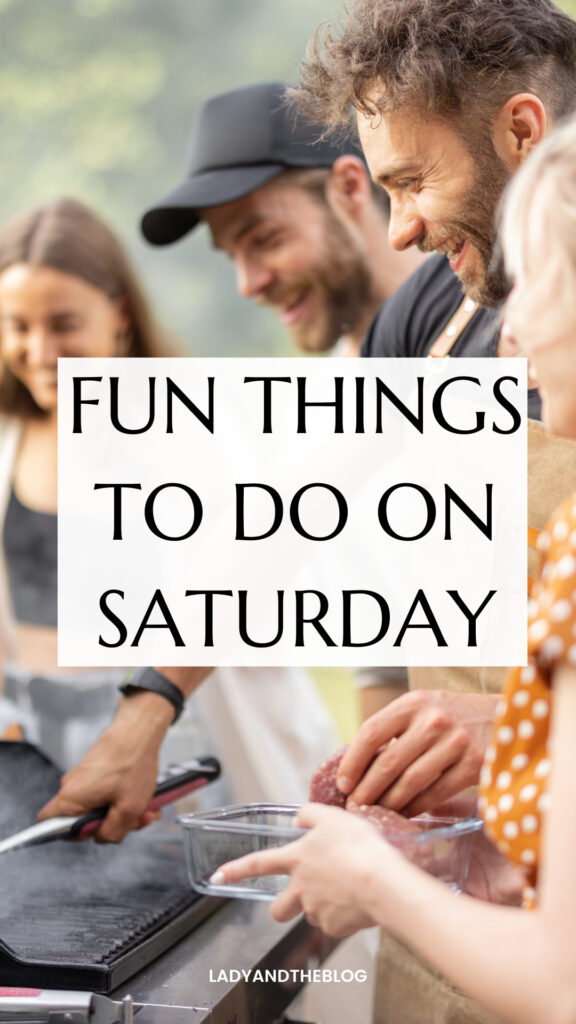 What are some fun things you can do on a Saturday night? The options include everything from hitting hiking trails, hosting a movie marathon for friends, getting your hands dirty by attempting a creative art project to checking out local events hosted in your neighborhood.
Fun Things To Do On A Saturday Night
Have A Picnic
If the weather is permitting, consider having a picnic in your backyard or at a nearby park. Make sure to pack some snacks and drinks, and don't forget a blanket to sit on! Some picnic staples include sandwiches, chips, and fruit. You could also bring some cold drinks like lemonade or iced tea.
Get Moving
Go for a walk or bike ride around your neighborhood or town. Explore new areas and take in the sights! Odds are your local town has plenty of things you've never seen before.
If you're feeling extra adventurous, consider going for a hike in a nearby state park. Just be sure to dress appropriately and tell someone where you're going!
Have A Movie Night
Pop some popcorn, make some snacks, and snuggle up with your favorite blanket to watch a movie or two. Consider making a list of tried and true classics or opt for movies you've never seen before and hopefully, you'll snag a few new favorites.
Not sure what to watch? Check out a streaming service like Netflix or Hulu for some great options.
Play Games
Whether you enjoy board games, video games, or card games, spending some time playing can be a blast. Invite some friends over to play a game or two, or challenge yourself and see how many rounds you can win!
Host A Dinner Party
Invite your closest friends over to share a meal. Make something simple like spaghetti and meatballs, or go all out with a fancy feast. Either way, spending time with great company is what makes the night. Here are some recipes to get you started:
Make some art
Try painting, drawing, or even crafting. You can work on a project solo or set up an art night with friends. If you don't know where to start, there are plenty of tutorials available online if you check YouTube.
Catch Up On Sleep
If you have a busy week ahead, consider spending your Saturday night catching up on sleep. Turn off the lights early and snuggle up in your warm bed, sleeping soundly until the morning.
Take A Spa Night
Grab some bubble bath, a face mask, and a good book or magazine. Enjoy this relaxing time to yourself, or invite over a friend for some girl talk! Either way, you'll be feeling refreshed and relaxed by the end of it.
Host a themed party
Whether you go all-out with decorations and food or take it easy with just a few touches, throwing a themed party is always fun. Some great party themes include a masquerade ball, a beach-themed bash, or a movie night featuring your favorite films. Whatever you choose, be sure to have fun and enjoy spending time with friends!
Go out to eat
Trying new restaurants is always a great experience, and you can make it even better by going with friends, laughing, and enjoying each others' company. Make sure to take some time to relax and recharge so you're ready for another great week!
Go dancing
Whether you hit up a club or have a dance party in your living room, shaking your stuff to some music is always a good time. Invite some friends over to join in, or go out on the town with a date. No matter how you do it, dancing is sure to put a smile on your face!
Check out local events
There's always something going on, whether it's a concert, play, or art show. Get out there and explore! You could even see if there are any festivals or fairs in your area. No matter what you do, be sure to have fun and make the most of your weekend!
Have a relaxing night in
Sometimes the best nights are spent curled up at home with a good book or movie. Make yourself comfortable and take some time to relax. You'll feel refreshed and recharged by the time you get up on Sunday morning.
As you can see, there are plenty of fun things you can do on a Saturday night to make it memorable. Whether you want to go out and play or relax at home, there's something for everyone! So what will you choose?