At the beginning of every month, I love to try to pinpoint a few key targets that I hope to hit both professionally and personally. While setting my October goals, I decided to focus on four major areas in my life.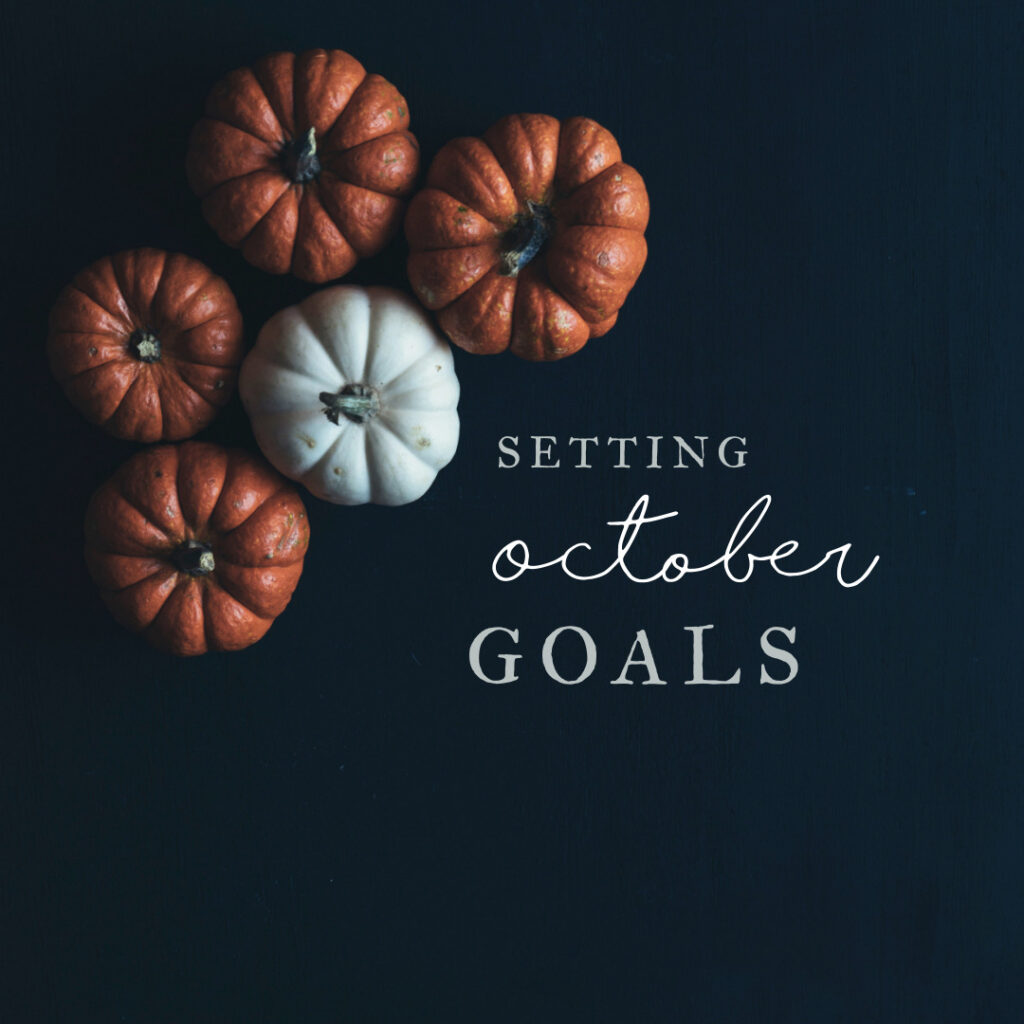 I've found in the past that when I set too many goals, I end up doing none of them leaving me feeling unmotivated. Goal setting is supposed to be intrinsically rewarding… not demotivating.
Personally, I've found that four goals are about as much as I can handle and I only had this self-discovery while going through this personal journey this year. As you know, I started to log my monthly goals on my blog:
It's been FUN – tracking everything that I've hoped for myself, but as you know… 2020 has been some kind of year! So, for my October goals, I wanted to hone in on the following simple concepts:
Continue to Lean Hard On My Planner
I know there are plenty of digital planners and apps available to the masses, but I will always be a pen and paper kind of girl. I need to cross off items from a to-do list and I need to see just how much I got done in a day's time.
Time blocking is not something that is new to me. In fact, I've taught countless lessons on this very subject on YouTube and in Permission to Hustle – a women's entrepreneur group I founded online with my business partner. However, something I AM doing differently is assigning really SMALL tasks to myself every single day. I'm talking minuscule tasks.
By doing so, I ensure that everything gets done – and I mean everything. I have almost tripled my productivity over the last three weeks and my goal is to KEEP THIS UP! Can I do it for the entire month of October? I hope so!
Related: 25 Self Belief Quotes To Help You Get Out Of That Slump
Outsource More Work
While I am working harder than ever, I also am priding myself at working SMARTER than ever. Can I outsource this line item? Then BUH-BYE! I only have so many hours in the day and I am willing to invest in my business because my sanity is worth more than anything else.
I don't have the capacity to put in 15 hour days anymore. My brain broke somewhere between 2018 and 2020 and that's just the way it is. So, now I need to really focus on building a solid team that I can just shoot out an incredible amount of work to and hope it comes back to my liking. This is critical.
I also want to note that this relates to using services as well – designers, templates, and tools.
Related: 7 Ways to Stop Making Excuses
Pay More Attention To Analytics
Ana…whut? I have never been a numbers girl. Ask me how much milk is right now? I couldn't tell you. I've purchased a million gallons of milk in my life but I don't know how much it is. I don't retain that kind of information. I am a creative… not a number…ive.
I much rather talk about what the milk feels like or makes me feels like or a story about where the milk came from or about the cow and what kind of superpowers it has or or or or…. YOU CATCH MY DRIFT. Analytics aren't my bag, baby. But it needs to be.
I HAVE to start looking behind the curtain, seeing what kind of content is working on Google, and creating more of that type of content. BLAH! But seriously… I do.
Explore More Of Long Island
On a personal note, I need to spend more time with my family getting out of the house now that we can get out of the house more and getting to know Long Island a bit. My husband started a website called The Long Island Local and we need to start filling those page up!
What better way to unwind our minds than by exploring apple farms, pumpkin patches, vineyards, and pie stands? Sounds perfect to me. We spent 80% of this year in our houses with the door sealed tight. Now, it's time to grab our masks, stay 6 feet apart, and breathe in some fresh air. My brain NEEDS IT.
Do you set monthly goals for yourself? What does October feel like for you?