There are so many fun things to do in NYC. The options are almost endless thanks to new openings and pop ups always on the rise. If you have a weekend trip planned, be sure to check out some of these amazing tourist hot spots.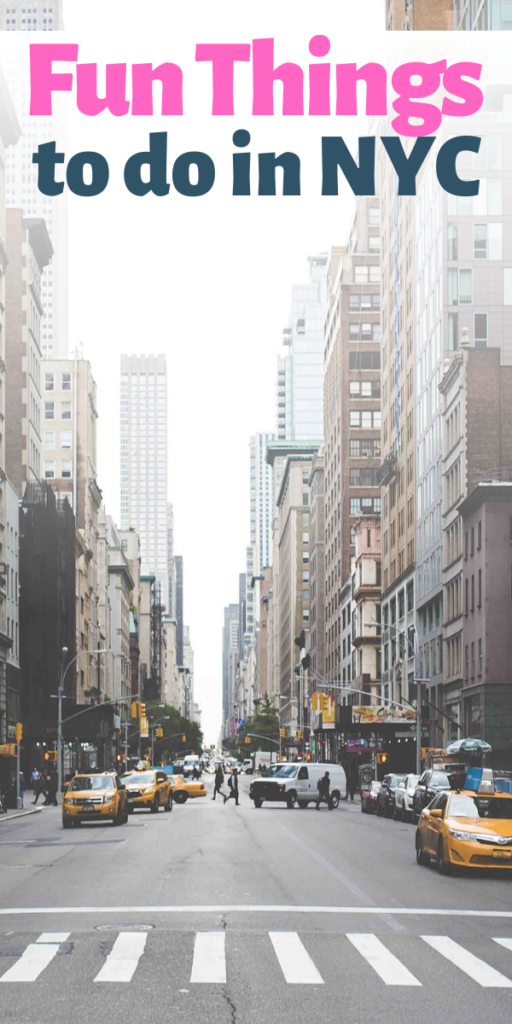 20 Fun Things To Do In NYC
NYC is certainly on top of my list for fun places to go with friends. If you are looking for things to do with the kids this weekend, I have you covered! Trust me, you won't run out of things to do in NYC! You just won't!
Here are my top 20 picks for fun things to do in NYC. Some of these fun activities in NYC are popup events and won't be around forever. So, if you are really interested in something, make sure you get there and fast.
What do New York people do for fun?
As you can see, New York people do a variety of different things for fun! Sometimes they hit up a museum and other times they play with slime. It all depends on what they are in the mood for!! The best part about fun places in NYC is that the options are ENDLESS and I actually mean that.
What do do in NYC during the day?
Everything I added to the above list is available to visit during the day. So, if you are planning a day trip to one of the five boroughs, you can definitely reference this list.
What should I do on my first trip to New York?
Listen, I am NOT going to tell you to visit Times Square on your first trip to NYC. I am just NOT. I know you want me to. I KNOW YOU DO. But the truth of the matter is… you could spend an entire week downtown and never make it to midtown and still have an amazing experience!
The only thing you should absolutely do on the first day in NYC is go to a restaurant that is NOT A CHAIN OMG PLEASE DON'T GO TO A CHAIN RESTAURANT and enjoy some delicious food. And then just repeat that process for the next two meals and three snacks. EAT!
What should you not miss in New York?
Yikes! This is such a personal question. There are so many fun things to do in NYC. This could take a while. I would absolutely see a Broadway show. I would also consider going to a museum, a pop up, some sort of food tour. I would also do some personal research and see what matters to ME.
Do you love the movies? Then maybe you want to go on a walking tour to see where some of your favorite films have set up shop? Into ghosts? Take a walk down memory lane and check out some haunted addresses. Really obsessed with donuts? We have the best of those, too. What do you LIKE? How about high end fashion? Yup… have that too.
How do I not look like a tourist in NYC?
This is a funny question. Don't just stop in the middle of the street. Like, when you are walking… don't just STOP. That would disrupt about 2000 people. Tourists do that. New Yorkers don't. That is all I am going to tell you. Just move over to the side of the sidewalk and figure out what you want to do.
I am not going to get on this huge "5 Things Only TRUE NEW YORKERS WILL UNDERSTAND" rant because I literally HATE those posts. They drive me INSANE. And odds are they are written by people who actually aren't "true New Yorkers". Like, stop.
In all seriousness, nothing else matters but the flow of life. If you are walking around the city, just move over to collect your thoughts. That's it. It's the only things you need to know. Don't worry about anything else. I promise. The city is really nice and easy. Not like the movies wants you to believe. New Yorkers aren't rude. We are just fast walkers and busy. But we will ALWAYS HELP and WE will ALWAYS CARE. Just fast.
How do you dress in New York?
This is another question that gets asked pretty often. How should I dress while I visit New York? Um… however the hell you want. Do you, boo.
Are you ready to try out my fun Things To Do In NYC?
Whether you want to visit the meatpacking district, downtown Manhattan, the High Line, the Hudson River, or anywhere in between – there is something waiting for you in New York.
Do you think you want to take a guided tour? I didn't add the Statue of Liberty, the Empire State Building, or Madison Square Garden to the list because those are absolute staples and are known to the world, but you should also consider huge landmarks like these as well.
Personally, I hope you step away from the traditional tour guides and head to the east village, west village, upper east side and more! Union Square is simply divine! There is just so much to do!
Even if you just grab an ice cream and go for a very long walk – you will get to see things you didn't expect. And a walk is FREE! SCORE!
If you need a printable travel list, here is one to download for free. I hope you book a trip ASAP because NYC has so much to offer to families, couples, and solo travelers. I was born in Manhattan and raised in Queens. There's literally no other place like it.