Build A Bear New York City – check! Officially off our list and so excited about the visit. Caleb and I had so much fun attending the opening of the new flagship store for Build-A-Bear in NYC. It's located right next to the Empire State Building and you cannot miss it… truly an amazing location!
Some tour buses stop right in front of their doors, making Build-a-Bear Manhattan a one-stop-shop for all New Yorkers and visitors! Be sure to put the Build A Bear Workshop NYC Flagship Store on your tourist list for sure!
Build a Bear New York City – Build-A-Bear Workshop New NYC Flagship Store

During our Build-A-Bear Workshop Manhattan visit, our son had so much fun picking out which furry friend he wanted to take home. Shortly after the ribbon cutting ceremony, we even got to see some giveaways happen in real-time!
The first 20 guests who walked through the doors received a free 36" Champ Bear. They were HUGE! Perfect for the upcoming holidays. The gift-giving season is upon us, after all. 🙂
So, why all the fuss on October 27th? Well, it was Build-A-Bear Workshop's 20th Birthday! They went big by celebrating with a new store opening, giveaways and promotions galore. I'm so thankful I was there to witness it with my family. What a party the Build A Bear NYC shop threw!!
Build A Bear Manhattan Mascot
We even had a meet and greet with Bearemy, one of the Build-A-Bear Workshop mascots. HOW FUN! The new store features custom New York City signage and wall graphics, a special party area and an updated look as part of an ongoing company-wide Build-A-Bear brand refresh that launched in 2015.
NYC Build-A-Bear Manhattan Workshop: Location And Hours
The new Build A Bear Manhattan store is located at 22 W. 34th St., New York, NY 10001, between 5th and 6th street. The store is open Monday through Saturday beginning at 10am ET through 9pm ET and Sunday at 11am. ET through 7pm ET.
Let's Get Social With Build A Bear Manhattan
We're so excited to have this new, convenient Build-A-Bear Workshop location right in the heart of Manhattan! Using the hashtag #BearsTakeManhattan, Build-A-Bear Manhattan is encouraging NYC fans to share a photo of their furry friends around the big Apple in honor of the new store.
Build a Bear NYC Fans at home can join in the 20th Birthday fun by sharing their furry friend photos and tagging Build-A-Bear Workshop on social (no hashtag necessary).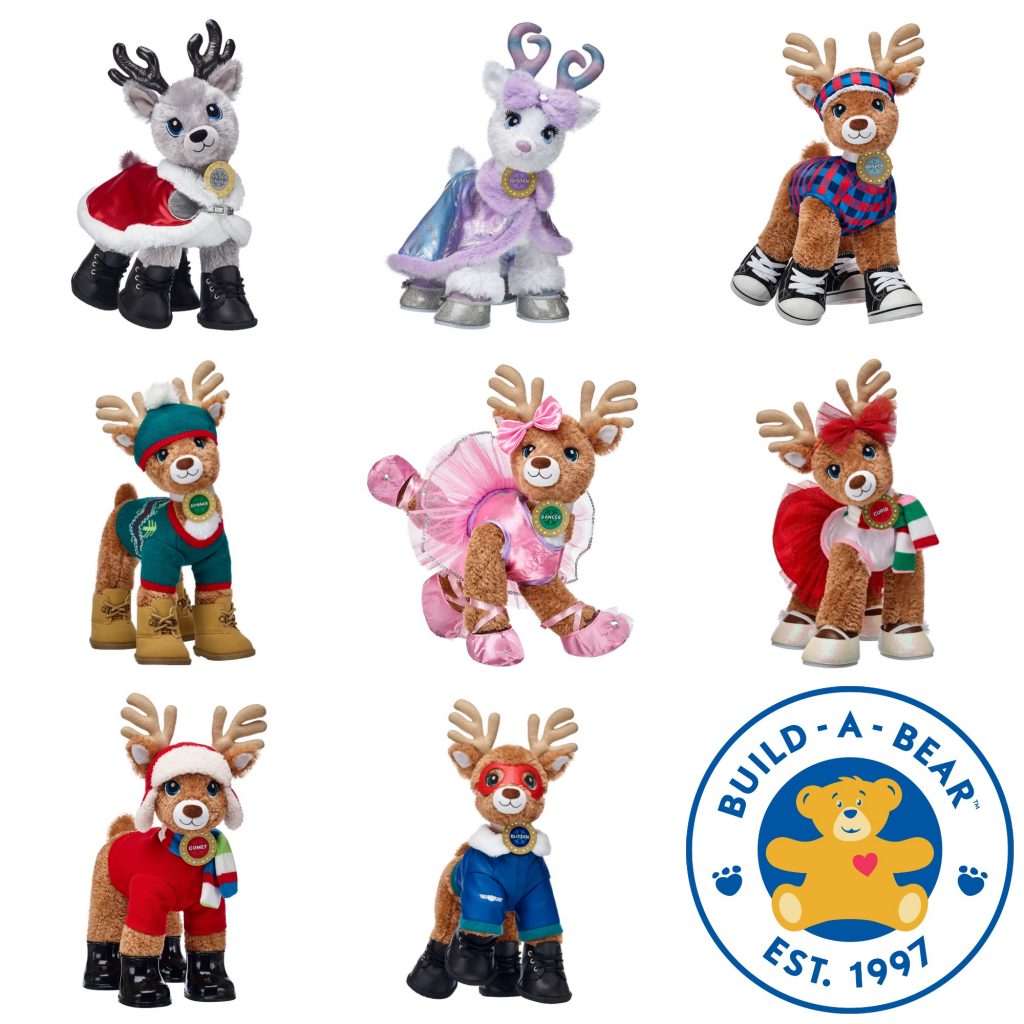 The Build A Bear Manhattan Holiday Collection:
Right now you can collect all of Santa's reindeer at Build-A-Bear Workshop. And guess what? Every reindeer comes with a FREE name medallion! It's never too early to start celebrating Christmas.
All of the below products are available at U.S., U.K. and Canada Build-A-Bear Workshop stores as well as buildabear.com and buildabear.co.uk.:

New This Year For Build A Bear NYC And Beyond
Gobblin' Turkey – $26 (with Turkey sound; New this year!) – A new make-your-own Gobblin' Turkey is ready for awesome autumn adventures! Trim your Gobblin' Turkey with a gobble sound chip and a festive pilgrim outfit; then, bring the bird home from a Build-A-Bear Workshop store or find it at the new buildabear.com.
Color Glow Glisten (New this year!) – $28 (15") – After flying through the aurora borealis, Glisten the Star-Powered Deer is more colorful than ever! With sparkly hooves, light-up antlers and a signature name medallion, Color Glow Glisten is the deer that legends are made of. Add Color Glow Glisten's cape, bow and sparkle flats to complete her look!
Big Color Glow Glisten – $49 (21"; available in limited quantities; New this year!) – Give super-sized hugs this season with Big Color Glow Glisten! With sparkly hooves, light-up antlers and a signature name medallion, Big Color Glow Glisten is an extra special furry friend and the deer that legends are made of.
Silver Snow (New this year!) – $28 – Having studied with Glisten at the Reindeer Academy, Silver Snow is a friendly reindeer with sleek fur and bright blue eyes. Infused with the power of the north wind, this mighty reindeer swooshes through the sky to help save the day! Add Silver Snow's cape and boots to complete his look!
Returning Favorites
Tinsel – $2: With his power to control all things electrical, Tinsel the Speedster Deer is the fast and precocious twin brother to Twinkle! Known for his signature blue fur, Tinsel's antlers are even more powerful since he flew through the aurora borealis. Add Tinsel's cape and boots to make sure he's ready to take flight this winter!
Twinkle – $26: The younger sister of Glisten and the twin sister of Tinsel, Twinkle the Supersonic Deer has a radiant personality that matches her pink fur! Her time in the aurora borealis has gifted her with magical singing abilities, sparkly hooves and glowing fur. Add Twinkle's cape, tutu and sparkly shoes to make her even more charming!
Santa's Reindeer – $26 each: All of Santa's reindeer are at Build-A-Bear Workshop (including the Classic Reindeer)! This year's Nice List is the longest ever, and Santa and the reindeer need your help! Make your own reindeer and dress it in the outfit of your choice. Select a free name medallion to experience all the FUN before Christmas!
Online exclusives:
Sweet Buttercream Bear – ($35; U.S. web only) For a gift that's perfectly personalized, this bear features soft cream fur, green eyes and shiny red paw pads. Customize this furry friend with up to three lines of embroidery or a monogram to send warm wishes!
Christmas Joy Bear ($20; £17 – UK and US web only) This bear is a holiday classic you'll treasure for years to come. With festive paw pads, this online exclusive furry friend is the perfect present under the tree.
20K Bear Donation
In honor of the company's 20th Birthday, Build-A-Bear donated 20,000 teddy bears that will be distributed among two dozen children's hospitals across the United States.
Each teddy bear was accompanied by a personal message hand-written by representatives of Build-A-Bear, United Way, and UPS. All teddy bear deliveries have been completed, to hospitals from coast to coast–including but not limited to:
Boston Children's Hospital (Boston, Mass.)

SSM Health Cardinal Glennon Children's Hospital (St. Louis)

Children's Healthcare of Atlanta at Egleston (Atlanta)

(Atlanta) Children's Healthcare of Atlanta at Hughes Spalding

(Minneapolis) Children's Minnesota

Children's National Health System (Washington D.C.)

Levine Children's Hospital (Charlotte, N.C.)

Lucile Packard Children's Hospital Stanford (Palo Alto, Calif.)

Monroe Carell Jr. Children's Hospital at Vanderbilt (Nashville, Tenn.)

NewYork-Presbyterian Morgan Stanley Children's Hospital (New York)
To learn more about the mission of Build-A-Bear Foundation, you can visit buildabear.com/giving.
Connect With Build-A-Bear
To learn more about Build-A-Bear Workshop, visit buildabear.com and follow the brand on Facebook, Twitter, YouTube and Instagram.
Disclosure: This is a sponsored blog post and I was compensated by Build-A-Bear Workshop. All thoughts and opinions are my own.
Related Posts: