There are so many fun places to go with friends to help you make lasting memories. Whether you are looking to stay local or hit the road one thing is clear – a night out with friends is exactly what the doctor ordered.
I already wrote about 50 things to do with your best friend and I think I pretty much checked everything off that list to date! If you haven't had a chance to read that post, be sure to click over once you finish reading this round-up. There are so many fun places to go with friends included on that list!
Fun Places To Go With Friends
In the end, the most important thing to remember is to respect everyone's budget and everyone's preferences. This could be hard when your group is rather large. There are two ways to handle this:
Give everyone a chance to choose an outing and schedule it out ahead of time
Create a budget cap and agree upon a theme ahead of time
My mother always goes out with her best friends for their birthdays and the birthday girl picks where to go during her birthday month. However, no matter where they go, each person never spends more than $50 during that night out. This includes a drink, shared apps, a meal, and a shared dessert.
Some heavy research is involved to make sure that they can pull it off, but these girls have been able to keep to this routine for over 40 years! It works!
Without further ado, let's talk about some fun places to go with friends this year!
Schedule A Spa Day With Friends
When was the last time you went out for a massage and a facial with your girlfriends? A spa day (or overnighter) can be such a great way to reconnect with women you might not see throughout the month/year.
I like to take an annual Mother's Day trip with my girlfriends. We always plan it around May – or as close to the holiday as possible – and then we spend one night away from the kids. It is the perfect bonding experience with girls I simply adore.
Related: 75 Reasons why I love my best friend
Take A Cooking Class
You want to have a great laugh? Book a cooking class and see just how much or little your friend group knows how to do around the kitchen. I recently had to make a few dishes with some blogging buddies and it was a riot.
When booking your cooking class, make sure you like the type of food they have scheduled. Plan ahead and pick a date that meets your palette's needs. Some might love desserts while others might want something a bit more savory.
Plan A Girl's Night Out
Looking for a fun place to go with friends? Sometimes it doesn't have to be so serious! How about a great restaurant with the right kind of drink menu?
Pick a location that works best for everyone in your group and make a reservation. PRO TIP – ask for a round table. They will accommodate you. I promise.
Whenever I go out with my friends, we always ask for round tables because it makes it so much easier to chat! Long tables cut people off and out of different chats.
Related: Fun Places to Go In NYC with Friends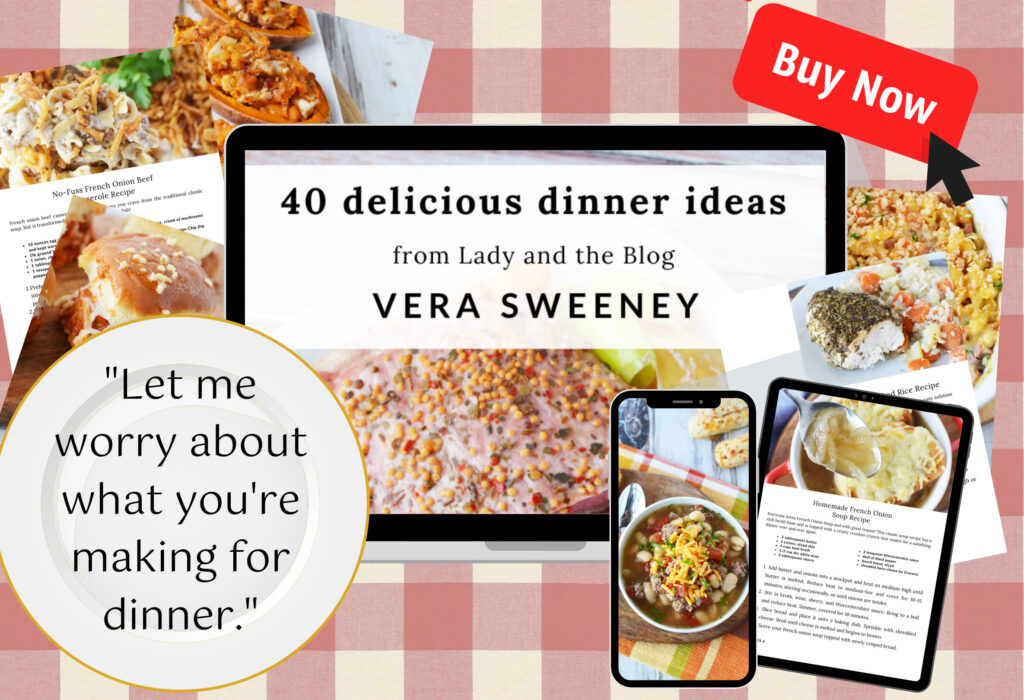 Looking for some easy and delicious dinner ideas? You've come to the right place! "40 Delicious Dinner Ideas" is packed with recipes that are simple to cook and only require ingredients you likely have in your refrigerator right now. So why wait? Get cooking!
See A Show Or A Concert
If you are in NYC and are looking for ways to score cheap Broadway tickets – it is possible! I wrote up a full blog post all about how I ALWAYS find discounted Broadway tickets. Be sure to read it.
I just adore heading to see a show with the family! And whenever I can, I make sure to make a night of it with my girls as well. Sometimes, my husband just isn't into EVERY SINGLE SHOW I want to see. That's when I grab my girlfriends and make some plans. Perfection.
Dueling Piano Bars
People, if you haven't gone to a dueling piano bar before… you haven't LIVED! We love to try to find dueling piano bars wherever we go. I am telling you, you will really get into it.
You will need to think about a few songs that you might want to recommend and have some cold hard cash with you so you can tip the musicians. Although, I've been to a few where they are now accepting VENMO – which is wild.
It's a fun night out – I promise! Usually, there is a two-drink minimum. So, keep that in mind when budgeting out for the weekend.
Beer Gardens With Friends
Another fun place to go with friends is the beer garden! Do you have one near you? Usually, they are behind a German restaurant. You can start there when it comes to figuring out where the closest location is to you.
A beer garden with friends = life. We always bring our children and let them run around on the grass while we listen to live music and snack on pretzels and potato pancakes. This is our summer favorite!
Head To Disney For The Weekend
Looking for fun places to travel with friends? How about Disney?! The absolute perfect getaway for lots of laughs and amazing treats. Make sure everyone has matching Disney shirts and some stretchy pants because there is just too much to eat in Disney World.
I've done a Disney girlfriend's getaway at least 8 times – no kids involved. Each time, I had an absolute blast. Disney is very much for adults!
It is a dream vacation spot – no matter who is in your party! But when you are with your friends, there are no strollers, diaper bags, potty breaks, and ice cream spills on your plate. Just slow strolling and leisurely eating. My kinda Disney!
Book A Bigger Vacation
This summer, I headed to Germany, Denmark, Russia, Sweden, and Switzerland with a group of friends. It was the most incredible trip I've ever taken to date. My children made lasting memories with their friends, but you know what? So did I!
I will never forget our trip around the Baltic Sea – it was one for the books! Lots of fun!
There are so many fun places to go with friends – and that could mean around the world! Spend the day making a list of all the countries you'd like to visit.
Other Fun Places To Go With Friends
Bowling
Amusement Parks
Pottery Class
Zoo
Ziplining
Go-Karts
Local Park
Movie Night
Movie Theater
Great Outdoors
Dinner Party
Scavenger Hunt
Road Trip
Trivia Night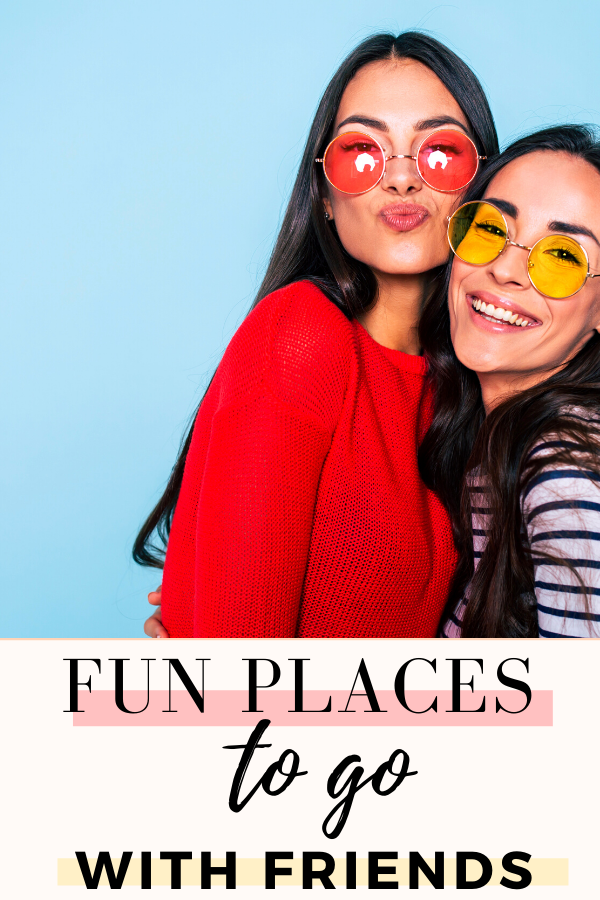 Where Will You Hang Out With Friends Today?
So, now that you've read about some of my favorite things to do with friends, I'm curious about what plans you're considering for your near future? As long as you are with your girlfriends and laughing, it works! It could be in your living room! That's all that matters.
But in all seriousness, look up the piano bar or the German Beer Garden ideas! They are so much FUN and a great way to spend time with friends! We continuously find ourselves in one of those two locations. What fun places to go with friends do you have on your list?