I can't believe I'm about to tell you how to get cheap Broadway tickets. This has been my secret for several months now, but I am finally ready to spread the word!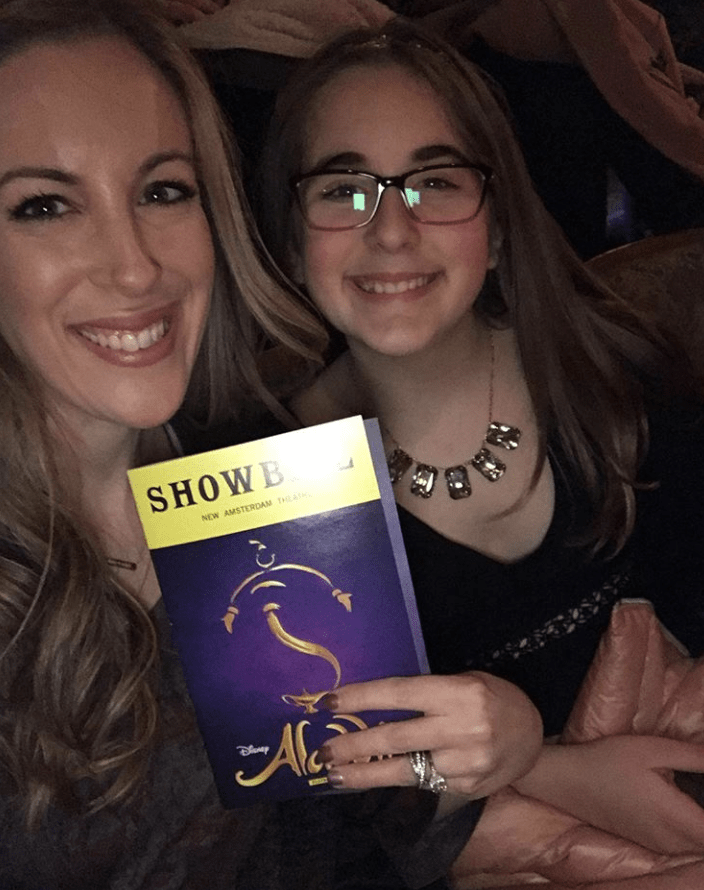 My daughter loves to sing and dance. She is also 12 years old and has sort of aged out of the toys and doll stage.
During the holiday season, we were racking our brains trying to think of what to get her for Christmas and decided that experiences were much more valuable than anything else. I knew cheap Broadway tickets were on our horizon.
Because Broadway shows are expensive, we had to get creative. Ok, not all Broadway shows are, but the new ones are.
I had been entering the Hamilton lottery every single day for about 5 months in a row without any luck. My mother was doing it too! There was no way we could afford $400 a ticket or even want to justify that nut.
PS – we WON THAT LOTTERY. You can read up about that full-blown adventure here. How To Win The Hamilton Lottery – We Won And You Can Too
But not everyone is going to win that lottery in a timely manner. So, searching out cheap Broadway tickets is the better solution.
How To Score Cheap Broadway Show Tickets In NYC
I started to do a little research and look for ways to find cheap Broadway tickets. Of course, if you are already in the city, you could always visit the TKTS booth.
But I like to know what I am doing ahead of time. I am not a "let's see what we get" kind of girl. I mean, I could be sometimes… but on most days, I like structure and order
The TKTS booth is great for tourists who have a few days scheduled in Manhattan and who don't really care WHAT THEY SEE. They just want to score a great deal and know they have an evening free on their calendar. .
Just pop over there – in the middle of Times Square – as soon as they open and see what shows they have available. There's no guarantee that you will get your favorite title, but odds are you will have a great night out, anyway!

There are a few websites that you can check for cheap Broadway show tickets. I am just going to list them here for your review. I get newsletters for every single one of them.
It's easier that way. When I have an interest in attending a new show, I start to open them up and look at prices. Otherwise, I just delete them and go about my day.
I highly encourage you to subscribe to the newsletters because sometimes they send out B1G1 free codes and they really give you the push you need to make some plans! You can't go wrong with a little culture – especially if you are taking the kids!
Websites For Cheap Broadway Tickets
You are excited, right? Not too many newsletters to sign up for!! But I am telling you that these are going to change your life.
We saw Alladin for $40 a ticket! Can you stand it? How could I resist? I also bought my son Caleb tickets to see Spongebob Square Pants and got them for a great deal.
We are definitely all about the experiences these days because we can barely walk through our basement anymore. Too. Much. Stuff.
Are you in the market for cheap Broadway show tickets? How do you go about scoring a pair for you and yours?
Interested in hearing about more Broadway reviews?