Every year, when school begins, my family sits down and creates a family contract that we all sign together. It outlines all the things we want to do together as a family unit. Some things are fun and lighthearted… while other line items require my children to pick up a mop and squeeze in a load of laundry after school.
Family Contract Template: Fill In The Blank Contract For Kids
Our family contract helps the five of us see eye to eye. The children tell me and my husband what they really want from us and we do the same. More game nights? Absolutely! Unloading the dishwasher? You better believe it! This is family bonding at its finest.
Every conversation is different, but one thing always rings true. We map out our full year together and have so much fun doing it!
What Is A Family Contract?
I have a template for you to download if you'd like. It's something that we use over and over again. I think you will get a lot of use out of it. Basically, it's a tool that your kids can use to help fish out their needs.
We talk about food, game nights, how much technology is allowed after school and more! Everything is included in our one-hour discussion – even our weekend trips! When we are done filling out our family contract, we tape it to the fridge for easy reference.
A Reset
When the new school year comes around, we look back and see how we did. Did we miss any marks? Did we do what we promised? Did we stay on path? It's important to keep our promises.
It doesn't have to be all serious either. This year, I promised to make more pancakes for dinner and to make sure that we create recipes from our Tasty Cookbook for kids. The children love to get involved in adult decisions and this activity allows them to do just that!
Related: Daily Self Care Checklist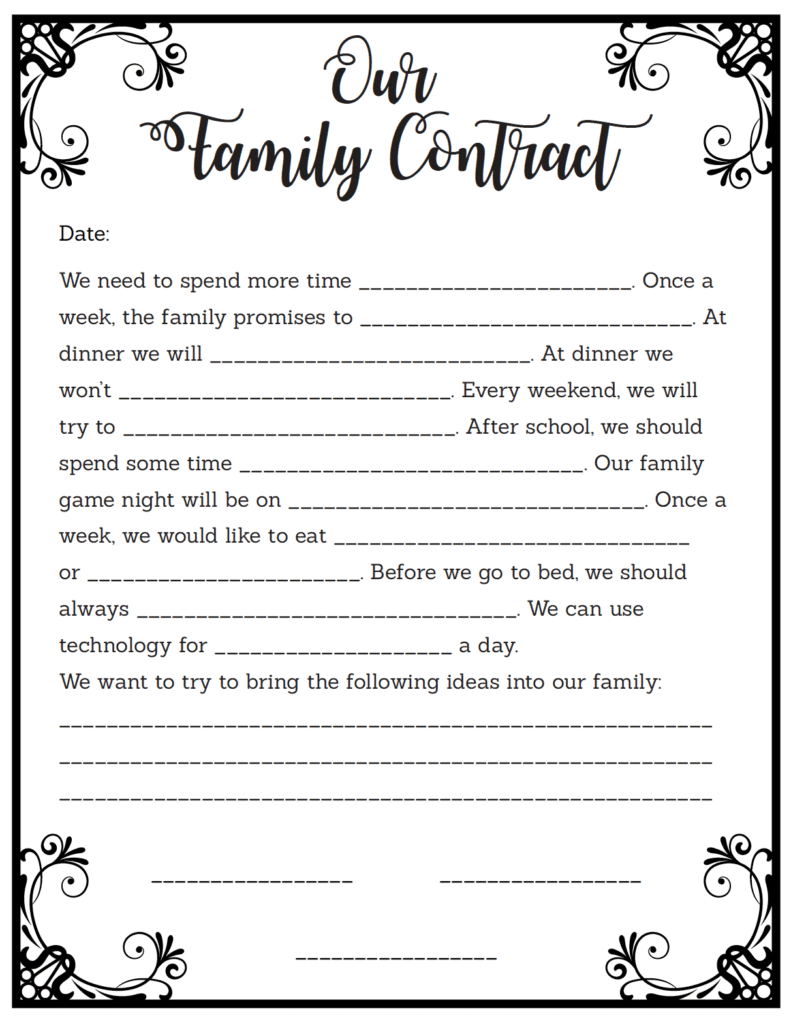 Download your FREE Family Contract Printable Here
Click here to download a copy of your free family contract. When your children come home, be sure to sit down with your kids and figure out what they think your clan needs more of.
Maybe your son really wants to start working on puzzles with you and you just don't know it! Did you know your daughter loves sudoku? It's a great conversation starter – truly!
We all could use less time on tech. Moms, I'm talking to you as well. Well, in our contract, we put limits on our Internet usage and it has really brought us all together. Facebook doesn't matter! The small, quiet moments do.
This signed agreement will force each of you to turn off your WiFi and turn towards one another once again. I know that I PERSONALLY need this. I think we all do.
What do you think? Is this something you might use? Do you have something like this in place already? Would love to hear about your family contract and what you and your children add each year!
Related Posts: