Are you looking for the best family meal planner on the market? Hoping for an organizational printable that will get your thoughts in order for the week and help streamline your menu creation process? You are in luck.
The Ultimate Family Meal Planner Printable
My partner and I recently created a school on Teachable and are collecting the best resources for women on the net. In fact, we are actively working at creating everything we think we need to run our houses from soup to nuts. As moms, what do we need day to day? That's what we keep asking ourselves.
If you are someone who likes to have printables on hand to help you get more organized, this meal planning binder will be perfect for you. Because we literally sat down with one another and asked ourselves the tough questions. What do WE struggle with? What can't WE quite figure out as moms who have 8 children between them?
Once we had all our answers, we designed a family meal planner that included everything a person would need to get back on track and help streamline their family's weekly food plan.
For fun, we also included some coupons that children could fill out to make special requests. Keep those readily available for special night requests. Think about it – birthdays, weekend nights, great grades – you name it.
Do you have a spouse that doesn't get involved? Guuurrrrlllllllllllllllllll. We've got you covered! A weekly responsibility chart is also included in this meal planner organizational printable kit!
Print as many copies as you'd like and enjoy our meal planning organization tool at your leisure. Be sure to join our Permission to Hustle school while you are at it. That way you will receive a notice every time a new printable or course becomes available. I just love how that system works!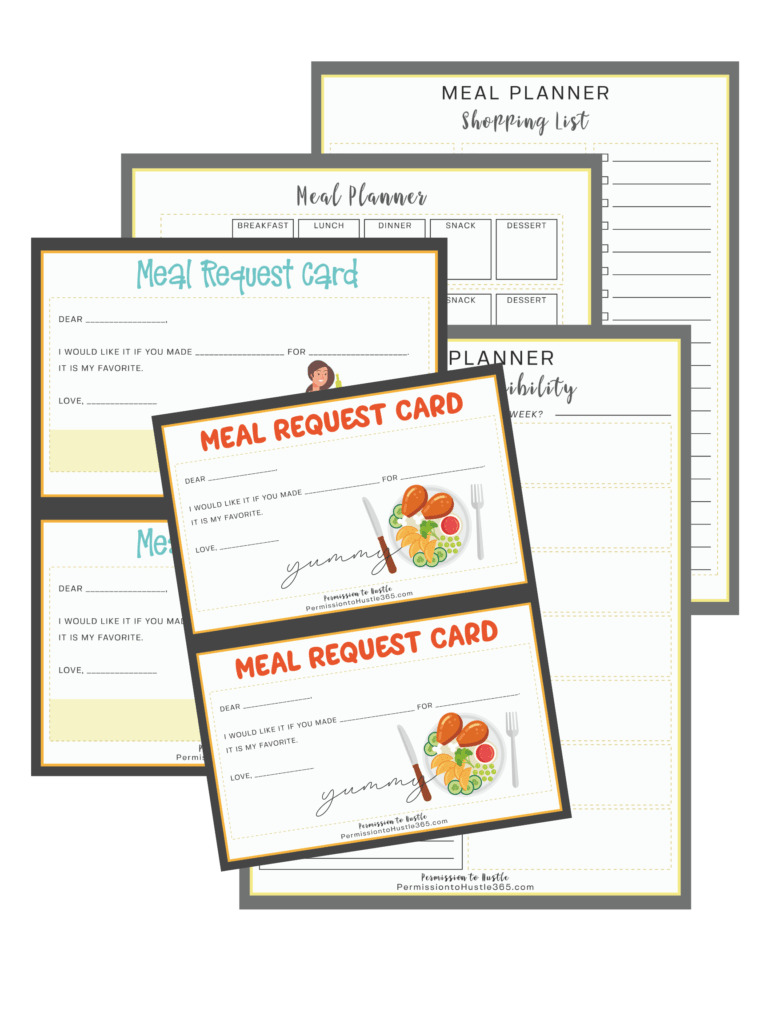 What's Included In The Family Meal Planner:
Favorite Meals List – We all have our favorite meals. We all have meals we've tried in restaurants and are dying to replicate at home. Use this printable to help you keep track of your delicious memories.
A Monthly Look At Meals – Sometimes we need a broader picture. Here you can capture special dates, vacations, upcoming plans and more.
Coupon Requests – These coupons can be used as a way for family members to request special meals.
Sharing Responsibility Chart – Are you looking for a little extra help? A more even split? Do you need your partner to see how much you do and they won't understand unless it's literally on paper? Download this printable and start to utilize it when planning out your week.
Blank Shopping List – We decided to keep this shopping list blank because no two people have the same taste. You know what you like to bring home. You know what your favorite store is. Do you.
Week In Review – A weekly look at what your family's meal schedule will look like.
Download The Planner Today
Click here to access the Permission to Hustle Teachable school. You will be able to check out this kit as well as any other kit we currently have online. Again, we would love for you to sign up to be a part of our school because once you do, you will always get a notice when new programs become available.
Related Posts: