My husband and I started to research hobbies for couples because we've reached the point in our lives where we are no longer needed by our children 24 hours a day. As bitter-sweet as this moment is, we've decided to make the most of this period of our marriage and bond through shared experiences.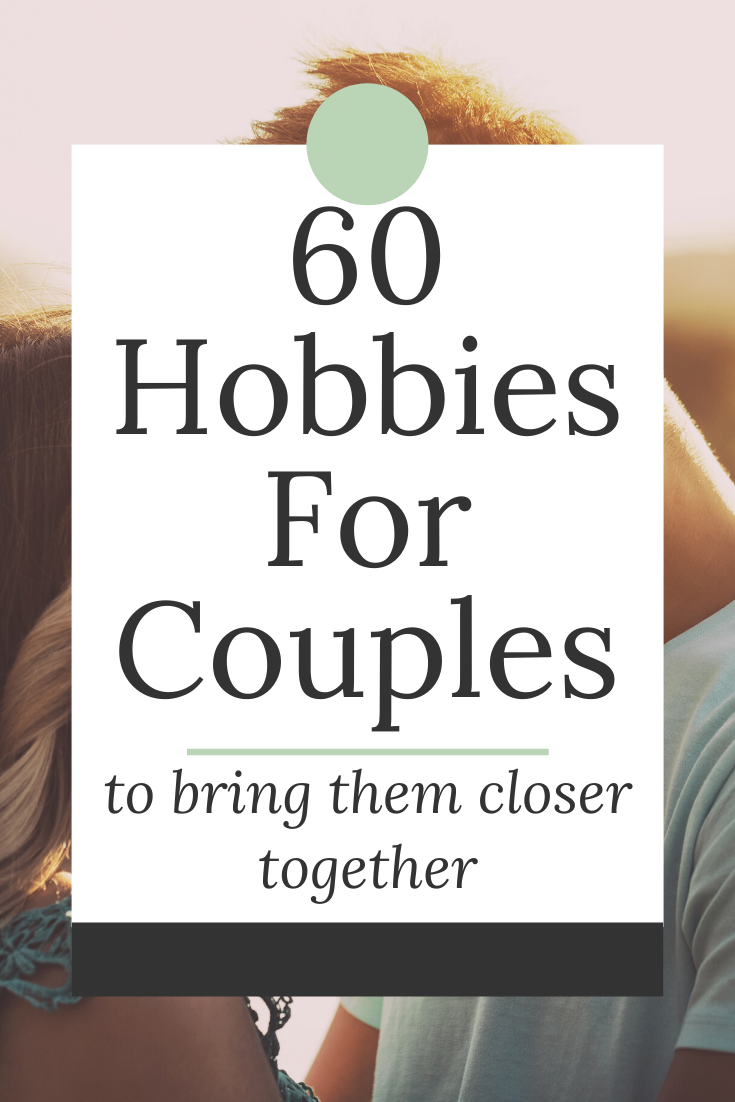 This list of over 60 hobbies for couples are ideas we are considering to do during all our newly found free time.
What hobbies can couples do together?
I was talking to my girlfriend the other day and she told me that her husband started to bird watch with her daughter. She caught the two of them in her backyard searching for birds with binoculars and a big book – having the time of their lives. She thought it was the cutest thing.
I loved that story because I just wrote a post about hobbies for kids and actually didn't put bird watching on that post. I didn't think children would into that activity. But I was wrong. It was a great lesson for me.
I'm telling you this now because you can do anything you want as a couple – that's the point. I have over 60 ideas listed below, but it shouldn't stop there. If I missed something, please don't stop yourself from considering it! Hobbies for couples could be anything and everything!
60 Hobbies For Couples To Help Strengthen Your Relationship
I broke down this fun hobbies for couples list into several section because we are all different TYPES of people. Are you more active or more of a homebody? THAT definitely matters.
For me, I will skip RIGHT OVER the active couples section. I have no desire to run or cycle or surf. Not my bag! So, I wanted to lump them all together. LOL! I prefer the other options.
Perhaps you are a SUPER ACTIVE person and could care less about Scrabble or gardening! Then you would skip the homebody section. Let's do this!
Hobbies For Active Couples – Outdoor Hobbies
Sailing
Running
Cycling
Dodge Ball
Softball League
Rock Climbing
Surfing
Canoeing
Scuba Diving
Kayaking
Hiking
Camping
Golf
Yoga
Tennis
Hobbies For Couples That Are Homebodies
Gamenight
Sudoku
Crossword Puzzles
Scrabble
Gardening
Backyard chicken raising
Brewing
Collecting items from a particular period / country
Baking
Selling on eBay
Movie Marathons
Reading
Basket Weaving
Candle Making
Chess
Video Games
Soap Making
Cake Decorating
Jigsaw Puzzles
Scrapbooking
Learn a new language
Hobbies For Couples That Are Artistic
Theater Groups
Creative Writing
Painting
Sketching
Learning an instrument
Refinishing Furniture
Starting an Etsy Shop
Hobbies For The Romantics
Cooking Classes
Museum / Gallery Visits
Wine tasting
Cocktail Classes
Ballroom Dancing
Cheese tasting
Pottery
Traveling
Join a Book Club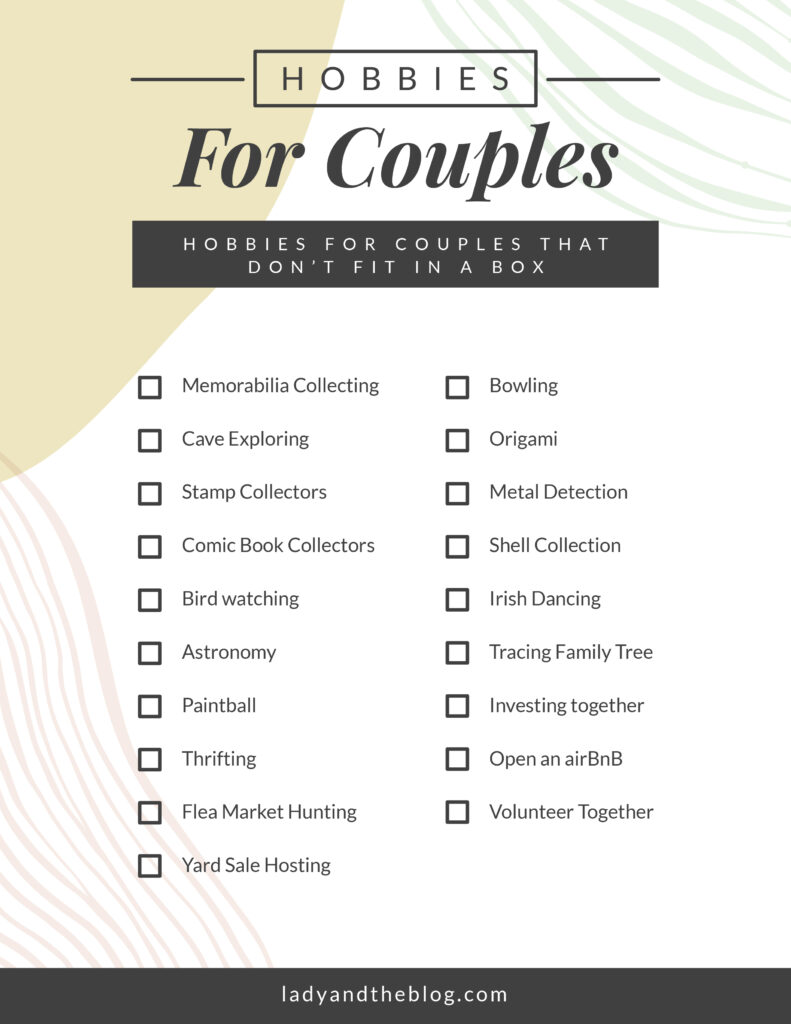 Hobbies For Couples That Don't Fit In A Box
Memorabilia Collecting
Cave Exploring
Stamp Collectors
Comic Book Collectors
Bird watching
Astronomy
Paintball
Thrifting
Flea Market Hunting
Yard Sale Hosting
Bowling
Metal Detection
Shell Collection
Irish Dancing
Tracing Family Tree
Investing together
Open an airBnB
Volunteer Together
Related: 75 Daily Things To Do Besides Social Media
What can a husband and a wife do together?
In the end, a great hobby is one that a husband and wife can do together and that brings them closer together. As long as the two of you find something that you can agree on, you will find a way to bond as a couple.
A happy marriage is all about finding time for one another and compromise. Perhaps the two of you can choose two hobbies to pick up together if you can't agree on just one! You have decades to figure this out!
One more thing to remember – if a hobby doesn't work out then you don't have to stick with it. Move on! This isn't a life sentence. Nobody says you have to live an DIE on that bowling league. Enjoy it while you can, get what you can out of it and then move on.
What can couples do when bored at home?
There's moments in our marriage where Bill and I find ourselves bored. After 20 years together, it happens! Right? That's the beauty of having a hobby together as a couple. You can always fall back on your joint couple passion. Spend more time together doing what you love together.
When there isn't anything on television and when the children are all occupied, whip out the mega puzzle and dedicate an hour or two towards that 10,000 piece creation! Or head towards the kitchen and bake that Nutella cake you've both been talking about.
Whatever you decide to do… just do it together and enjoy that quality time as ONE. That's the most important part. Oh… and have a fun time.
Download Your Copy Today
If you'd like to download a copy of this hobbies list for couples, click here. You will have access to every type of personality and idea listed on this page. I hope you enjoy bonding with the love of your life! Explore the world, your backyard… or your living room and have fun making memories together.
Related: