You don't have to wait for a sunny day to make memories with your partner because I have a few rainy day activities for couples that I want to share with you this afternoon. Having a partner in life means making the most of the time you get to spend together.
As you get older and start to raise a family together, the time you get to focus on each other becomes shorter. This means you have to get clever when choosing activities for couples.
When you have a free moment or have scheduled in some quality time with your partner only to find out that it's rainy outside, it may seem like you can't do anything fun. You are wrong.
There are many rainy day activities couples can do together to sneak in that quality time to make their own special memories. Today I'm going to share my best ideas for couples to spend that time together, no matter what Mother Nature has in mind outside.
Rainy Day Activities For Couples
Netflix
Create a rainy day movie and show list on Netflix with your partner. This can be a set of shows or movies that you both want to see and will only watch together whenever the rain is falling and you have a date night at home. Netflix has really been a wonderful way to spend some downtime with my love while we enjoy binge watching our favorite shows together on a rainy day.
Make Dinner Together
You have to feed the family some time, so why not use dinner time as part of your rainy day fun with your partner? Gather up those favorite recipes or bring up the Pinterest app and find a fun meal idea you can cook together. Making dinner together, even if it's the simplest of meal ideas, will help you bond and remember what it is you love about each other.
By the way, if you'd like to follow along with my top Pinterest pick, here they are.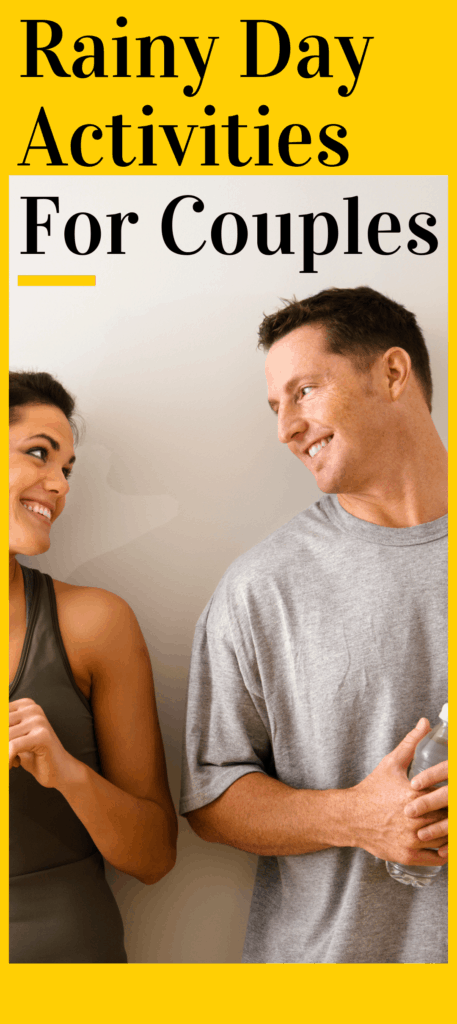 Crossword Puzzles
Test your knowledge as you work to complete crossword puzzles together. This is such a fun activity because you can make it highly competitive as you both try to figure out the word faster than the other. Crossword puzzles come in all shapes and sizes, you can print them from free online printables, purchase a crossword puzzle book or download an app if you must.
Bubble Bath
Having a bath that can fit the two of you together is a perfectly romantic home date idea for a rainy day. You can keep each other warm and sit back as you relax in that warm bath while the rain falls outside.
Many times rainy days are colder, so a warm bath may just do the trick to keep you both comfortable, relaxed and warm while cuddling up together.
The biggest problem you two will have is figuring out what temperature to agree on. If you are anything like me and my husband, we are about 20 degrees off. LOL! Either way, this one should absolutely get added to your list of rainy day activities for couples.
Clean the House Together
Believe it or not, it actually can be quite fun to clean the house together. This is the perfect thing to do for any team who enjoys a spotless home.
Gather up those household cleaners, blast the music and get to it as you clean the house together for a unique rainy day activity for couples. I highly suggest more couples try doing this on a rainy day. It's entertaining and super fun!
Read the Same Book
If you're the sort of couple who enjoys reading books, then try to have one book on hand that you both can read together or at the same time. It's not only fun to read the same book together so that you can have conversations about the book, but try reading to each other.
Reading the same book works out pretty awesome as a rainy day activity because it allows you two to have something to talk about later on in the week. Bad weather is one of the many reasons why you need to get a library card. It's a fail safe!
All of these rainy day activities for couples may not suit every couple's fantasy, but I'm sure you found at least one on this list of ideas to enjoy with your partner when the next rainy day hits.
It's springtime, there are bound to be more rainy days in our near future, why not make the most of them with these rainy day activities for couples?! I love my husband. SO, I can't wait for the next thunderstorm to try out a few of these ideas.
Relate Posts: