Now that everyone is socially distancing and used to lounging on the couch in their pajamas, it feels like we all lost the urge to paint the town red. That's why it's always smart to have affordable at home date night ideas to wow your significant other. These tips will help keep the romance alive without breaking the bank.
If couples want to have a fun date night while staying at home, they can play board games, work together on a complicated puzzle, enjoy a movie marathon, or even indulge in a personal wine tasting of their choice.
30 Cheap At Home Date Night Ideas – Some Are Even Free!
Even if you don't have kids, making plans to head out for the night can be such a chore. That's why these stay at home date night ideas feel like the perfect substitute for all the craziness that a city experience might offer. The best part? Each idea is budget-friendly and completely doable on a dime.
Order Your Favorite Foods From A Variety Of Restaurants
It might take a bit to drive around town and grab each of your favorite dishes, but if you like the wings from one restaurant and the pizza slice from another, make it interesting by ordering all of your favorites foods at once and then sharing everything with the person you love. Just remember, if you opt for delivery, it could add up. It's better to just hop in the car and get it yourself.
Turn Your Bedroom Into A Hotel For The Night
What do you like best when you go away? Think about matching robes and slippers, a warm bubble bath, and a sweet turndown service – including chocolate on your pillows.
Pretend You're On A Cooking Show
Most couples usually have a favorite Food Network show that they watch together. Why not have a little fun and turn dinner into a competition? Grab all the ingredients you need ahead of time and then judge the results as a team once you are through. Loser cleans up.
Wine Tasting At Home
There's no reason why you have to be at a restaurant to enjoy a good wine tasting. Pull some of your favorite bottles from the basement and clink your glasses until the sun comes up. Do you want to try to detect the particular notes each bottle is most known for? Or would you rather just drink and snack on cheese and crackers?
Backyard Picnic
You can keep things really simple with a backyard picnic which makes this the ideal home date night idea. Here are some options to consider for your basket:
sandwiches
croissants and butter
cheese and crackers
fresh fruit
jams
pie
handmade parfaits
quiche (storebought if you don't have time to make it)
drink of choice – sparkling water, wine, beer, soda
Of course, don't forget your blanket and a few pillows!
Take A Virtual Class Together
When thinking about couples' activities together at home, why not opt for a virtual class? There are so many to choose from, including mindfulness, yoga, art, language learning, and kitchen skills.
You don't even have to pay for the education these days. YouTube has a wide-array of free content that is waiting to be explored. Start there!
Plan Your Next Vacation Together
Not many people are traveling due to COVID, and so it might be fun to explore different options to consider once the world opens up and more minds are put to ease. Really take the time to research new resorts and destinations.
Create A Couple's Bucket List
A couple's bucket list is the perfect way to make sure you and your favorite person will each feel like they are setting the appropriate goals for the relationship.
Virtual Double Date
What if you Face-timed another couple that was at home and having dinner and created your very own virtual double date night!? Yes, we do live in a strange time, but this is very much part of the way we operate as society and it could be fun. Don't knock it until you try it.
1000 Piece Puzzle Challenge
I can't tell you how many of these puzzles I've purchased over the years. When I became a mom, I had visions of my family gathering around the dining room table and working together to complete them – one at a time. They are all in my basement collecting dust! But that's just us! Maybe you guys have more patience. LOL
I feel like you need to be a particular kind of person to complete one of the 1000 piece puzzles and if you can do it with your boyfriend or girlfriend – go for it!
Mario Kart Night
Ok, it doesn't have to be Mario Kart, but you get my drift. Have a Video Game Night and make it count. Place your bets and go all in. Make sure you have extra batteries for the wireless remotes.
Learn To Roll Sushi
This is something I've always wanted to do and it would be a perfect date night idea for a rainy day. Why night grab everything you need from the store and teach yourself how to roll sushi at home? You need a few tools to get things just right, but what a great skill to possess!
Escape Room At Home
There are escape room games that you can play at home and they are definitely something you should consider if you like puzzles and competitions. We are HUGE fans of hitting up local Escape Rooms on Long Island and love to get into the groove whenever possible.
Related: Escape Room Tips – How To Beat Escape The Room!
Slow Dance To Romantic Songs
First, you have to make a playlist of romantic songs. Then, you have to set the mood.
Make sure you have a dimly lit room and a few candles spread out. Put on your Sunday best and ensure there is nothing cooking in the oven because the last thing you need is an interruption once this party-for-two begins.
Rearrange The House
Full confession – this is the perfect date night for me. For my husband? Not so much. I guess you really have to know your audience here, but consider spending the night finally rearranging the house and making it look exactly how you want it to… and then celebrating with a delicious meal in your new dining room.
Watch Each Of Your Favorite Childhood Movies
Goonies never say die! It doesn't matter if you've been together for one year or thirty, watching your favorite childhood movies is such a great way to spend the night with the person that you love. You could set some rules. For example, if your spouse is terrified of horror movies, then you should omit that category entirely. Try to be considerate when choosing.
Organize Your Old Photos And Remember
Life goes by pretty quickly, especially once you have children. Why not spend the night pulling out old albums and remembering different times? You could even sort through the photos and make new collages.
This post contains affiliate links. Affiliate links that support Lady and the Blog at no additional cost to you. I will receive a small commission if you choose to make a purchase on this post.
Test Out A Date Night Subscription Box
There are actually subscription boxes that. you can buy that are geared towards couples who don't know what to do together at home. These items are delivered straight to your door and have a variety of themes for you to choose from – ranging between sultry and fun.
Two examples are the Date Night Club and the DateNight Box. But don't stop there! There are plenty more on the market.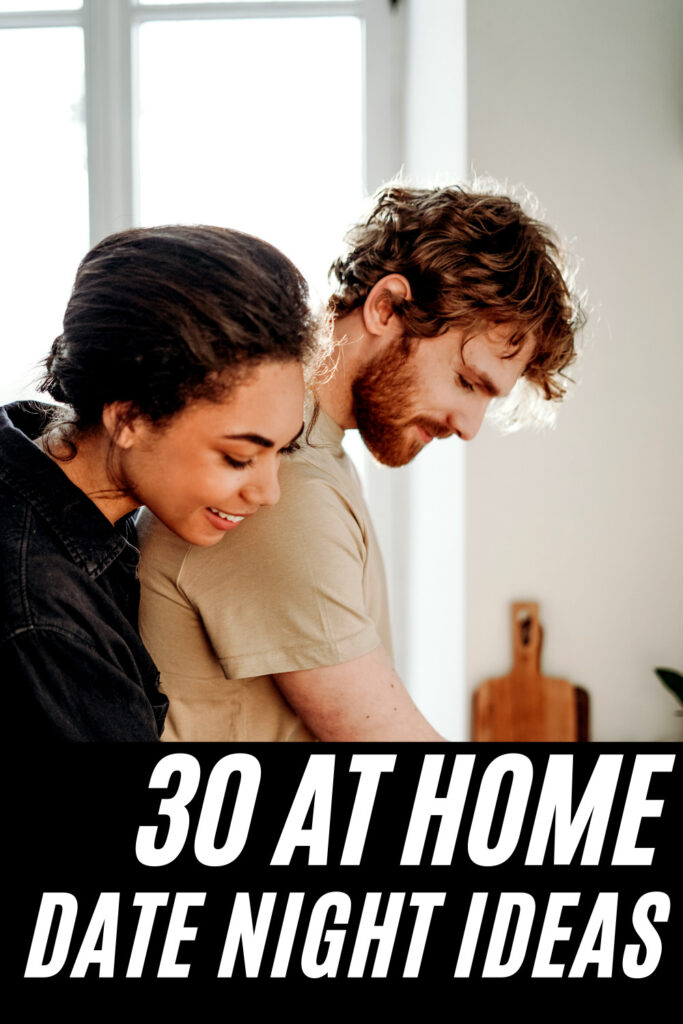 Still Need More Ideas? Here are Ten More
Have an epic pillow fight
Attempt to recreate your wedding cake
Create an outdoor cinema using a projector
Get everything you need to have a proper massage night
Opt for a no electronics zone
Write each other love letters
Grab some canvases and draw/paint one another
Start a YouTube channel today – couple's choice
Download a Newlywed Questionairre and see how well you know one another
Grill out front and get to know your neighbors for the first time in a long time
Which one of these fun ideas will you try the next time you decide to stay in with the person you love?