All three of my kids have glasses and sometimes I feel like they should see heroes with the same eye accessories on television and in the movies. We all know that representation matters and when I was growing up, the kids with glasses usually were the ones in the show that were picked on the most in the script.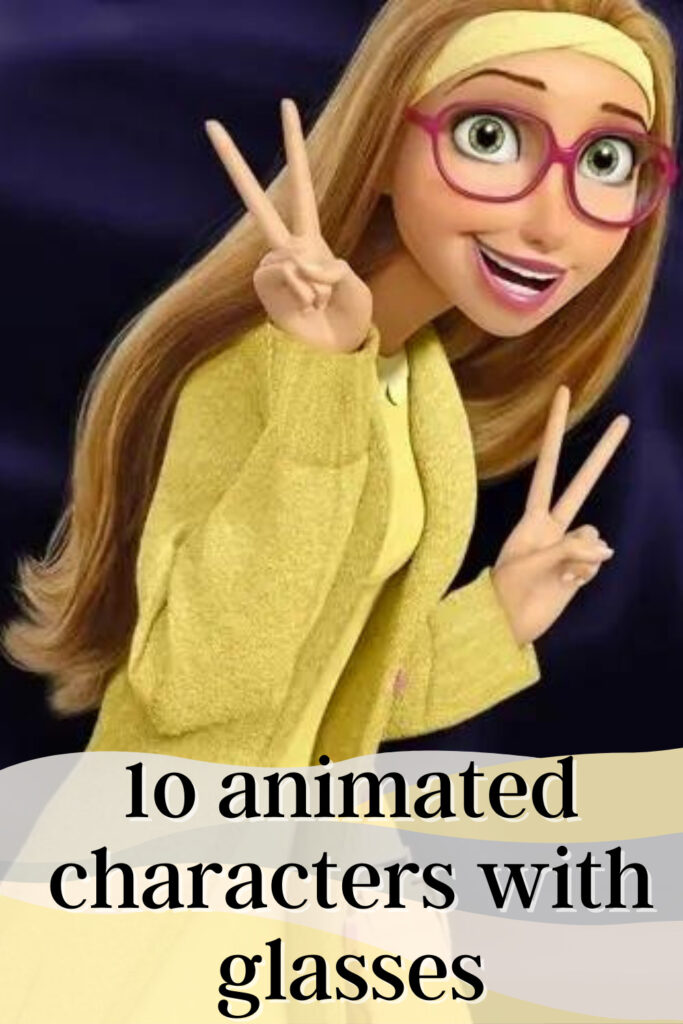 These ten animated characters with glasses not only carry the storylines with their strenght, abilities, and dedication to their inner circle, but they are also fun to watch! Be sure to tune into each of these incredible storylines and make it a family movie night to remember.
10 Animated Characters With Glasses That Your Children Will Love
So, whether you want a superhero, a scientist, or the best friend next door, my cartoons with glasses list will fit the bill. Be sure to check out every option and then let me know which drawing is your favorite.
Edna Mode from The Incredibles
Dahling! Edna Mode is fashionable and fierce and the driving force behind every superhero's attire in the Incredibles. She takes no prisoners and also makes a great Halloween costume – for any age.
Cyclops From X-Men
While his glasses aren't traditional, you have to admit that Cylcops wouldn't be able to survive without those shields on his eyes. Or maybe WE wouldn't be able to survive? Either way, you never see this superhero without his protective gear on.
Sadness From Inside Out
Wah! Don't make me get all teary-eyed right now thinking about how great this movie was – start to finish. Quick, someone pass me a slice of broccoli pizza. Sadness from Pixar's Inside Out wore glasses and cried her way right into the center of our hearts, forever changing the way we looked at the emotion.
Superman When He Is In Clark Kent Form
Listen, Clark Kent proved to the world that glasses have the power to truly transform a person's face. As soon as he took his pair off, no one around him could recognize him! Superman to the rescue.
Simon from Alvin and the Chipmunks
The trio we all grew up loving – Alvin, Simon, and Theodore from the Chipmunks. Naturally, Simon was the brains of the operation, but he had just as much fun as the rest of his team and was alway a pleasure to watch.
Clyde McBride from The Loud House
What's a show without the main character's witty and comedic best friend? Meet Clyde McBride! When he isn't passing out and getting nose bleeds whenever Lori is around, he spends his time paling around with Lincoln getting out of hilarious issues that only the two of them can get themselves into.
Margo Gru From Despicable Me
Margo, Agnes, and Edith are three sisters who were eventually adopted by Gru in Despicable Me. Margo was the oldest and the one who can been seen wearing a pair of shiny glasses throughout the entire series.
Honey Lemon From Big Hero 6
Honey Lemon, originally Aiko Miyazaki in the comics, was not only a genius but she was the best friend every one of us wishes to had in our lives. She fought with all her strength and used her wits to make sure that Hiro Hamada had what he needed to take down Alistair Krei and his master plan during Big Hero 6, all while remaining perfectly color coordinated.
Tiny Diamond from Trolls
Tiny Blitzgerald Diamond knows how to bring fun to whatever party he walks into and does so with style and while rocking his favorite facial accessories. When he isn't dancing or singing, this sparkly Trolls character chooses to make bold statements with his stylish looks.
Johnny Bravo from the Cartoon Network
Johnny Bravo is a classic animated character known for his tall hair and cool-looking glasses. While they are technically sunglasses, I felt like I couldn't include a list of these types of accessories without adding this legend in the mix. Who knows? Maybe they were prescriptions?!
So, what do you think? Did I miss any of your favorites? Here are some other notiable mentions:
Velma from Scooby Doo
Meg Griffin from Family Guy
Daria from Beavis and Butthead
Hank Hill from The King of the Hill