These fun origami butterfly craft video tutorials will teach your children how to make the adorable 3D creations from scratch. How to fold a butterfly is easier than you think and I found 14 step by step lessons that each offer a different spin.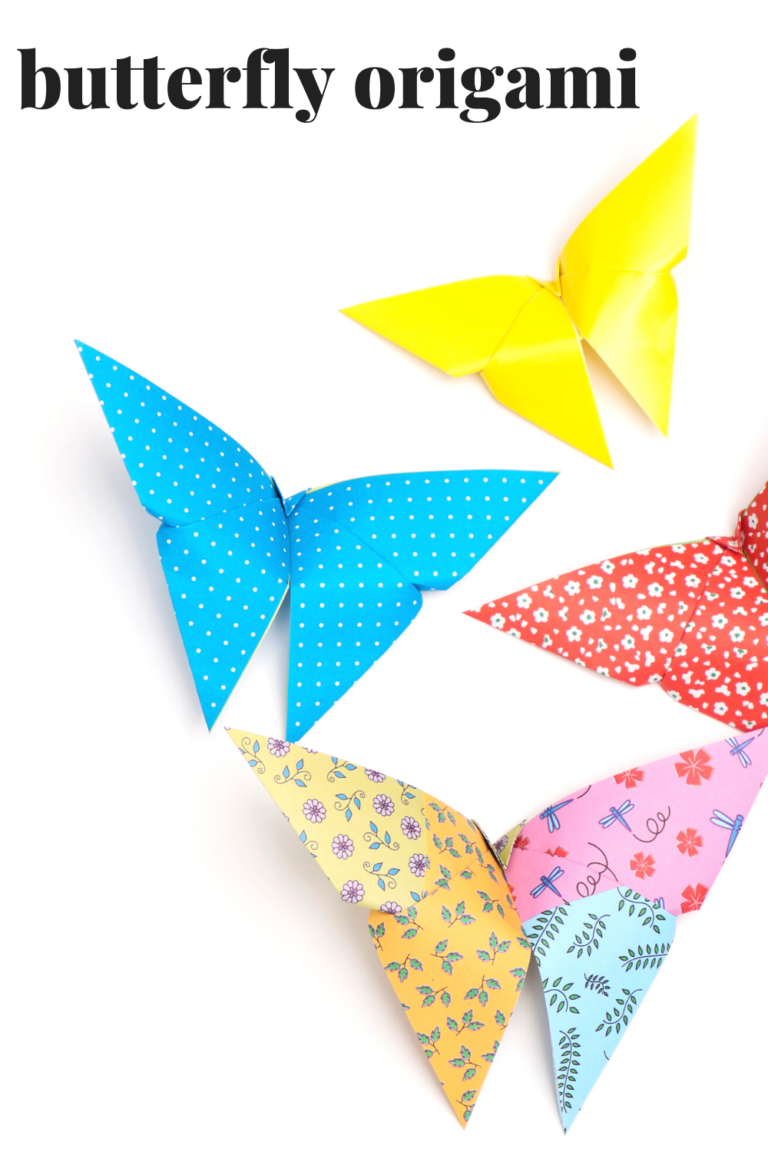 This section contains affiliate links.
Traditionally, people use washi paper when working on their origami butterfly pattern. You could find this special craft paper at Michael's, AC Moore, or online at Amazon.com.
However, when I am home with the kids, we use whatever paper we have on hand and make the most of it. That is a life lesson I like to teach my children, anyway. Use what you have! 🙂
Related: 12 Raised Salt Art Projects For Kids
Origami Butterfly Craft For Kids
There are just a few things you have to remember when working through these origami butterfly instructions. Your paper will have to get cut down to a specific size. So, grab some scissors.
You should also decorate your paper before cutting if using regular printing paper. So, be sure to color beforehand. You won't have a chance once you get your shape just right.
Last thing you should know is that all paper craft projects below start off with a square shape. It could be 12×12 or 8×8 – that's up to you. But the foundation of this paper craft is a square.
What To Do With Your Origami Butterflies
Once you have created several shapes in a row, consider adding these origami butterflies to greeting cards, taping them all around your bedroom, handing them out to friends, or – if the weather is permitting – hanging them in your backyard!
After a few tries, creating this design will become second nature! It will surprise you just how quickly you can get through a batch (or two). Before you know it, I bet you will have 100 butterflies on your table!
How To Make An Easy Origami Butterfly
Did you know that the word origami means "folding paper" in Japanese? Makes sense right? Now that we got some history out of the way, let's get our creative juices flowing.
As a reminder, some of these tutorials are easier than others – I tried to give you a wide range of options.
This is a great option for those who want to fill an entire wall with butterflies. Small options – consider using different colors of paper.
I thought this butterfly origami was different because it had that ruching feel. Am I saying that correctly?
The creator also shows you how to hang your design using a string which gives you more options regarding placement. Did I mention she has a British accent? Yeah, I said it.
As always, remember that you can pause a video and rewind it if you feel like you've missed something. These are all step by step tutorials, but they do go pretty fast.
So, just keep this in mind. You are in complete control of the speed! Nothing is live. So, get rid of crafting anxiety. Enjoy this ride!
Things are getting a bit harder now that we are moving through these origami butterfly patterns, right? I know. But I still think you can do every one of these tutorials.
How To Fold A Butterfly – A More Complex Version
Of course, with every DIY project, there are more difficult versions. Here is something you should try after you've mastered all the others.
How To Make A Butterfly Origami Bookmark
While we were talking about butterflies, I wanted to include this tutorial for how to make an origami butterfly bookmark because I thought it was just so darling. So many different ways to make use of this special craft.
Are you willing to give this DIY craft a shot? Would love to hear! Looking for more DIY projects to try out? Here are some really fun options: