Promote a lifetime of reading with these fun printable bookmarks to color. These creations are filled with simple designs that kids will have lots of fun coloring. These color bookmarks are so popular with kids because they will love to use dividers that they took part in developing.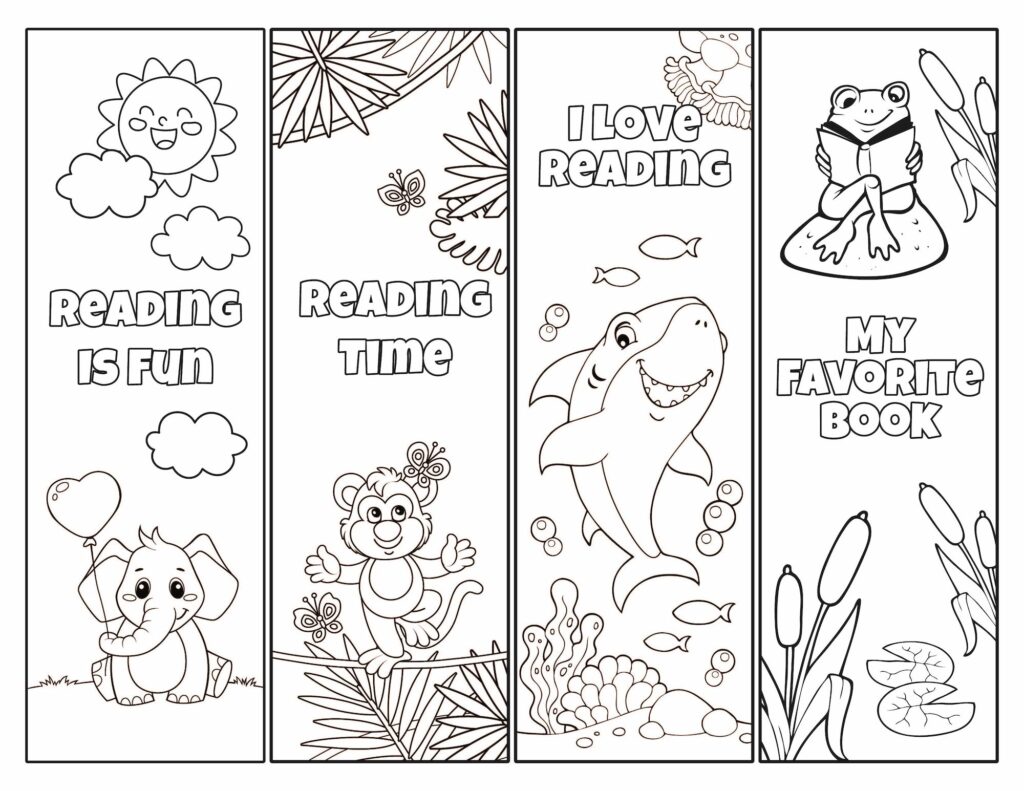 When you allow your children to showcase their creativity, you encourage them to continue on a path of self-discovery through the arts.
Printable Bookmarks To Color
And you know what? It's not just about having fun with your kids! These printables will get your children excited to read. Double bonus!
Sharks, frogs, elephants, and monkeys – oh my! As mentioned, simple designs help little fingers to work on dexterity. Keeping in between the lines also encourages patience.
Are you looking for more activities to do with your child?
I have an entire section dedicated to my blog that focuses on keeping the kids busy. This is such an important topic that I am really passionate about. I have three kids of my own and I spend a ton of time thinking of unique things for them to do. Here are some of my recent posts: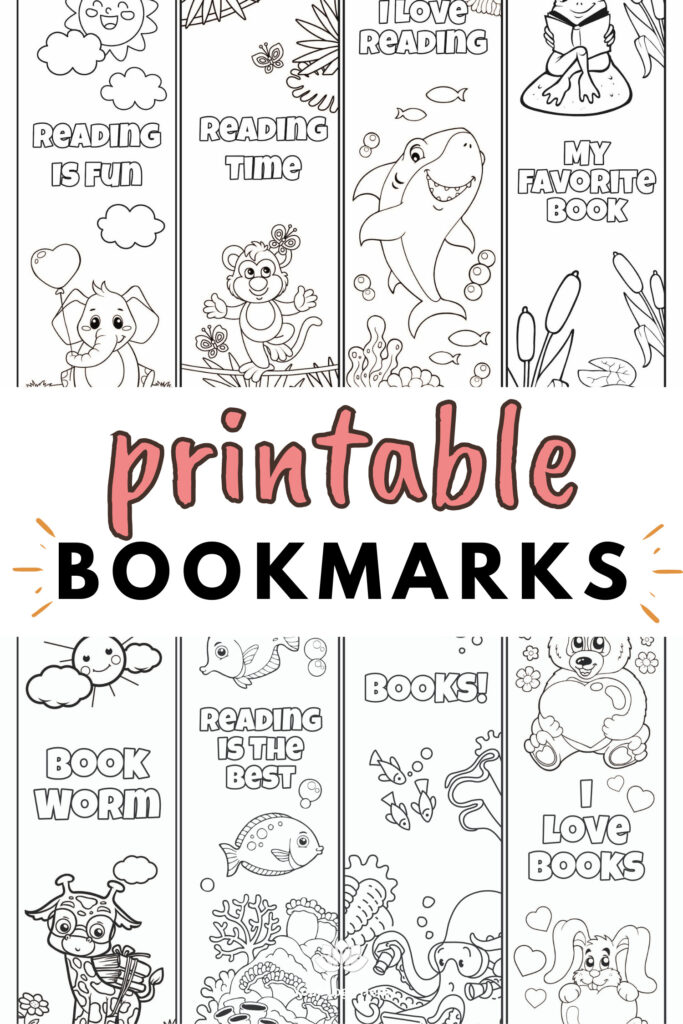 How to Use These Coloring Bookmarks
To gain access to this free printable, simply click here to download a PDF file that will contain both pages featured on this blog post. There will be 8 total bookmarks for you to and your family to enjoy. Print out as many copies as you need and color freely!
You could also choose to laminate your designs once finished. This will guarantee a longer-lasting mark, but it is not required.
Best Paper To Use For These Printable Bookmarks
You could absolutely use standard printer paper. Often times, I personally do this when I am creating them for my own children! However, you could also choose a sturdier cardstock. This will ensure a sturdier booker that won't break apart easily.
Remember, crayons, markers, and colored pencils all are awesome for decorating your bookmarks.
These coloring pages are great for a rainy day activity you want to keep your kiddos entertained as they are stuck indoors.
Related: Indoor Household Scavenger Hunt For Kids – Family Fun Activity
And by the way, you could always just upload these images onto your child's iPad and allow them to digitally color them before printing! We have recently started dipping our toes into digital coloring and it is so much FUN!
Ways to Dress Up These Free Printable Bookmarks
Use glitter pens or even glitter crayons to add additional color to your pages.
Get creative and include puff paint to highlight the borders.
Print out on cardstock and then use watercolors to paint your designs.
Place a hole punch in one end, then add on some strings of ribbon or yarn to add dimension.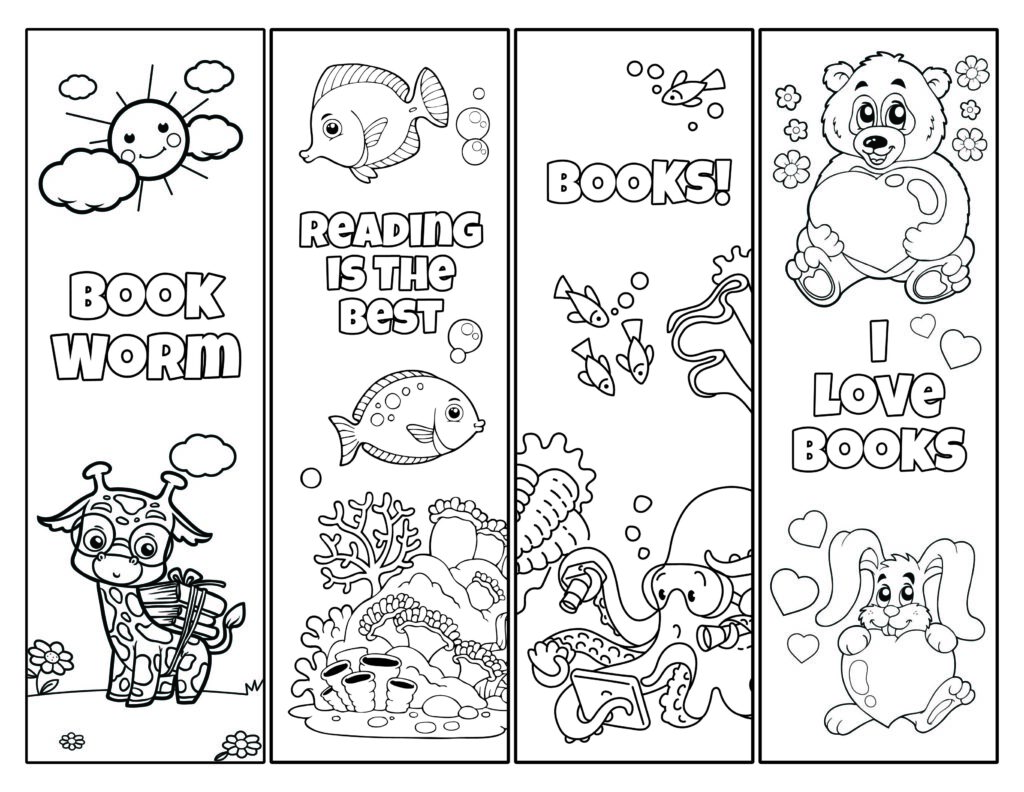 Can I Turn This Into A School Gift?
Absolutely! This print is a really fun gift idea for your child to take to school to gift their classmates. A non-food gift idea that is great for Valentine's Day, Christmas, a birthday party gift, etc.
Consider adding two crayons and a bit of Washi tape to secure the coloring sticks to the back of your package. If gifting, consider opting for the sturdier cardstock paper choice.
I hope you have enough inspiration to start showing off your creativity! Have fun with these printable bookmarks with your littles. It could be a project the entire family enjoys. I can't wait to see your masterpieces.