Need some help creating a grocery list for your shopping? Grab this printable blank grocery list and use it each week to keep track of all the items you want to purchase. This blank shopping list will help you stay organized and within budget.
Created with convenient sections that break down the types of foods you are searching for, this grocery list printable will make it easier for you to pick up personal care items, frozen foods, vegetables, pantry, etc.
Stay on track with this simple but effective printable.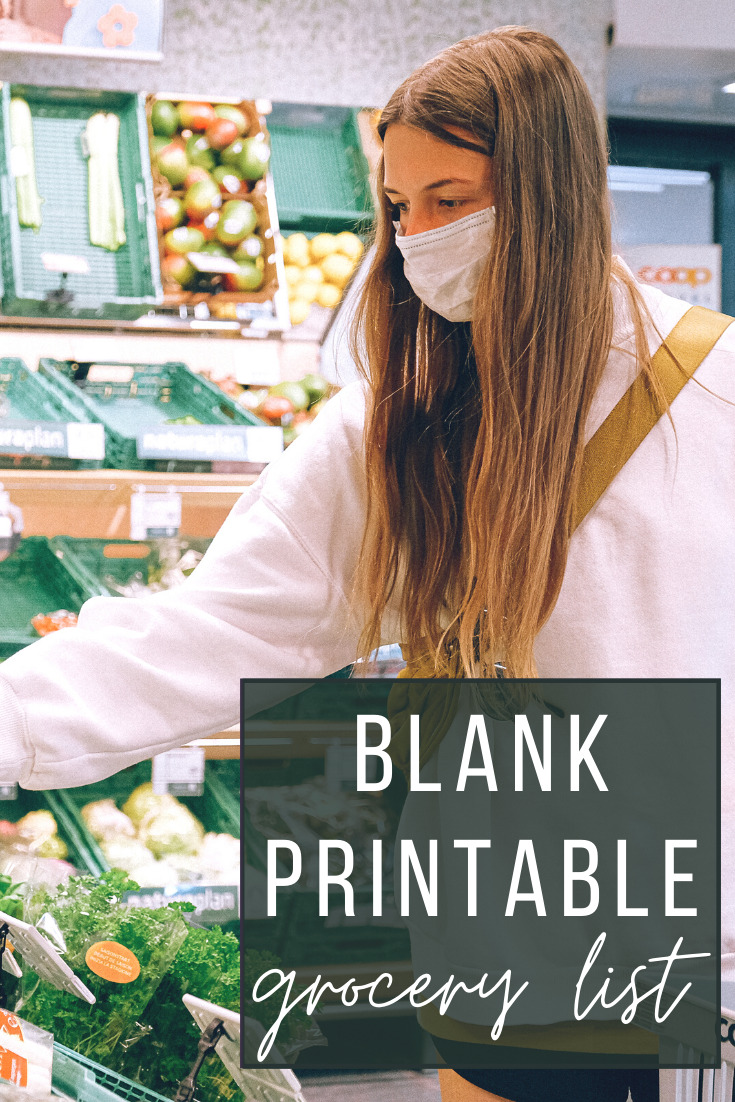 Printable Blank Grocery List
I am a meal planner, and I find that when I have a printable in front of me, it helps me to stay focused and on track. When I am getting ready to figure out my next few dinners for the family, I just look at my pantry and see what items are missing. Then I jot them down in one place for easy access when I'm at the store.
Whether you choose to meal plan once a week, bi-weekly, or even monthly I think you will find this printable useful.
Why Use This Blank Grocery List Template
Have you ever walked into a room, stopped, and thought why did I come in here? Well, if you answer yes, this is the exact reason you need this grocery list template!
Don't go to the store trying to remember all the items you need to buy, and then come home with just marshmallows and some juice boxes. Get organized and save time while you are at it!
Odds are you will reuse the same list over and over again. So, be sure to hold onto last week's list to use as a base.
Download Your Copy Here
If you'd like these two versions, as featured in this post, click here and here.
Tips For Using The Grocery Printable
Pair with Ads
Make sure to check the weekly ads for the store or stores you plan to visit. Create meals that match the items that are on sale.
Is chicken deeply discounted this week? Stock up! Then come up with a few different options for dinner – like this roasted chicken.
Shop Your Pantry
Before you add items onto your shopping list template, make sure to FIRST shop your pantry, fridge, and freezer. Do you really need more beans – even though they are on sale? You just might have 6 cans waiting for you deep in the back of your shelf.
It's always best to use what you have first. Every month, I try to do a money freeze and only cook with what I have in my house. By the end of the week, things get weird, but I suppose that's part of the fun! It's also a great way to save money and clear out your cabinets.
Number Of Items
Do you want to create a stockpile but don't know how to begin? Slowly start adding multiples of food every week. Instead of buying one can of corn, buy three (when they are on sale) and before you know it, you will have a nice stash of food at home!
When using this shopping list, make sure to add the quantity of each item next to the name. You can slowly stockpile hair care, home goods, canned goods, and more. It doesn't have to be a HUGE burden to build a stockpile. Do it a little at a time and when the price is right. This printable grocery list template truly is a blessing when it comes to groceries.
What Are Some Easy Recipe Ideas to Add To Your Grocery List
If you need help staying organized while filling up your home with groceries and home goods, you might benefit greatly from this free download. I hope you enjoy it!