I am gearing up to get ready for a November photo challenge and I would love for you to consider to do the same. November is when we finally start to see a true shift in the season and it is so much fun to document that change.
November Photo Challenge – Photo A Day Ideas Printable
There are so many different ways to share the pictures you capture online. It really all depends on the type of person you are.
I feel like nowadays you either fall into the IG category or the FB category. Very rarely is someone heavily invested in both platforms, but sometimes it happens!
There is also Tumblr, Reddit, online forums, and of course, local meetups! The opportunities are endless. Personally, I love to do a mix of both.
Expression comes in many forms and no matter how you choose to share your creativity, I hope you find this list of subjects useful.
I know, at times I find myself struggling to come up with unique ideas. Here's a possible solution to help you should you find yourself in the same boat.
Why Participate In A Photo Challenge?
This November photo challenge has a wide array of different focuses. Hopefully, these focuses will force you out of your house and maybe even your neighborhood.
Nowadays, we are all so attached to our phones. They allow us to run almost all of our lives – right from the palm of our hands. What reason do we have to aimlessly stroll around the streets anymore? There aren't much!
I hope this November photography challenge will give you the excuse you need to open up your front door and go exploring again.
(pictured – slow cooker apple sauce)
November Photo Challenge – Photo A Day Ideas List
So, what are some things you should consider to photograph in November? If you don't know where to start, here is a list to get you started.
I've added colors, feelings, typical symbols, and holiday favorites. I got as specific to November as I possibly could.
Have I mentioned it's my birthday month? I should have added that in – but I didn't. Know I wanted to because I am an only child and life is all about me. But I show restraint.
Do I Need To Follow This List In Order?
No! You do not have to follow this photo a day list in any particular order. Consider using this November photo list as a checklist. Work through it as you please.
What About Special Equipment?
You do not need to buy special equipment. If you have a camera, you can participate in any photo challenge on the WEB! Enjoy the journey, my friend.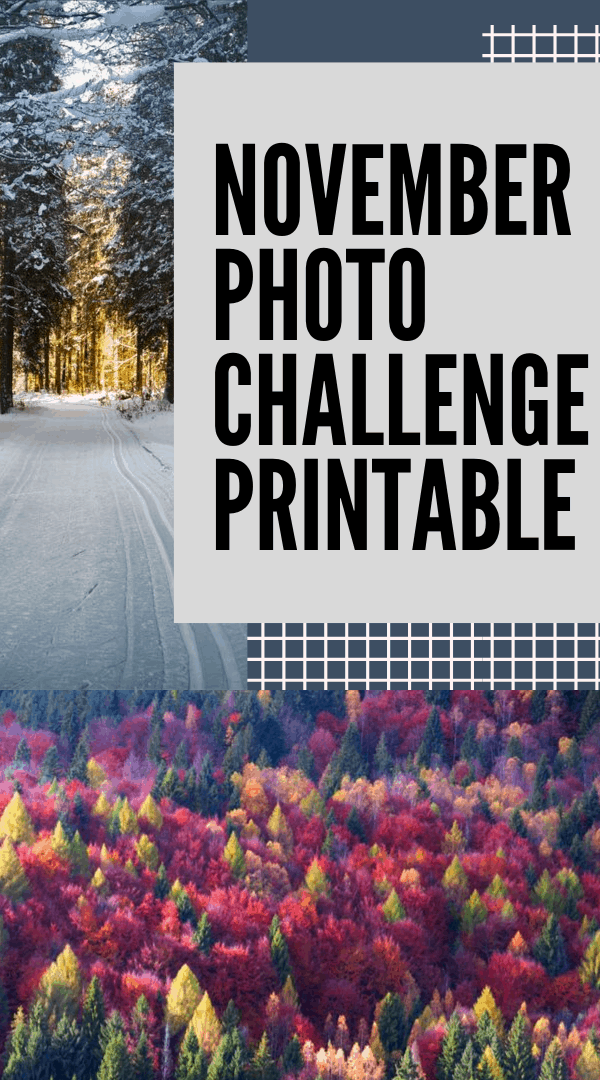 Tips Before You Begin This November Photography Challenge
Before you start this challenge, here's my advice, don't get caught up in perfection. Photography is more about mood and emotion than anything forced.
There are people who are absolute experts in manual mode using super expensive cameras. But then there are also people with iPhone that produce equally compelling shots.
None of that truly matters in the end. What matters is that you are enjoying your time working through the challenge. If this hobby brings you joy, then you are doing it right! Don't ever let anyone tell you otherwise.
There Is A Reward
Not from me. I don't want to get you excited. But if you capture all of these pictures and print them in a book, by the end of the year you will have so many amazing memories to look back on.
Be sure to include pictures of your family and friends! It will be great to look back on them all once this November Photo Challenge is over.
Photo Ideas For November – November Photo Challenge
I am thankful for
Thanksgiving decorations
Pumpkin spice recipes
Evening ritual
First hot drink you enjoy of the day
Fall outfit post
Family portrait
Travel inspiration
Fall quote
Acorns
Table setting
Cranberries
Football theme
Busy street / Isolated Street
The harvest
Chilly morning
Positive vibes
Looking above
Your favorite spot to rest
Your current book – what you're reading
A quiet moment
Fireplace
Sunset / Sunrise
My manicure
Apple anything
Something to celebrate
Something on my mind
Guilty Pleasure
In the mirror
The best thing about Fall

Are You Ready To Get Started? Download Your November Photography Challenge Printable
If you are ready to take this November photo challenge on the road with you, I have exactly what you need! A printable! Right click on the image below and save it for your review. Go through the list as you see fit and use the guide purely as inspiration.
I truly hope you enjoy this November Photo Challenge experiment! Post your photos online and tag me if you are up for it. You can find me on Instagram and Twitter.
Related Posts: