An easy way to make lasagna for two is to set up your lasagna in a loaf pan. This recipe will show you how to enjoy an Italian classic without having to cook for a large crowd.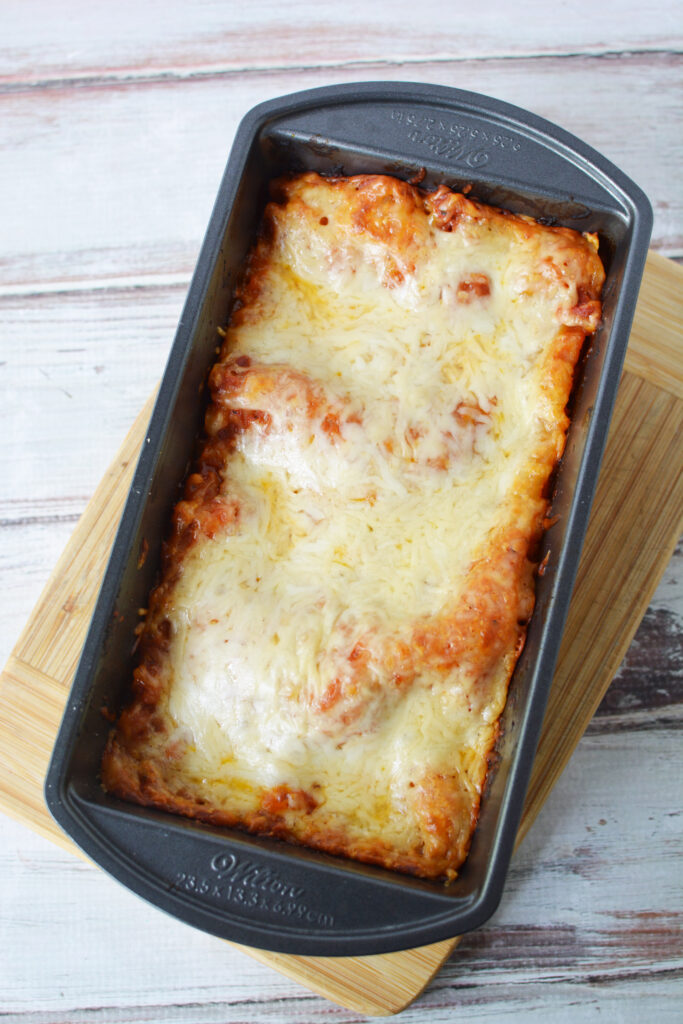 Lasagna In A Loaf Pan Recipe
Loaf pan lasagna has become quite a buzzword recipe on TikTok, but it's more common than you think. It's basically your favorite lasagna recipe but set up in a meatloaf pan. All you need is marinara sauce, a few noodle layers, and of course, your creamy ricotta mixture.
Your prep time is cut in half with this version because we are using no boil noodles. This means that you don't need to grab a large pot of water and wait for it to bubble over. No boil lasagna noodles are about to become your new best friend because you will spend less time prepping.
Ingredients:
6 oven ready, uncooked lasagna noodles
1/2 lb ground Italian sausage
1/2 cup chopped onion
1 tablespoon minced garlic
2-1/4 cups pasta sauce, divided
1 cup ricotta cheese
1 large egg
1 cup shredded mozzarella cheese, divided
1/4 cup plus 2 tablespoons shredded Parmesan cheese
1 teaspoon italian seasoning
chopped fresh basil for serving
olive oil
How To Make Lasagna For Two
Preheat oven to 375. Spread 1/4 cup of pasta sauce into the bottom of the loaf pan. Place 2 lasagna noodles on top, breaking noodles if necessary to fit into the pan. Set aside.
Cook sausage, onions, and garlic in a skillet until no longer pink and hot. Drain grease. Stir in 1-1/2 cups pasta sauce and remove from heat.
In a medium bowl, combine ricotta cheese, egg, 1/2 cup mozzarella cheese, 2 tablespoons Parmesan cheese, and Italian seasoning and mix well. Spread half of the ricotta filling onto the noodles in the pan. Top with half of the meat and sauce mixture. Add 2 noodles on top.
Repeat layers, adding remaining ricotta cheese mixture, followed by the meat and sauce. Add the remaining 2 noodles. On this top layer distribute the remaining sauce and drizzle lightly with olive oil. Sprinkle with remaining mozzarella and Parmesan cheese. Cover with foil and bake for 20 minutes. Remove foil and return to oven for an additional 10 minutes or until cheese is melted. Top with fresh basil before serving.
Serves 2
Tips and Variations
If you don't want to make this dish with sausage, you could always substitute it for lean ground beef. Just make sure you cook the beef through in a large skillet beforehand. I like to add a bit of tomato paste whenever I'm cooking beef to add additional flavor. Then add the meat into the marinara sauce and mix. Follow the recipe as listed.
Place a cup of the grated parmesan cheese of your choice on the dinner table for guests to top their dish. You can also opt for slices of mozzarella.
Want to add more flavor? Consider an extra tablespoon of the parsley ingredient, more garlic powder / onion powder, or fresh spinach mixed in.
I personally love chunky pieces of sausage, but if you'd like smaller bites, be sure to dice before mixing into your baking dish.
To store, place a large piece of foil over the pan and cover tightly. This will refrigerate for up to three days. You can also place leftover pieces in an airtight container.
Be sure you have enough sauce for guests to top their dishes. I usually like to make a larger batch and reserve.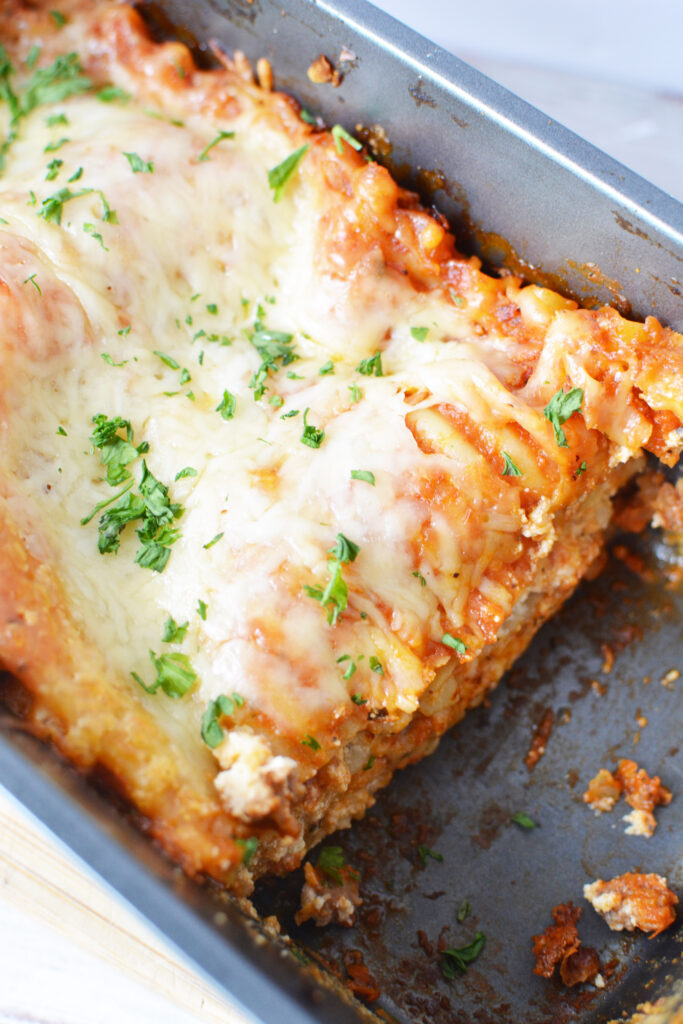 Small-batch weeknight lasagna is such a great option for couples or individuals who don't want to worry about too many leftovers. And this dish tastes even better the next day! It's a great way to get dinner on the table fast on nights when you are craving comfort food in small households.