It's grilling season and my family loves to make hamburgers on our BBQ. I have a handful of tips to share to show you how to cook burgers on a grill that will have your kids begging for seconds.
If you are looking for some burger grilling tips, here is everything you need to know to ensure that your next backyard bash is filled with juicy patties and flavorful bites.
What temperature should burgers be cooked on the grill?
When figuring out how to cook burgers on a grill, you should use a Medium-High flame. This temperate averages between 375 to 400 degrees.
A gas grill typically enables you to monitor the level of heat you provide your meat, however, charcoal takes a bit more effort. Consider using a grill thermometer to stay on top of the temperature levels.
Related: Watermelon Cucumber Salad Recipe – With Basil, Feta, And Balsamic Glaze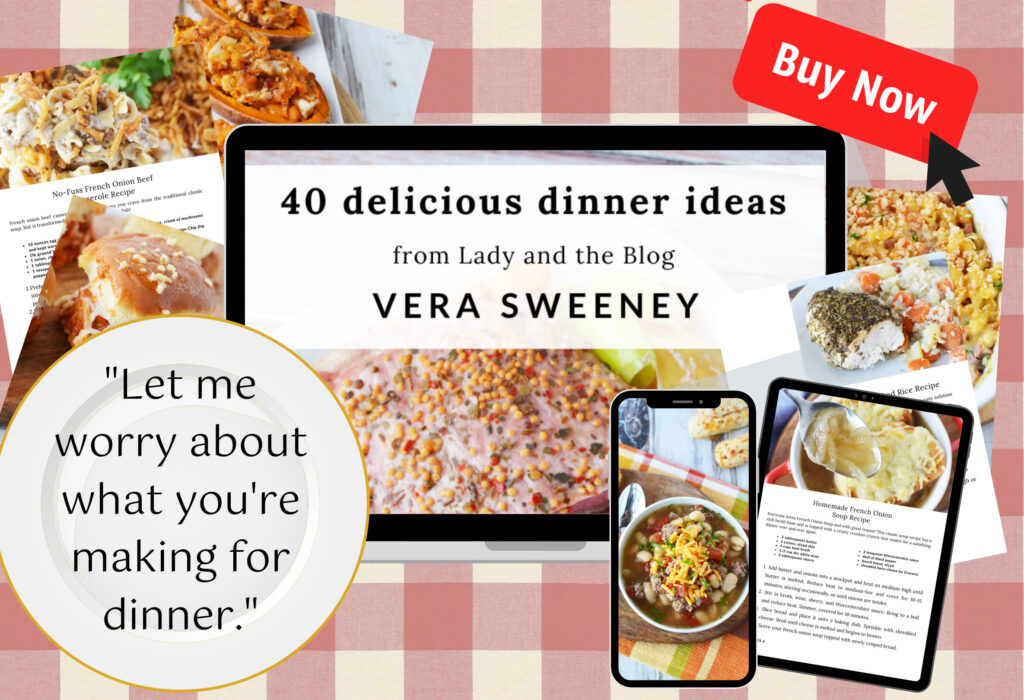 Looking for some easy and delicious dinner ideas? You've come to the right place! "40 Delicious Dinner Ideas" is packed with recipes that are simple to cook and only require ingredients you likely have in your refrigerator right now. So why wait? Get cooking!
Do you close the grill when cooking burgers?
When I stand in front of the grill, I automatically tend to shut my BBQ grill top when cooking my meal. However, when it comes to meats like burgers, thin steaks, and vegetables, you don't necessarily have to do that!
Leave the top open with thin dishes. The grill top should close for thicker cut pieces. There are different methods for different cuts when it comes to grilling.
Related: How to Plan Your Backyard BBQ Menu
How do you know when burgers are done on the grill?
When you feel that your burgers are ready, you can use a meat thermometer to check for sure. Position it in the center of the hamburger and make sure that it reads 160° for beef. If you are cooking a chicken or turkey burger, then aim for 165°.
Related: Hamburger Mac and Cheese Casserole
How long do burgers take to grill?
Burgers should take under 10 minutes to cook completely. Plan on grilling the burgers until they are golden brown and slightly charred. This will take about 4 minutes. Once you get to this point, flip over and repeat.
Everyone has their own tactics when it comes to how to cook burgers on a grill, but under 10 minutes is enough for us.
Is it OK to eat burgers with pink in the middle?
Yes, it is ok to eat burgers with pink in the middle. You just have to make sure that the internal temperature has reached 160 degrees. You can do that with a meat thermometer. When it comes to how to cook burgers on the grill, knowing what temperature they are is key.
Should I spray my grill before cooking?
You can coat the top of your girl with a high-heat cooking oil before you begin cooking. Think about oils like canola or peanut. Personally, we do not do this, but if you'd like, certainly give it a try.
How do you keep hamburger patties from falling apart?
Don't you just hate it when your patties fall apart when you are cooking them on the grill? Here is a grilling tip! Stop messing with your meat. That's number one when trying to figure out how to cook burgers on the grill.
Flip your patties as little as possible. That is a MAJOR tip that you should listen to and PS, this also works on chicken breasts.
This section contains affiliate links
How To Cook Burgers On The Grill – Burger Grilling Tips
Start With Quality Meat
My family and I have been Perdue Farms fan for generations. We know we can rely on their product lines – including Niman Ranch.
This BBQ season, we loaded up on grilling essentials like these Angus Beef Burgers. Made with no antibiotics ever, certified humane, and fed a 100% vegetarian diet, these patties are as delicious as they look.
Right now, you can enjoy BBQ basics – including these Niman Ranch Angus Beef Burgers at 15% off by using my personal link. I am so happy to say that they've been a brand partner of mine for over a year. As someone loves to eats Perdue at home, the partnership made complete sense.
Season Your Meat
My husband and I don't season our meat with too many different spices and herbs. In fact, we usually just opt for salt. But the point of this section is to remind you to season your burgers while they are cooking on the grill.
Grill Your Buns
We love to grill our buns while making hot dogs or hamburgers. It doesn't take very long to get that crispy bite, either! This added step adds another level of crunch and excitement to the dish. Yes, I said excitement.
Don't Forget The Toppings
Vidalia onions, tomatoes, cheese, raw onions – you name it. Create a mini topping bar and let your guests create the perfect burger of their dreams.
Are you ready to get grilling? I hope I've helped you figure out how to cook burgers on a grill. Enjoy your time with your family and friends.
Related: