I have a feeling that this summer, lots of people will be hitting the road for their family vacation. If you are on the hunt for a family road trip packing list, you've come to the right place. I've been imagining our very first getaway for months! There's nothing I want more than to escape to someplace warm and near a beach.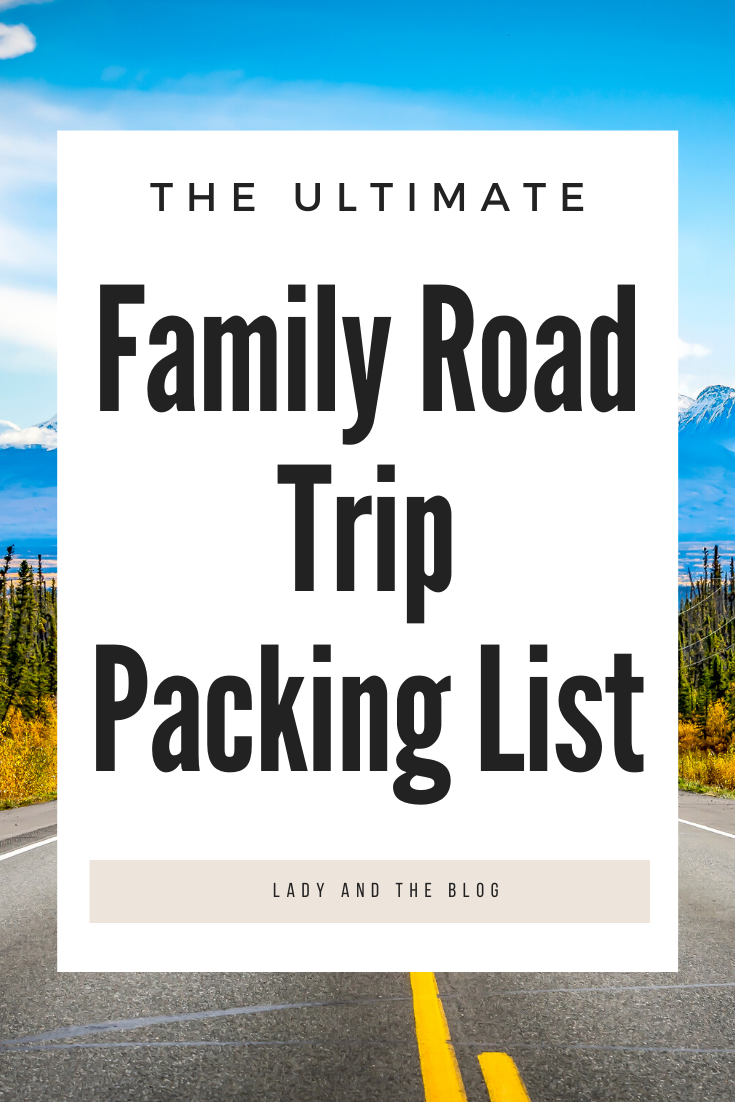 Family Road Trip Packing List – What To Pack For A Road Trip
When deciding what to pack for a road trip, you have to consider everyone in the car. Children, parents, grandparents – you name it. The driver needs to have easy access to supplies. The kids needs chargers and chargers that charge the chargers. You catch my drift. Have I mentioned snacks yet? SNACKS!
When you are figuring out what to pack for a road trip, you really need to think things through because the last thing you will want to do is stop every hour on the hour because little Johnny wants some chips. I don't mean to throw little Johnny under the bus… but we all have a little Johnny in the group, don't we?
A family road trip packing list cannot just be thrown together the morning of! No way! You have think ahead and create scenarios that could happen. That's why MOM should handle this. We are QUEENS of the "what if".
What should I pack for a family road trip?
Sunglasses: I am someone who absolutely needs sunglasses when I am on the road.
Scarf: The battle of the air conditioner. Yes, my husband and I often disagree about the temperature of the car and so that means I typically have to bring extra items of clothes to help warm myself up.
Water bottle: You have to stay hydrated! I always love to bring my own colorful water bottle with me so that it's easy for me to refill as needed.
iPhone: I mean… who goes anywhere without their phone these days? AMMIIIRRRRRIGHTT?
Snack Bag: I have three kids. Do I need to say anything other than that? We need to feed them snacks when they get unruly. That's what we do to calm them.
Charger(s): I don't just have one charge. I have multiple charges. All the chargers. As many chargers as you can think of. Everyone has an iPad. Everyone has a phone. The phones have phones. We must stay occupied!! It's a long trip to Canada!!
Activity Bag: When the kids reach the end of the Internet, I never fret. That's when "old-fashioned summer" comes out to play. I have a great little kid filled with playing cards, coloring books, Play-Doh, and friendship bracelet string.
Ziploc Bags: We like to keep extra baggies on hand just in case we need to divide up candy or goods down the road.
First Aid Kit: An emergency happens when you least expect it.
Flash Light: Sometimes things drop in between seats and you need a bright light. Sometimes you get stuck on the side of the road in the middle of the night. This is important.
Current Read: Everyone also brings along a book to read. I have no say with what they pick. It's completely up to them.
Wet Wipes: I have messy children. I don't know what else to say.
Essential Oils and Lotions: The essentials are actually for everyone. You won't believe it, but my children actually love the little pick me ups we hand out at mile marker 200. Orange, Eucalyptus, Lavender… oh my!
Headphones for everyone: I can't listen to TikTok 18 hours in a row. I just can't
Deodorant: I have teens. Enough said.
Motion Sickness Medicine: My middle guy and I get sick in the car. This is important.
Medicine in General: Someone eats the wrong thing at the diner. Someone suddenly gets a fever. Someone gets a headache. You just need to be prepared.
Hand sanitizer: We don't leave home without it.
Sunscreen: Sunscreen is also important to have because if you happen to stop to smell the roses, you want to make sure your skin is protected.
Tissues and Napkins: Kids are messy. Fries and ketchup in a car is messier.
Bug Spray: See above about the roses.
Garbage bags: See above about the kids and fries.
Music Playlist: I like to give this task to my children. Make a playlist for the car to enjoy. It's a fun task for them to do together.
Movies: We like to gather up as many movies as we can and have them ready!
Electronics: We bring everything we can – every iPad, iPhone. Anything that starts with an i.
Road Trip Food: Everyone gets to make their own snack bag. Road Trip food is a pretty important part of this process. We usually need lots of it. Sometimes we even pack a cooler! Not kidding! I rather have more than less because it just mean one less stop along the way.
Water: We will NOT pay for water while on the road. NO WAY!
Pillows and Blankets: Everyone eventually falls asleep. So, it is nice to bring some comfort from home.
Working Through Your Road Trip Checklist
What do you think about this road trip checklist? It might feel like a lot, but you can get through this in no time, I am sure. The majority of these road trip essentials are in your HOME as we speak! You are pretty much just gathering up the things you use on a regular basis and packing them up for a quick ride.
Download Your Road Trip Checklist Here
If you'd like to download your copy of this road trip checklist, click here. Print a few copies and hand them out to your family members. Assign sections to each person and get this done!
Before you know it, you will have everything you need to head out the door and onto your next adventure.
Related Posts