Quality one-on-one time with individual children is key to making each little feel special – especially as they grow older. Here's a list of 40 things to do with your teenage daughter in case you are looking for fun ways to reconnect with your special girl.
How do you spend quality time with your teenage daughter?
I love spending time with my children and now that Natalie isn't a baby anymore, there are so many more things we can do together during our personal bonding time. With three kids, I make sure to take each out on their own and so something unique and private – just for the two of us. They all look forward to their outing and honestly, so do I!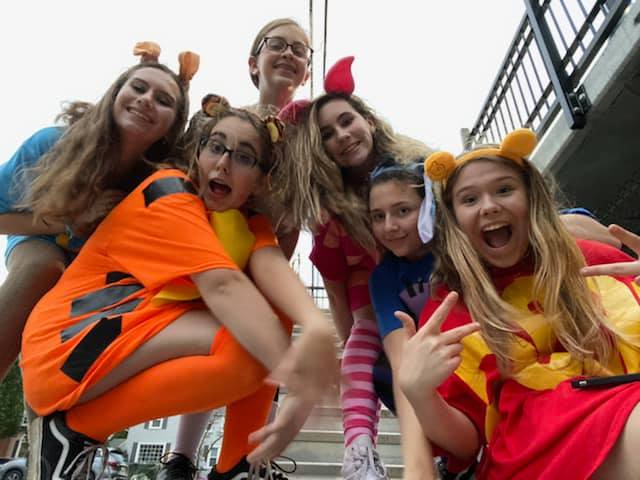 During those times away from home, I get to talk to them without any interruption. It's just calmer! If you have multiple children – I think you understand what I mean. At home, it can get a bit chaotic. But when I head out with my teenage girl, we just relax like old friends. It's just the best!!
40 Things To Do With Your Teenage Daughter
So, if you are looking for things to do with your teenage daughter, I wanted to offer up plenty of suggestions! This list includes a variety of free and paid options – something for everyone.
Go for a hike
Head to the movies
Get a mani / pedicure
A day trip to the mall
Volunteer together
Go for a long drive
Attend a concert
Go to a book store and find a book to read together
Window shopping in the city
Get your hair done
Take a yoga class
Dine out together
Hang out with her friends and their moms
Take a cooking class together
Go for a bike ride
Plan a trip together
Head to a coffee shop for a few hours
Dealer's choice – have your daughter pick anything she wants
Go for a walk
Go somewhere quiet and create a bucket list for the family
Go and visit grandma
Visit a farmer's market
Go to the library
Go on a photography walk
Have a picnic
Head to the park
Have a karaoke night
Enroll in a painting class
Go out for ice cream sundaes
Head to the spa for a facial
Take a dance class
Go to a flea market
Work on your family garden
Go to a museum
Take a self defense class
Watch the sunset together
Watch the sunrise together
Teach them to coupon while grocery shopping
Have a mother-daughter photo shoot
Go to your nearest city and have a fun night out
What should I do for my mother daughter day?
After reading this list, what will you do for your mother daughter day? There are so many options – it's almost endless! The most important thing to remember is quality time will look different for every family. Just think about what is special to your little girl and do THAT.
Some children do not like getting their nails done. My daughter HATES getting pedicures. So, I would NEVER think to make my nail appointments with her because it would feel like a chore more than anything else. She is artistic and crafty. So, a great thing to do with my teenage girl would be a pottery class or a photography walk. That's much more up her alley.
Customize the plan and mark it on your calendar. I can't wait to see what you come up with!
Related: