Essential oils in the shower can make your bathroom smell absolutely divine in a matter of seconds. When it comes to self care tips for moms, shower aromatherapy comes top of mind. We all can't afford to head to the spa as often as we'd like.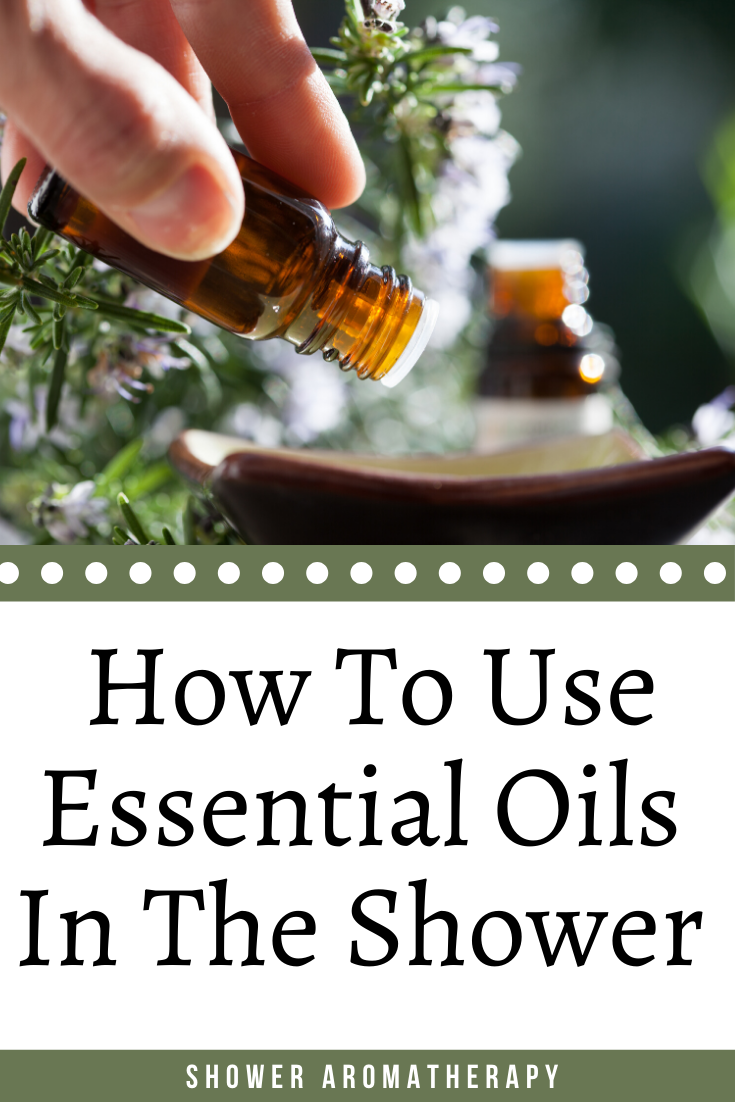 And by the way, if it was up to me, I would make appointments on a weekly basis. What can I say? I'm extra like that. But there IS a way you feel some of that relaxation at home and it's by using essential oils in the shower. There are a few different ways that I incorporate them into my mix.
I make sugar scrubs, pour droplets right into my shower water, and have a steamer that throws aromatic scents right into the air. These three things truly change the way a regular shower feels for me. They can do the same for you. Let me explain.
Essential Oils In Shower – Shower Aromatherapy
This section contains affiliate links.
Make Your Own DIY Sugar Scrubs
I have several DIY sugar scrub recipes available on the blog for you to print out and enjoy. They are all easy to make and don't require many ingredients. You can switch out the scents if you'd like, but these are my top choices:
Each sugar scrub is perfect to use on your skin whenever you are in need of some exfoliation and some de-stressing. Is that a word? It is today. These recipes use essential oils that release as you work your magic on your rough skin and are the key to shower aromatherapy.
When you need a little TLC, make sure you are providing the T and the L and the C! Exfoliating doesn't have to feel like a chore. That's why I love to bring essential oils in the shower. They truly change the whole feel of my experience.
And PS, if you don't feel like MAKING these cubes, you don't have to. There are a million options online and I also buy them to keep them on hand. I like to have a little variety.
Shower Aromatherapy Pods
I use these shower aromatherapy pods on occasion (pack of 6), but they are pricey. I'm not going to lie. They are around $3 each which isn't a TON of money, but we all shower multiple times a week, right?
This would really add up if I dropped one of these pods on the floor every time I stepped in my tub. I would reserve these pods for special occasions or for days when you are having a really bad RUN and in need of essential oils in the shower. That's what I do.
I have a cheaper solution when it comes to essential oils in the shower. It's coming up, but these pods last longer and have a much stronger smell. So, there is a better experience for you with this option. Make no mistake.
I just would not recommend you popping one of these in your shower every single time you want to wash your hair because your budget would implode if you did and you would have to sell your house and you would end up hating me.
But like I said, these shower aromatherapy pods are really awesome. They make your bathroom smell like one big (whatever scent you chose) and they work really FAST. You just throw it down by your feet and the pod does the rest. Magic. You could also make your own DIY bath bombs if you want to give that a shot. Here's one more recipe to check out as well.
Related: How To Keep Your Bathroom Smelling Fresh Without Any Work: Life Hack
My Shower Aromatherapy Cheap Trick
What I do instead of spending $18 a week is simply grab my favorite essential oils kit (here is a great one for under $10) and choose a scent that suits my needs. Then I drop a few drops into my water right when I begin my shower and then once again when I am rinsing the conditioner out of my hair.
I try to put the essential oils in the shower away from the water – like at the edge of the tub. So, the water stream has to really work at getting access to it. That way, it can last longer.
I don't put it dead center at the bottom of the stream. I put it at the very edge of the stream – the tip. So, it takes longer to wash the scent away. It gives me a few minutes to smell the scent I need which helps relax my shoulders.
I might reapply the essential oils in the shower 3,4, or even 5 times if I am having that kind of day. But it's just a few drops at a time. A bottle will last you a lifetime.
Related: How Often Should You Wash Your Hair? Fact Vs. Myth
Essential Oil Diffuser In The Shower
I own this Oasis Essential Oil Diffuser for the shower. Retails just under $60 – so ask for it as a gift if you can't justify the cost. It's pricey. I acknowledge that. It also needs a battery – so there is some maintenance involved.
You stick it to the wall and twist in two of your own essential oil scents and then you keep pressing that blue button every few minutes because it only stays on for a little bit. BUT, I don't mind it because I love the whiff that it pushes out.
I want to note that this tool doesn't give off as strong of a scent as you'd think it should. It's faint, but it's enough to keep me happy and in a zen moment. So, I am satisfied with my purchase – despite the cost.
One more note – this doesn't start really working until about the 4th or 5th time you use it. There is this rod that goes into the essential oil bottles and I think it needs time to absorb enough of the oil to fully push out the scent. So, be patient.
Related: DIY Foot Soak And Scrub
Shower Aromatherapy – Another Option
While searching for ways to bring essentials oils in the shower, I came across this little diffuser and I had to put it into my write up because I thought it was a great idea. For under $20, isn't this a fun solution for a diffuser? Not huge and clunky device to worry about! Just pop this in your bathroom before you begin your shower – I love it! Seriously going to buy myself one.
When I am not in a steaming hot shower, I am in a steaming hot bubble bath. You should absolutely check out my recipe for DIY bath salts because I always leave feeling like a new woman when I take a bubble bath. It is a necessity! In fact, essential oils in the shower is a necessity! LOL!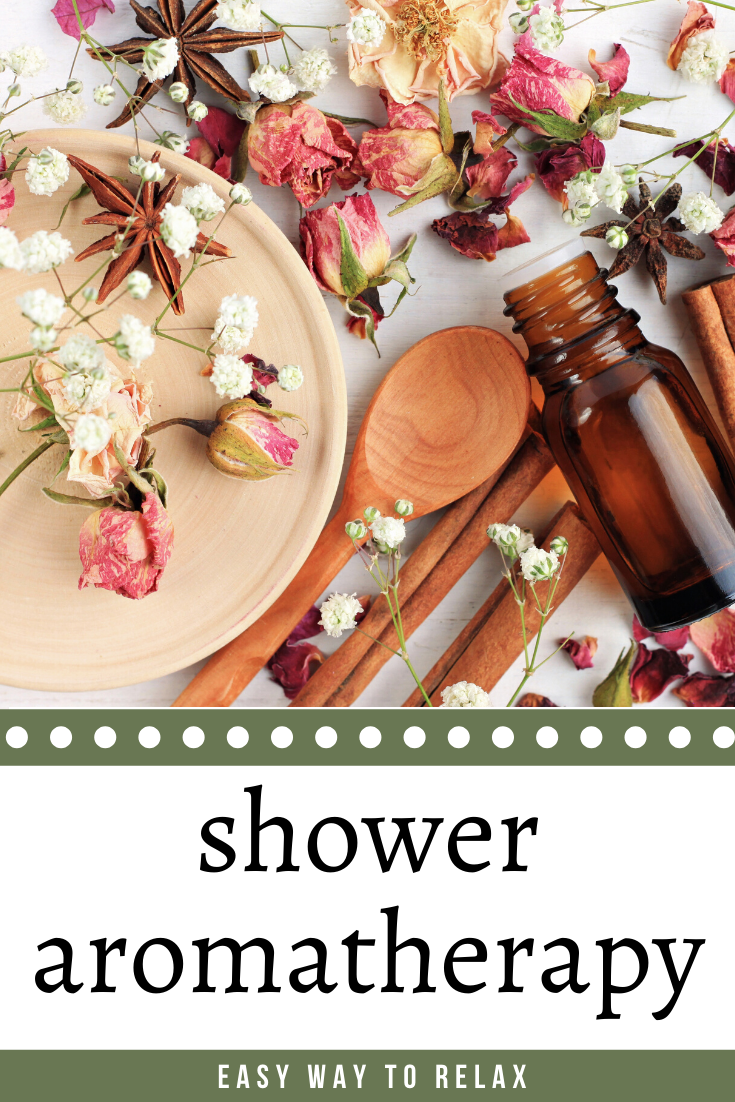 Aroma Diffuser
You could also just place an aroma diffuser in your bathroom while setting up your bubble bath or a hot shower. This is a really easy solution because you probably already own one. Or maybe you don't? I own about 3 aroma diffusers. I have one in my kitchen, my bedroom, and my living room. This is not a lie. I am obsessed with scent.
Scent can transform a horrible day into a tolerable one and for some reason, a few dabs of rose essential oil (more on that in a bit) seems to do the trick. My aroma diffuser can make or break my mood and it always seems to lift my spirits. So, do yourself a favor and buy one for your house. Move it around as you see fit and thank me later.
In case you don't know what an aroma diffuser is, it's basically an item that disperses essential oils' aroma to fill a room. A pusher of scent if you will! I like the ones that plug in but you don't have to opt for that kind.
What Are The Best Essential Oils For A Diffuser?
Party people, here's the great news! They all work. You can use whatever essential oils you want in your diffuser. It really all depends on your mood. Whether you are feeling like Eucalyptus or rose essential oils, that's up to you!
So, consider a variety of options for use. Almost any smell can work. There are limitless essential oils in the shower choices.
Benefits Of Essential Oils
There are many different benefits of essential oils in the shower and around the rest of the house. It all depends on which one you use. Some improve mood – while others relieve stress. Some essential oils are even known to help users fall asleep faster. You need to do a little research to see which one will work best on you.
Just to give you an example of what kind of oil does what, here is a quick break down of the different types of benefits of essential oils:
Peppermint: Boosts energy
Lavender: Used for stress relief
Sandalwood: Calms nerves
Bergamot: Reduce stress
A Focus On Rose Essential Oil
One of my favorite scents to use around the house is the rose essential oil. Sourced from the Rosa damascena plant, this product is rumored to possess healing properties including benefiting heart rate, stress levels, and blood pressure.
Rose essential oil can be applied directly to the skin to help hydrate pores or work on acne issues. It is highly regarded in the beauty industry. But it doesn't stop there.
Apply a dab of rose essential oil on your wrists or on your temples to help relieve symptoms of anxiety, depression, headaches, and more. Scent truly is a powerful thing! I love to add this to my shower diffuser and frequently make bath bombs using this scent. The perfect addition when considering essential oils in the shower.
Do you use essential oils in the shower? Do you believe in shower aromatherapy? I hope you do because it truly makes a difference to my mental state! Please do give these products a try.