Are you a super Disney fan looking for a way to bring home some pixie dust through Disneybounding? I am SUCH a fan of Disney inspired outfits and constantly search for new Disney clothes for adults combinations to showcase just how much I love the mouse and all of his friends.
Today, I read a post on the Disney Blog about Disneybounding and it got me walking down memory lane a bit. Last year, I spent 10 days traveling with Disney and tried to dress up every day subtly showing off a favorite character along the way. That's what Disneybounding is all about.
You don't simply go around in obvious costumes because that's cosplay. Instead, you sort of play around with colors and themes and see if people can guess.
And believe, me – people do! True Disney fans will come up to you and let you know just how COOL your outfit truly is because Disneybounding is nothing like cosplay. There's nothing really GRAND about these outfits.
Take this outfit that I am wearing here in the above and below photo. Can you guess who I am? It's Rapunzel! The yellow cardigan was supposed to signify her long, blonde hair. The purple dress was pretty on point with her animated character.
I even had a floral crown that I wore! How fun! I only put that on here and there throughout the day because it was giving me a headache. But you catch the drift. Simple pieces of clothing that you can use and reuse.
I wanted to write a post showing you how you can take Disney clothes for adults and rework them. How you can shop your closet, come up with a few different looks focusing on some of your favorite characters and hopefully get inspired to come up with a few of your own!
Who did I focus on?
Tinkerbell Disneybound
Belle Disneybound
Ariel Disneybound
Snow White Disneybound
Minnie Mouse Disneybound
Cinderella Disneybound
Ursula Disneybound
Peter Pan Disneybound
Dumbo Disneybound
Mary Poppins Disneybound
I hope you take these Disney inspired outfits and make the best out of them! I had so much fun putting them together. In fact, I can't wait to take another trip to Cinderella's castle because my family is just BEGGING to get to Walt Disney World. Better yet, a big trip to Aulani would work just as well!
Tinkerbell Disneybound
When putting together your Tinkerbell Disneybound you have to consider her bright, blonde hair and her fun, flirty attitude. Of course, I had to throw in some pom pom shoes as well.
To be honest, I was going to go with sneakers. I think some Converse sneakers would work as well here because she does have such a playful attitude.
This post contains affiliate links
Related: 14 Disney Traditions You Cannot Miss On Your Next Family Trip
Belle Disneybound
Belle has two different looks and one of them can be done two very different ways. So, she has a lot of options here. We have the big ball gown, the one I went with, and the traditional blue (opening sequence) dress.
I decided to go with a pair of shorts and turn her famous and elaborate look into something simpler. As far as accessories are concerned, you cannot put together a Belle Disneybound look without a book and a rose!
Related: Where is Disney?
Ariel DisneyBound
I want to be where the people are…. And the people are at Disney! LOL! I really enjoyed putting together this Ariel Disneybound because I found the flowy green skirt FIRST. And doesn't that skirt look like her tail? SO VERY MUCH!? I LOVE IT!
After the skirt, everything just fell into place. The shell clutch and the musical note necklace was the topper on the cake. But I couldn't end it all without a red hair wrap.
Related: Disney's Star Wars Galaxy's Edge – 8 Tips To Get You Ready
Snow White Disneybound
The red apple bag for this Snow White Disneybound… I mean!!! PERFECTION. I actually have this entire outfit. I never ended up wearing it because I brought it on a Disney Cruise and by the time we got there, I just wanted to be in my bathing suit. BUT I still stand by the combo.
Related: Disney's Not So Scary Halloween Party – Everything You Need To Know
Minnie Mouse Disneybound
I've dressed up like Minnie Mouse a few times in my life and I can't tell you how much I love it because she is the original OG. I have several different looks that have a combination of black, red, white, and yellow.
The beauty about Disney inspired outfits is that you can literally shop your closet. With both of these Minnie Disneybound looks for adults, I just opened up my closet and put together the combinations that worked.
And can I tell you, people who were into this sort of thing kept coming up to me on both occasions and calling me MINNIE! I loved it! We all loved it. That's the beauty about Disney. People who love Disney just get each other.
Cinderella Disneybound
My favorite song from all of Disney is from this movie – so believe me, I could NOT leave Cinderella Disneybounding off the list! I thought it would be fun to find a pin that has the Fairy Godmother on it because she is always looking over her.
Ursula Disneybound
Full confession, this is the most expensive look on the whole post. I am not going to lie. But Ursula is a straight up BOSS and she deserves it. I hope you love the Ursula Disneybound.
Peter Pan Disneybound
Green on green! I was thinking about it and decided that I am going to run with it because that is who Peter Pan is… and so that is who we are going to be as well. LOL! Take a look at this Peter Pan Disneybound and let me know what you think.
Dumbo Disneybound
I have a full post dedicated to a Dumbo Disneybound because I've already written up this outfit breakdown and worn it several times. Notice that that purse is the one that I also wore for my Minnie look. That's the whole beauty about shopping your closet. Be sure to take a look.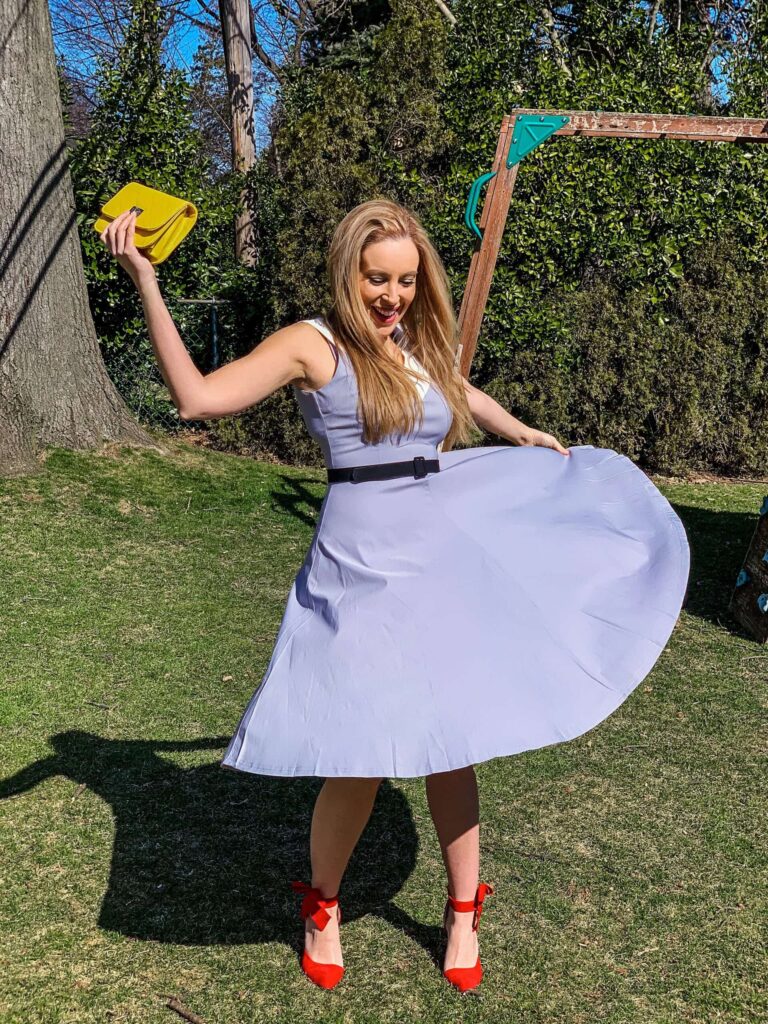 Mary Poppings Disneybound
Last but not least, we have my Mary Poppins Disneybound outfit idea which was my favorite! I rock those red heels on the REGULAR and guess what?? They are under $30!!!!
Related: My Favorite Moments From The Walt Disney Family Museum
What is your favorite Disney Clothes for Adults Idea?
Here is a bonus for you! Me as Winnie the Pooh! You can't see it but I have a little bee pin on my yellow dress. I can't tell you how much fun I have doing this. I SWEAR!! It is my FAVORITE thing to do when I travel to Disney.
Last one! I promise! I went to Etsy during my last trip to Disney World and made a custom shirt of Forky. They are ALL available now because enough time has passed.
Disney outfits for adults brighten moods, lift spirits, and are easy to do with just a bit of pixie dust. I can't wait to see what Disney inspired outfits you come up with!