Mickey's Not So Scary Halloween Party was so much fun! I attended with the members of the Permission to Hustle at Disney mastermind and I cannot say enough about all the fun things we were able to do as a group.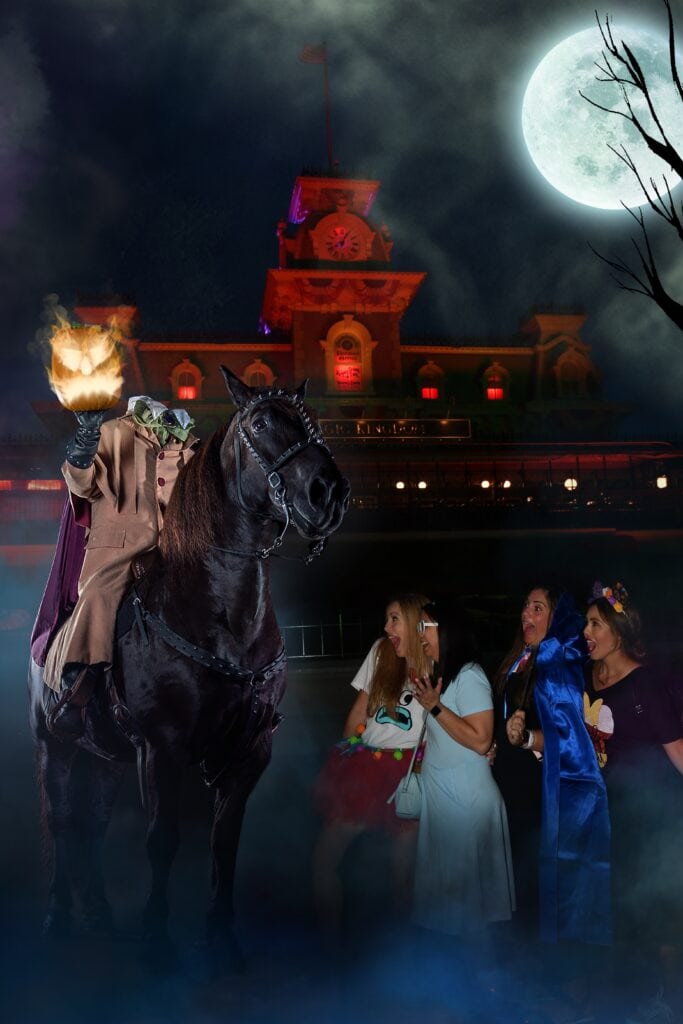 Mickey's Not So Scary Halloween Party
This wasn't the first time I got to experience a Disney Halloween and it certainly won't be the last. A Mickey Halloween is like no other! Imagine being able to combine two of your favorite things and enjoying them together with the people you love? It was simply magical!
If you are looking to explore Halloween Disney style, then look no further! This post will help you figure out everything you need to know about Mickey's Not So Scary Halloween Party so when you are ready to book your tickets you'll be equipped with the right information.
What Dates Are Available For Mickey's Not So Scary Halloween Party?
September – 2, 6, 8, 10, 13, 15, 17, 20, 22, 24, 27 and 29
October – 1, 3, 4, 6, 8, 10, 11, 14, 15, 17, 18, 20, 21, 24, 25, 27, 29 and 31
November 1

How Do You Collect Candy?
When you first arrive at the Magic Kingdom, you will receive a map that will outline all of the stations. These stations are positioned either inside or right outside a restaurant/ride. For example, one station we found was right inside Mickey's Philharmagic.
We walked through and collected our candy and had the option to stay for the show. We chose not to stay for the show and so we were escorted right through the back of the room where we continued on and through the exit.
There are so many people working to help you through the flow of the stations during this Disney Halloween event. It is so simple to follow and the wait times are literally non-existent! In most places, you will receive candy when you enter and when you exit. So, it is a double bonus!
What About Allergy-Free Options For Children That Have Nut Related Issues?
Great news for families that have members that suffer from allergies. Disney has a plan in place for children who cannot participate in the candy collection due to nut-related issues. Did you think a Disney Halloween would have less?
There are locations – like this year's GoGoSqueez stop (positioned right by the Carousel of Progress) which offers a candy alternative. Children won't have to worry about nut contamination here during their Disney Halloween night.
GoGoSqueez is such a great option for Halloween, snack time, or any other time during the year because it is made with nothing but real, fresh fruit and veggieZ. It is also is certified as GMO-free and you can always expect to NEVER find any added sugars or other added colors or flavors.
Did you know the brand is a sponsor of the Epcot International Flower & Garden Festival and Mickey's Not So Scary Halloween Party at Walt Disney World Resort? How fun!
If you'd like to enter a current content related to Disney and that is LIVE, check out what is up for grabs!
Airfare from closest major airport nearest winner's residence to Orlando International Airport for 4 people.
Ground transportation on Disney's Magical Express® service from the airport to Walt Disney World® Resort
4-night accommodations at a hotel at the Walt Disney World® Resort.
5-day Flexible Date Tickets with Park Hopper® Option
4 Event Tickets for Mickey's Not So Scary Halloween Party 2020 at Walt Disney World® Resort.
One (1) $500 Disney Gift Card
Do We Need To Bring Our Own Candy Bag For Disney Halloween?
I would recommend that you bring your own LARGE bag to help your children collect candy because you don't just get one piece of candy at each station. You get a heaping handful. There is also a place to get candy when you ENTER and then once again when you EXIT a location.
So, you are truly double-dipping at each location! How fun is that?! I didn't know that we would also get another handful of candy at the exit. That was a sweet surprise for sure!!! The kids were all flipping out. No joke.
But in case you don't have a bag, fear not! Each station has small baggies to supply to guests should they forget to bring their own. A Halloween Disney style is one that is buttoned up for sure!
Anything Special Happening During The Party?
YES! It's not just about the candy when it comes to a Mickey Mouse Halloween. This party offers so many additional benefits to ticket holders. Let's get started pointing them out.
Space Mountain: This is the only time during the year where you can ride Space Mountain in complete darkness. I didn't do it because I was too afraid, but all of my friends did and they LOVED IT. There is also a Halloween-inspired soundtrack playing while you zip around.
Pirates of the Caribbean: Set sail for the high seas and discover a crew of LIVE pirates throughout the ride. SO MUCH FUN!
Mad Tea Party: Spin yourself into a frenzy as special lighting and music effects enhance the fur-raising experience!
NEW! Monsters Inc. Laugh Floor: Follow a treat trail from our Human World into the Monster World and interact with a comic cast of monsters eager to learn about this holiday we call Halloween.
Disney's Not So Spooky Spectacular
You guys! I've seen so many different firework displays at all of the Disney World properties and I have to tell you that this one was my favorite! The castle lit up like I've never seen it before.
Expect to see Mickey, Minnie, Donald and Goofy as they are spirited away to a mysterious haunted house where they encounter dancing skeletons, waltzing ghosts and a sinister gathering of Disney villains!
There won't just be fireworks either. Be on the lookout for state-of-the-art projection effects and lasers as well during the Mickey's Not-So-Scary Halloween Party — offered select nights August 16 through November 1, 2019.
Mickey's "Boo-to-You" Halloween Parade at Mickey's Not-So-Scary Halloween Party
Are you a parade fan? Before you even ask, it doesn't feel very scary Halloween – so don't worry! The Boo to You parade keeps to the Disney style and your little ones will just love it. All of your favorites will be front and center.
I'm talking about Mickey, Minnie and the full gang. BUT this time, they will be wearing Halloween costumes! Your kids will enjoy seeing what outfits each of their favorite names choose for the show.
You can tell your children to look out for the following additions to the parade or just keep it all a secret and let them watch with a fresh pair of eyes:
Hitchhiking Ghosts and a new addition—the spectral Bride, who glides among the waltzing spirits—representing the Haunted Mansion from Liberty Square
A new Tomorrowland unit featuring The Incredibles and designer extraordinaire Edna Mode, followed by Buzz Lightyear and some alien explorers
Wreck-It Ralph, Vanellope von Schweetz and the girls from Sugar Rush making sure there's plenty of sweet stuff to go around
Pirates sailing in from Adventureland, Clarabelle Cow hosting a square dance during a Frontierland hoedown and a wicked assortment of Disney Villains reigning over a Fantasyland-inspired grand finale.
Do People Wear Costumes?
Yes. Yes. And…yes! My entire group all dressed up for Mickey's Not So Scary Halloween Party and we had so much fun! So many of us got creative and we loved every second of it. It's a great way to show off your personality, too. There were princesses, witches, and favorite Disney characters. How will you celebrate your Disney Halloween?
Do you know anything about Disneybounding? I have a few posts live about the subject. Be sure to check out how I broke down some of my favorite looks. You could do that and keep it simple or you could wear your favorite t-shirt from home OR you could go ALL out and purchase a costume. It's entirely up to you how you celebrate your Disney Halloween adventure.
Are There Any Costume Rules TO Consider For A Disney Halloween?
In order to attend the Mickey's Not So Scary Halloween Party, you need to follow certain rules. You absolutely cannot look like you are working as a cast member. So, your costume can be good… but not too good! These rules are straight from Disney's website:
Disney reserves the right to deny admission to or remove any person wearing attire that is considered inappropriate or could detract from the experience of other Guests.
All Guests may dress as their favorite character, but may not pose for pictures or sign autographs for other Guests.
Costumes must be family-friendly and may not be obstructive, offensive, objectionable or violent.
Costumes may not contain any weapons that resemble or could easily be mistaken for an actual weapon.
Costumes may not contain sharp objects, pointed objects or materials that may accidentally strike another Guest.
Guests who do not adhere to these guidelines may be refused entry into, and/or removed from, the park unless his or her costume can be modified to meet the above standards.
GUESTS AGES 13 AND UNDER
Costumes and some masks may be worn, as long as the mask does not cover the entire face and eyes are visible.
GUESTS AGES 14 AND OLDER
Layered costumes or costume props that surround the entire body are strongly discouraged and may be subject to additional security screening.
Costumes may not reach or drag on the ground. (e.g., full-length Princess dresses)
Capes may be worn if the length does not go below the waist.
Themed T-shirts, blouses, sweatshirts and hats are acceptable.
Acceptable accessories include: transparent wings, plastic light sabers, toy swords, and tutus. Headwear may be worn as long as it does not cover the face.
Masks of any kind may not be worn.
In other words, have fun… but don't look professional! LOL! This makes sense. You don't want to confuse a little child and have too many legit Cinderella's walking around Mickey's Not So Scary Halloween Party. That would spoil all of the Disney magic, right?
Can I Use Fast Passes?
No. You cannot. But you know what? You won't need to! Every ride that we rode that night was around 20 minutes and I don't want you to think that this was a STANDARD for every night moving forward this year. That was my personal experience. When you attend, it might be less or it might be more.
The point is that there aren't as many people as a TYPICAL day at Magic Kingdom. So, they just turn all of that off and bring it back to the basics. You wait on lines and you enjoy the parks without any pre-planning.
Will You Have A Disney Halloween?
I truly do hope that you make it to one of the Mickey's Not So Scary Halloween Party available dates because it is SUCH a great time. And before I let you go, I want to tell you that there is also a Mickey's Christmas Party which has the same feeling and vibe but obviously focusing on a different season. So, if you can't make it down for Halloween Disney, then absolutely consider booking tickets for the Christmas run.
Seeing the park decorated differently for Mickey's Not So Scary Halloween Party and having a new spin gives it entirely new energy. A Mickey Mouse Halloween is like no other! I can't wait to return with my children and show them all of the wonders that Main Street has to offer.
Disney Halloween Related Posts: