Birthday text messages are an easy way to tell your friends that you are thinking of them and to offer up special birthday wishes. Whether you want to be witty, hopeful, personal, or funny, it's important to reach out on their big day to help celebrate the personal holiday.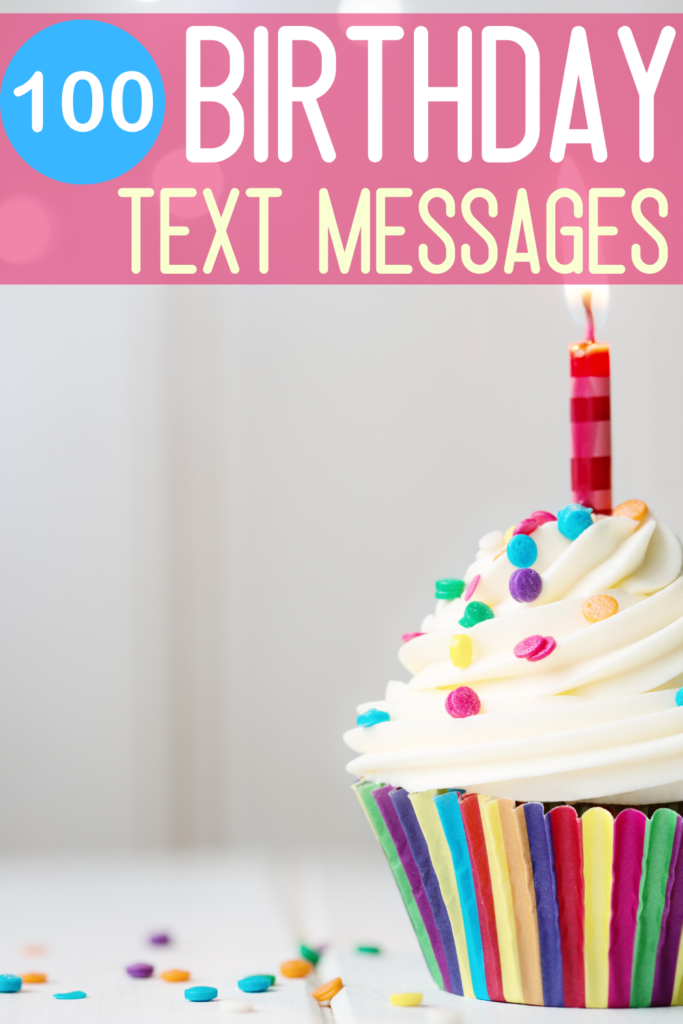 Birthday Text Messages – 100 Special Birthday Wishes To Send To Friends
Nowadays, a lot of people on Facebook wake up and use their side bars to look up who they know that is celebrating the turn of a new year. I must admit that it is fun to receive a happy birthday text message from someone I love when I first open up my feed. But things can feel a bit impersonal when it's the only way people reach out.
Today, for example, I have several people celebrating a birthday on Facebook that I know. Instead of just writing on their timeline, I really should send along a happy birthday text message through their phone.
How do you wish someone a happy birthday?
If I don't have their phone number – then a social media birthday text message will do! Of course! BUT … if I do have their number, what is it going to take out of my day to send a quick note along and make it a bit personal?
So, grab your phone and use one of these 100 happy birthday text messages and send along special birthday wishes to the person blowing out the candles. There are so many reasons why I love my best friend and I will make sure that I show it on their big day!
Personal Happy Birthday Text Messages
Happy birthday to my beautiful friend! I wish you a wonderful day!
It's your day! Time to celebrate!
You better save me some cake, my friend.
I'm coming over with a fork. It's time to celebrate.
Another spin around the sun. Wishing you a happy birthday!
You are one of my greatest gifts! I am so blessed to know you. Wishing you a wonderful day.
I am so blessed to know someone like you. Hope you have an epic birthday celebration.
This is the most important birthday text message you will receive today – it's from me! Happy birthday!
Enjoy your birthday to the fullest!
I hope you have a beautiful day with family and friends today!
Happy birthday to my best friend! I love you so much!!
You rock! Another year – more time for us to do epic things together.
May your day be filled with cupcakes, black coffee, and no traffic. Happy birthday!
For the last birthday text message, you should personalize it to be the three things your friend is most interested in. Is it poker, vodka, and gummy bears? Then fill those in.
More Happy Birthday Sms
Enjoy every moment of this special day.
Make a million memories! You deserve them.
You don't look a day over 18! Just kidding. Friends don't lie to friends. LOVE YOU!
I hope all your dreams come true this year.
Blow out some candles and blow up all the balloons! And don't forget to take lots of pictures. Love you!
I have a birthday hug waiting for the next time I see you.
Happy birthday to my friend who knows me like no one else does!!
A year older, wiser, and smarter. How will you spend this year? Hopefully, with me by your side!
What crazy things are we going to do this year? I can't wait to find out.
I hope today makes you feel as special as you are to all of us. Enjoy every second.
You rock. PERIOD!
Today is a perfect day to tell you what a wonderful friend you are.
Eat all the cake! Just kidding – save some for me. Love you!
LYLAS
True friends are hard to come by. That's why today I wanted to take the time out to tell you how much you mean to me. You are such a gift.
I hope you get everything you want and more today!
Make a wish! What did you wish for? I hope you get that and so much more.
Hope the next 24 hours gives you everything you need.
May the day take care of you the way you take care of everyone else on a regular basis.
Have your cake and eat it, too! But not all of it! Please save me a piece. Love you!
Don't worry – your secrets are all safe with me for another year.
You deserve a beautiful day.
I hope you have the happiest birthday on earth!
My life grew brighter when you came into my life. Wishing the most wonderful day of celebrating and joy for you, my friend.
Hope this text message puts a huge smile on your face. You are the BEST! Happy! Happy!
This is always my favorite day. I get to wish the best person ever a happy birthday!
We are all so blessed to know such a wonderful person like you.
Happy birthday to my bestie! You are the sister I never had! Wishing you the best day ever.
Birthday Text For Her Idea
If you have a girlfriend and want to write a special note to her, here are some starter thoughts. A happy birthday text message from a boyfriend is really important. So, while these are suggestions, your text should come from the heart.
Babe, you are my everything. I love you so much. Happy birthday!
Happy birthday, princess! I love you. Wishing you a beautiful morning.
This day is yours! Whatever you want! See you later.
Hey, sunshine! You light up my world! Can't wait to do whatever you. want on your birthday.
What do you want to do today? The day is entirely in your hand, birthday girl.
I love you, birthday girl!
It's your b-day! Happy b-day, my baby! Can't wait to see you later.
I'm so blessed to have you in my life. Thank you for sharing it with me.
You are so generous with your time and love every other day of the year. Let me spoil you rotten today.
I can't wait to spend the day with you later to help celebrate your big day. I love you.
Simple Happy Birthday Text Ideas
If you want to text an acquaintance, here are really generic happy birthday text ideas to get you started. These could be sent to anyone that you know.
Is it just me, or do you seem older? LOL! Teasing. Enjoy every second.
Make today the happiest day of your life! Don't say NO to anything.
How does it feel to be another year older? I wouldn't know because you are older than me.
Dear friend – what a beautiful day for a birthday. Enjoy every minute.
Don't worry … What happens at the party, stays at the party! Can't wait to see you tonight to celebrate!
Life seems so much brighter having you for a friend. Hope you have an incredible day celebrating.
Enjoy all the cake and presents you are about to receive! They are well deserved.
If you find your new age hard to swallow, just add vodka.
Can your cake handle all the candles you are about to put on it?
I hope all your birthday wishes come true.
I'm thinking of you today, now that your birthday is here.
Wishing you happiness on your special day.
I am so glad that I still get to be with you for yet another year.
Today is a reminder that you are still alive. Don't worry about the number.
You make every day of my life brighter. HBD!
You deserve all the cakes, cookies, candles, and balloons.
You're beautiful inside and out – hope you have an incredible day.
I am challenging you to set a big goal for yourself this year. What will it be?
You have 365 days to do something HUGE until your next birthday. Let's make a deal today. What will it be?
Wishing you a day filled with love and cheer.
I hope that you spend the day surrounded by the people you love.
Family Birthday Text Messages
Birthday wishes can be sent to anyone in your life. But if you have someone who is related to you, you should try your hardest to send a happy birthday text message out to them on the day of their celebration.
I know people celebrate a birthday month nowadays, but a text on the actual bday is important. If you happen to miss it, still send it, of course. You know what they say – better late than never.
I love you cuz! Hope you have the best day ever!
Did you start celebrating your big day today, yet? BETTER! You have a lot to live up to.
HBAY! I love you so much and I hope you have the best day EVERRRRRRRRRR!
Today is a beautiful day to celebrate a truly beautiful person. LOVE YOU!
Happy bday to someone who I could NOT imagine my life without. You are just so important to me.
Your job today is to live your best life. My job today is to document everything! See you later to celebrate a great birthday!
It's your birthday today! It's time to enjoy your special day to the fullest! I wish you everything!
I am who I am because of you. And I truly mean that. My birthday wishes for you = that you get everything you want this year.
I am so blessed to call you family. HBDAY!
Wishing you a very happy birthday and all the best for the coming year. Can't wait to see what adventures we have ahead of us.
Words cannot express how much you mean to me. I hope you get everything you want on this big day.
I'm ready to cut the cake! Tell me when and where, cuz!
I hope you are taking the day off mentally to celebrate your entire self.
I am so excited to see you later! Today is going to be so special. You are so important to us all. Can't wait to honor you!
Belated Birthday Wishes
I am so sorry that I forgot to wish you a happy birthday on your actual day. Please know that I love you.
A belated happy birthday text! A little late but still filled with the same amount of love.
My friend, I missed your birthday! Let me make it up to you. Where re we going?
EEK! I missed your birthday! I owe you a night out on the town. It's settled!
Happy birthday dear! So sorry I missed your big day – but still sending you a day filled with love and adventure.
Apologies for my belated happy birthday wishes! I hope it was the best.
Tell me everything that happened yesterday! I can't believe I forgot to text you a HBD! So sorry!
I'm late. I'm late to a very important date. Don't kill me. I LOVE YOU! HBDAY.
I am the WORST – omg. I can't believe I didn't text you yesterday for your bday. UGH! I am so sorry. Wishing you an incredible year.
What was your bday wish? How did I miss it? My brain is broke! Forgive me.
Yes, I forgot. Yes, I admit that. Yes, I still love you. Yes, I owe you a drink.
My friend… I am a day late, but that doesn't mean I love you any less. HBD!
UGH what is wrong with me? How could I forget the most important day of the year?! HBD!
How can I send a birthday message?
As a reminder, if you don't want to use text messages, you could always send them a card in the mail, phone a friend, or reach out via another social media channel. If you live nearby, do an impromptu drop by and give your friend a big hug! We don't see each other nearly as much as we should these days!
What can I say instead of happy birthday?
If you look at the 100 birthday wishes listed above, I didn't use the term happy birthday in every single one of them. In fact, I tried to mix it up a bit because I realize that people like to be a bit different and stand out in the crowd. Try one of the 100 above options and see how you feel.
What is the best message for birthday?
Well, that is an entirely personal question. The best message for birthday is one that comes from the heart. It should be highly personalized and to be honest with you – not come off of the Internet. You should include factors that only the two of you know. A meaningful message will always outperform a quote or a witty joke.
What is a unique way to wish someone a happy birthday?
If you are looking for a unique way to wish someone a happy birthday, you could start out with a happy birthday text and then follow it up with a personalized experience that is local and meaningful. Do the two of you really like musicals? Then perhaps you'd like to take your friend to see a show! Or maybe they love bubble tea! Send them a $5 gift card to a nearby bubble tea store. Really customize the gift and your recipient will be beyond thankful.
What does Happy Birthday mean in slang?
If you noticed, I wrote HBD several times on my birthday wishes sms text list. HBD stands for happy birthday and is considered the slang term for texting.
Who will you send these birthday wishes and birthday messages to?
I hope this list of birthday love will offer you up some inspiration and guidance if you were having trouble coming up with some happy birthday text messages. Happy birthday SMS are important – they really are! So, pick up your phone today and tell that important person in your life that you are thinking of them. 🙂
Related: