Talk about a super fun way to have your milk and cookies, right? I just love this idea and my kids did too!! The recipe is easy enough. All you have to follow the instructions below.
If you don't want to make your own cookies, consider using the store bought version. You just have to melt the chocolate.
Ingredients:
1 14oz can of sweetened condensed milk
1 1/2/ stick of butter — make sure it is room temperature
1 1/2 cups of

graham

 cracker crumbs
2 cups of chocolate chips
1/3 cup of shortening
Melting chocolate
Preheat oven 350 degrees.
Mix the graham cracker crumbs, condensed milk, and butter into a large bowl until combined. Mix in your shortening and fold in your chocolate chips.
Turn a muffin tin upside down and mold the mixture into cups or simply use your hands to create the small cups. Bake for 22 minutes. Allow to cool.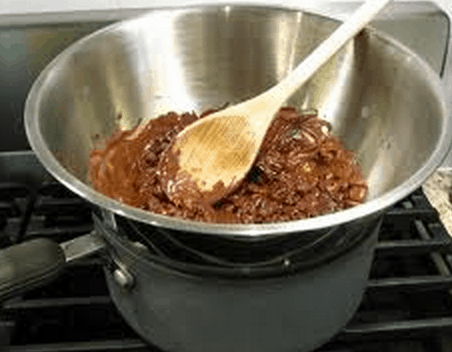 Meanwhile, melt your chocolate by mixing every 15 seconds until smooth. You can use a microwave or you can put water in a pot and then a bowl on top of the pot. Place the chocolate in the bowl and stir over medium low heat.
Spoon into your cup and cover the sides and top rim with chocolate. Let cool and harden.
You can now have your cookies and milk at the same time in one bite!
To see what Audrey wrote up for her Getting Gorgeous in the Kitchen post, click here.