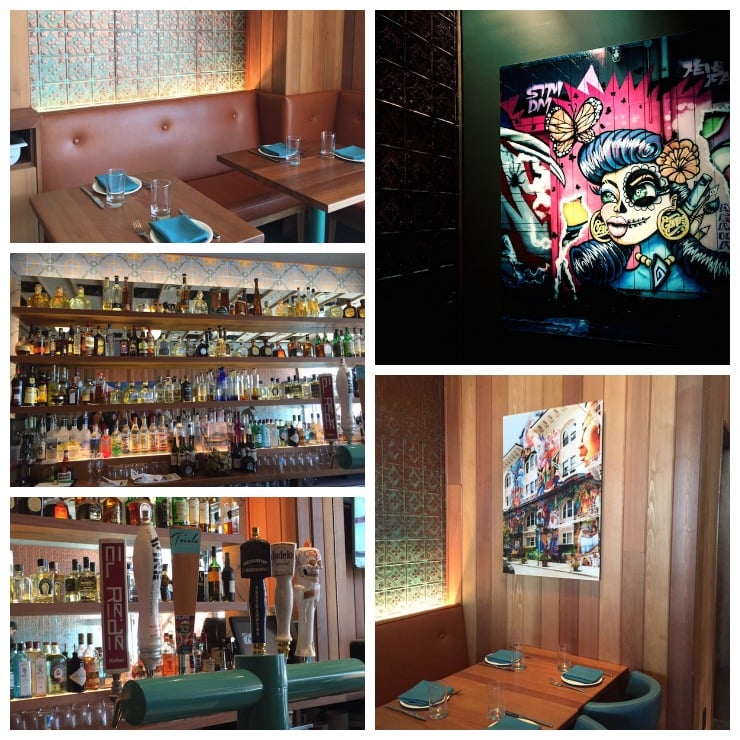 My husband and I love to go out to eat. It's our favorite date night activity and we love to take the kids out to great places, too. For years, we've wanted a truly great, "real" Mexican restaurant with a great vibe and bar to open up 5 minutes from our house. I know, I know…very specific, but it's true.
Thank goodness Tocolo Cantina came around at the Gallery at Westbury shopping center (just about my favorite these days) in Westbury, Long Island. The mission at Tocolo Cantina is and always will be to serve classic Mexican dishes prepared with the sophistication of a fine dining restaurant in a casual and approachable manner.
The restaurant serves refined, modern Mexican food in a friendly, high-service, and casual atmosphere. The place does that and then some. It's awesome. We really loved the whole package…the food, the design, the presentation, the bar…the "whole enchilada" (sorry, I just had to).
The restaurant space was designed to merge the modern elements of a California eatery with those of a Mexican cantina to create a warm and inviting feel. It is fit with gorgeous tile, copper walls, a lively bar in the center of the room, and a garage door that forms an outdoor canopy when opened when the weather (oh please, please) gets nice.
The artwork is a focal point and it really makes the place unique…it really pops. It's a warm space, yet very hip and very lively. It's really the perfect spot for this type of cuisine and for what we are looking for in a casual yet nice cantina.
Chef Alexis Samayoa's career has spanned over a decade, including well regarded stops at world renowned locations such as El Vez NYC, La Esquina (under Chef Akhtar Nawab), Txikito (under Chef Alex Raij), and WD-50 (under Chef Wiley Dufresne). He most famously started the highly successful Empellon under the tutelage of legendary chef, Alex Stupak.
The chef knows that all great Mexican food begins with the tortillas and masa. He takes great pride in preparing these items fresh every day, resulting in flavors that perfectly accent the different tastes of each dish. Samayoa incorporates both traditional Mexican fare and his own modern interpretations of customary Mexican dishes into the menu.
The menu's mix of small and large plates, as well as its two large communal dining tables, hopes to inspire long celebrations over food. All of this shows through and through, perfectly.
The three homemade salsas with homemade chips were fantastic, with varying levels of heat and taste.The guacamole was not only super fresh, but very clever…with versions that include mangoes and chili peppers.
My Tlayuda was unique and flavorful, really focusing on classic ingredients like tortilla, refried beans, Queso Fresca, Avocado and more in the best way possible. The tacos were delicious…well balanced, super tasty. Bill said the fish taco was as light and as good as it gets. Even the corn on the cob (on a stick) shined…rolled in cheese and spicy goodness.
The desserts were just as amazing as the apps and entrees were, with an outstanding Tres Leches cake, unreal ice cream pops fresh from NYC (the only place on LI to offer them). Everything else, as with the rest of the menu, is perfectly crafted and carefully and loving made in-house.
The food was bright and very fresh, fulfilling yet not too filling. It hits a sweet spot that makes Bill and I want to get back to again and again. Check out the fab menu here. They even have a prixe-fixe lunch for $15!
Since no great cantina is complete without a lively bar and lofty cocktail program, Tocolo Cantina promises to deliver the best margaritas and sangrias around. The bar offers delicious specialty drinks, as well as a large selection of premium tequilas and mezcals. I loved my margarita and Bill really enjoyed his beer Michelada (Tecate Served with Salsa de Arbol, Fresh Lime, Chile Pequin with a Salted Rim).
They even offered a Shot and A Beer…Bill really respected that, LOL. There's much to choose from, with each drink coming from the heart with super-fresh and inventive ingredients and pairings. It will really liven things up and make for an even more amazing lunch or dinner!!
PLUS, starting April 2nd, Tocolo will be hosting Cinco de la Semana night! Party like it's Cinco de Mayo year round with drink specials from 9PM to close and dance/house music by Sirius Radio DJ Danny Valentino!! Sounds like it's going to be a lot of fun!! Babysitter, please.
Overall, we really loved the place for it's liveliness and warmth and for it's really special Mexican fare. The prices are very fair to cheap, especially (as with more places) for lunch. Though, be advised, the full menu for dinner offers to many more options that I think is worth checking out.
It's just the spot we (and our friends) have been looking for and can't wait to get here again and again. I hope they do as well as I think they will and be around for many years to come.
If you want to book a table and take me out to dinner, just let me know. Be sure to check them out during Long Island restaurant week, April 26th – May 3rd. Here's the menu.
To find out more about Tocolo Cantina, check out:
Related Posts: