These math board games are an easy way to get your kids excited about active learning at home. Board games are a great way to enjoy family time with the children while still ensuring they are working on their school's curriculum in a fun way.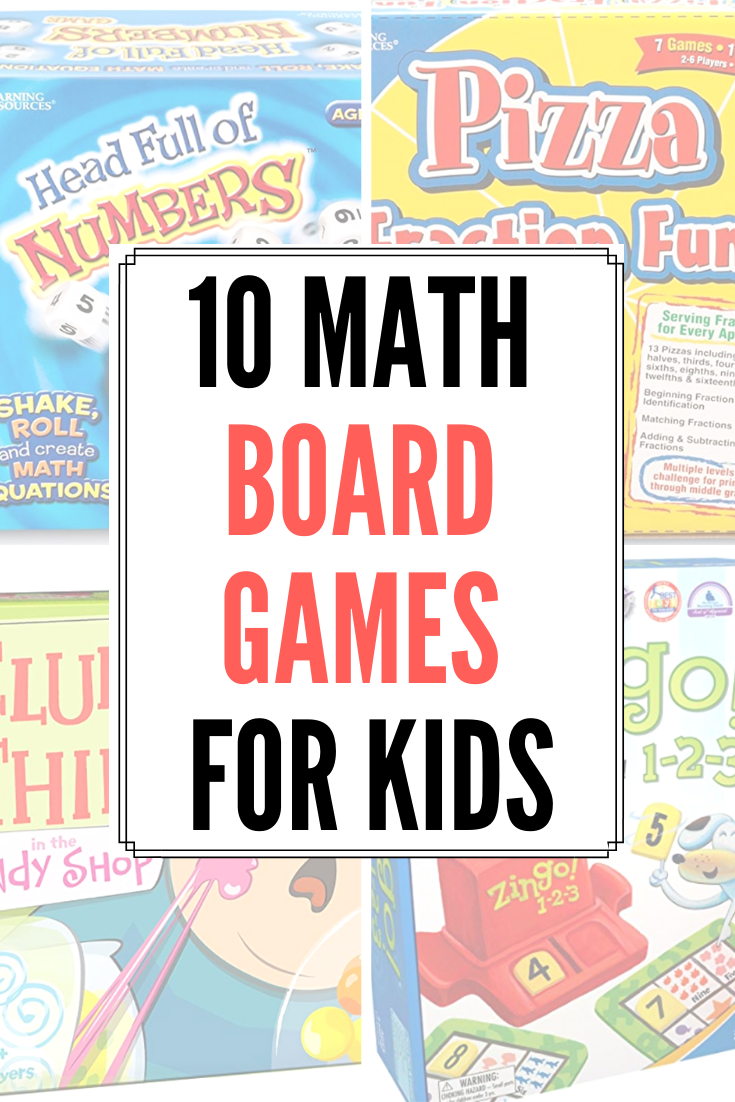 10 Math Board Games To Play With The Kids
My family loves to participate in family game night on a regular basis. In fact, we make sure we get together at least one a week for an unplugged evening together as a rule of thumb.
This means that we have to make sure to have a wide array of new titles and classic favorites on hand to keep the kids excited about gathering around the dining room table for a few hours. Math Board games are typically introduced a few times a quarter as a way to mix things up.
If you are hoping to do the same for your little ones, here are some options you should consider. I've included a wide array of age range options to cover all bases.
This section is dedicated to younger children and contains affiliate links.
Before I even get into the generalized section, I have to call out this particular game because it is our favorite. We play it ALL THE TIME.
We play ROPODA Shut The Box Dice Game before school starts, when we are waiting for dinner, right before bed – you name it! My little guy LOVES THIS ONE. It is our top pick for sure!
Related: Easy Card Games for Kids
Top Math Board Games For Kids
Proof! is a fast, fun, and addicting math game loved by teachers, parents, kids, and grown-ups alike! Deal 9 cards and work that mental math magic as you race to find equations among the numbers using as much multiplication, division, addition, subtraction, and square roots as you want. Keep what you find and when the deck runs out, most cards win! Fast to play, easy to learn, Proof! math game is a great activity for the classroom or home.
Kids Solidify First Grade Math Skills with addition and subtraction from 0-9, comparing numbers (greater than, less than, equal to) and learning odds and evens.
MATH IS SOCIAL: Let the kids discover the fun side of math when go on this amazing pet park adventure with you. Feed pets, win hearts and get 20 times more math practice with this award winning educational family game
Make addition and subtraction fun for the whole family with this oversized mat game! Players roll the soft foam dice and race to place their marker on the answer. For a more physical game, players can instead touch the answer.
Kids will have math on their minds with this game for any number of players! From one child to the whole family, everyone will love the fast-paced fun.
This mouthwatering game captures children's attention and helps them visually understand fraction concepts and skills using one of their favorite foods!
A hilarious game of give and take where kids develop confidence and solid math skills. Every player has fun as cards are constantly changing hands!
Develops critical skills – Gameplay provides a stealth learning experience, where players develop counting, simple addition, number sense and word recognition skills.
EASY-TO-PLAY GAME: Stack and serve your pancakes to match your order cards. Be the first to correctly complete a pancake stack and top it with a pat of butter
Pay Day is great for social interaction and a game that parents and children can play on a relatively even level. Simple and quick, a two lap game takes as little as 15 minutes
Don't these titles all look like so much fun? I'm telling you! Your children won't even KNOW they are working on addition and subtraction because the storylines are THAT good!
I hope you try out some of these products to help your little ones work on their mental math abilities. Use your family game night to work on math problems, math facts, problem solving, math concepts, and more.
Practice math in an enjoyable and watch how your children no longer shy away from the subject! That is the best part of it all!
Let me know if I let out a title that you absolutely love!
Related Posts: