This post is sponsored by The Quaker Oats Company, all opinions are my own.
The mornings can be tough for kids who aren't expressive or naturally talkative. These ice breaker questions for kids over a healthy breakfast will do just the trick to get the family opening up and laughing before your day actually begins.
How To Get Your Kids To Talk More Over A Healthy Breakfast
It's important for us to kick off our day with a healthy breakfast – including fresh fruit, skim milk, eggs, and Life Cereal which is filled with at least 24 grams of whole grains per one-cup serving. It's also important for us to bond with our littles whenever we get a chance.
Meals are usually the perfect setting to do just that! Whether it's breakfast, lunch or dinner, I never waste the chance to get in as much quality time with my family as I can when we all gather around the table.
That's why we lean on silly questions, fun games, and storytelling to get the verbal ball rolling. I find that after a few of the below ice breaker tricks, my littles fall right into their usual routines.
What Are Ice Breaker Questions For Kids?
Ice Breaker questions for kids are fun things you can ask your family during breakfast while you are all spending family time together. Personally, we like to eat Life Cereal as part of our breakfast – available in delicious flavors such as Original and Cinnamon – while asking a variety of off-the-wall personal questions.
I guess that's the beauty of these ice breaker questions for kids! They are so simple. For example, I might turn to my daughter and ask her whether or not she'd rather be a famous singer or a famous dancer.
There is no right or wrong answer. But each answer allows me to learn just a little bit more about my child. It's fun and personal and something we absolutely love to do! And guess what? While that's happening, I'm serving her a healthy meal and a side of love.
Let's break down some fun and free options for you to consider! Take a look at the examples of challenges you can do at home with your children. With Life Cereal, you can feel good about what you're eating and with these ice breaker questions for kids, you can feel good bonding as a whole!
Would You Rather Questions For Kids
Would you rather questions are great for every age because they are all fictitious scenarios that anyone can place themselves in. For example, both a DAD and a SON can wonder if they'd rather eat raw pasta or raw celery if given the chance, right?
Once thing is sure about these 100+ questions offered in my free Would You Rather For Kids printable, your family will laugh a LOT! The reason is because everyone will be surprised by the answers you hear.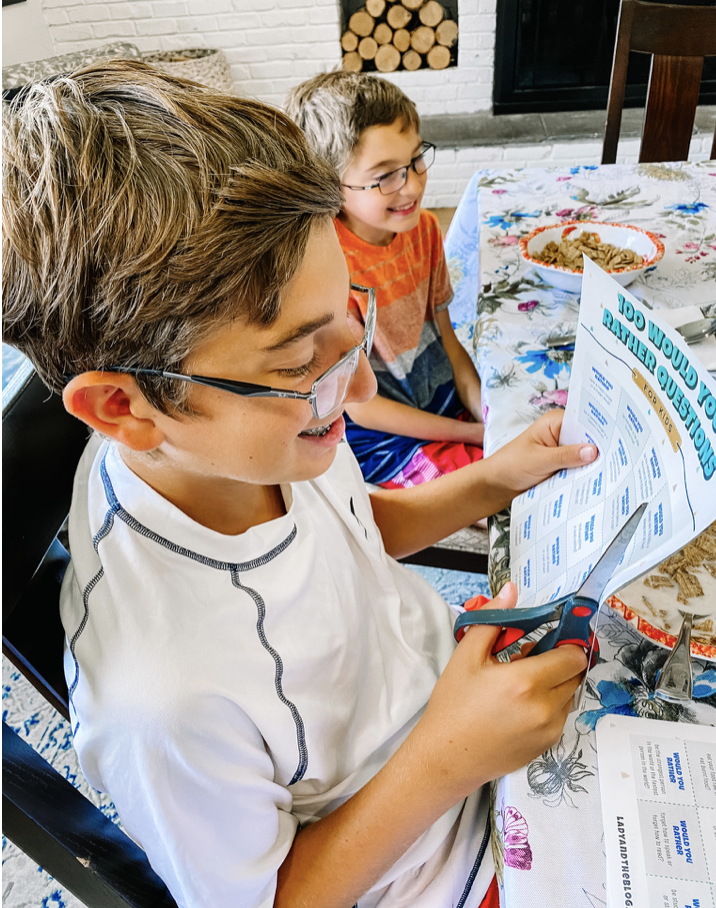 There are two ways to play this game. You could either cut out the squares, mix them up, and place them in the center of the table. Then pick at random and enjoy! Or just read them right off of this list. Enjoy!
Family Conversation Starters For Kids
Family conversation starters for kids are concepts you should think about ahead of time before your meal even begins. I like to get a head start on what I want to ask before we even take our first bite.
For example, did my children have a late playdate the night before? Have I asked enough questions about that time away from home? Is there an upcoming test that I know they are worried about? Should I follow up during breakfast about some of their concerns? Is there a weekend sports game that I know my son needs to practice for with his teammate? What do I need to know about that?
Family conversation starters come to life-based off of what is happening during our week. As a mom, it's important for me to stay on top of it all. Ice breaker questions for kids help me do just that.
Never Have I Ever Questions
Again, a great way to inject lots of laughter into your morning routine while enjoying a healthy and hearty breakfast with Life Cereal! I created a set of 100 questions geared specially for families who are looking for bonding moments just like the ones we enjoy on a regular basis.
This free printable offers up 100 questions that each member can ask one another. The point of the game is to get to know one another on a very personal level – family style!
Some examples of the questions that are included are:
Never have I ever ridden an elephant.
Never have I ever ignored a doorbell ring.
Never have I ever blown bubbles in milk.
Never have I ever broken a dish.
The best part about this game is watching the children find out that dad ALWAYS blows
bubbles in his milk. LOL! Download your free Never Have I Ever For Kids printable here.
Ready To Bond With Your Family?
Keeping the kids busy and fed are mom's two top priorities. In fact, those are the two pillars that I focus on most on this blog. Remember, Life Cereal is an excellent source of 5B Vitamins for each 1 cup served. So, when putting together your breakfast options for this week, be sure to put Life Cereal on your shopping list.