Christmas Charades is a great party game that you can play with just about anyone. It doesn't matter how old or young, these themes are universal.
Use this free Christmas printable to introduce a new tradition to your family that will bring on lots of laughs and lasting memories.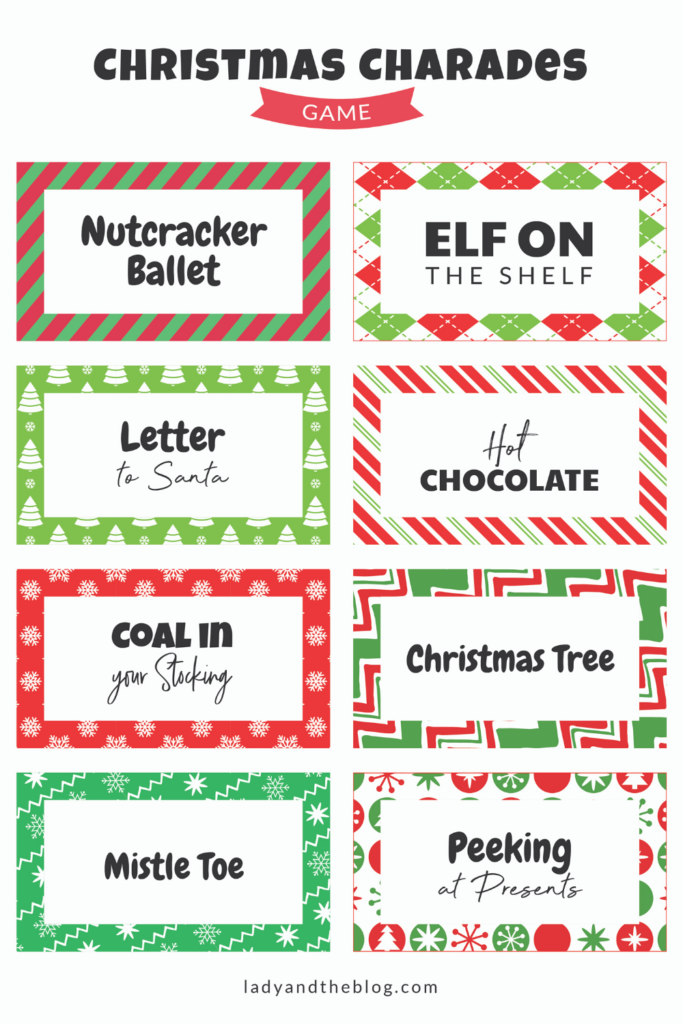 Christmas Charades Party Game
The way you play Christmas Charades is simple. First, split your group into two teams. Then, print out my Christmas Charades printable found below and cut out each of the squares.
Just like the traditional guessing game, this holiday-themed version will have each team pull a card and then ACT OUT the word using only their bodies with no verbal cues.
The Official Rules
Players are split into two teams
Cards are placed face down and shuffled
One family member is assigned to track points for each round
Each round is 60 seconds. One team member per round gets to go up and try to act out each card – one at a time – without using any verbal cues. Rest of team must try to guess.
For every card they "pass" on, team loses a point.
Game is over when there are no more cards.
Tally up points and see which team won.
Bonus: Members may add easy charades ideas to piles before the game begins – charade phrases must be holiday related.
What Prompts Are Included In This Christmas Charades Games?
This Christmas Charades list below has every card that is included in the game. Take a look and see what kind of fun awaits you!
Nutcracker Ballet
Elf on the Shelf
Letter to Santa
Hot Chocolate
Coal in your Stocking
Christmas Tree
Mistle Toe
Peeking at Presents
Present Shopping
Christmas Cards
Snowball Fight
Christmas Music
Making a Snow Angel
Christmas Caroling
Seeing the First Snow
Rudolph
Making Cookies
The Polar Express
Ice Skating
Building A Snowman
Sledding Down a Hill
Hanging Christmas Lights
Decorating a Gingerbread House
Elves Making Toys
Putting on Snow Clothes
Picking out a Tree
Jingle Bells
Ho Ho Ho
3 Wise Men
Jesus
Mrs. Claus
Shoveling Snow
Cooking a Holiday Meal
The North Pole
Delivering Gifts
Letters to Santa
I promise you! This will become a holiday tradition that you will always include because it will bring on lots of laughs – especially when Grandma tries to do one of the more difficult Christmas Charades words. HA!
Download Your Copy Here
Are you ready to download your free Christmas Charades printables? Click here for your copy and enjoy!
By the way, before we even get started… I highly suggest that you print this game in color because it is so festive!
If you really want to get fancy, you could always laminate this pack and then store it away with your holiday decorations. That way, you can reuse this party game over and over again whenever it's time to get ready for Old St. Nick!
Ready To Add Some Holiday Fun To Your Next Gathering?
This Christmas themed party game will be the perfect addition to your next gathering. Use these words and phrases to kick off the activity and then be sure to sprinkle in a few of your own to help extend the play.
There are so many ideas for Christmas to keep the kids laughing! It's not just about presents when it comes to the big day. For us, it's all about family bonding. A fun Christmas is time well spent.
Related: