This carrots in dirt recipe idea is so much fun for kids! Don't you think? What a fun Easter dessert treat for kids to create and … get their hands dirty while making it.
Are you looking for an Easter food craft to do with the kids? I have the perfect edible treat for you to enjoy. It's simple and doesn't require a lot of ingredients. And guess what? Your kids can help! Check out the instructions below.
Carrots In Dirt: Fun Kids Food Craft For Easter
Ingredients:
Carrot Strawberries:
Strawberries, rinsed and dried
Bag of Orange Candy Melts
Carrot Pudding Cups:
Crushed Oreos
1 box Chocolate Pudding
Milk (required number of cups on pudding box)
Carrot Chocolate Covered Strawberries
Additional Materials:
Clear cups
Parchment paper
Plastic baggie and scissors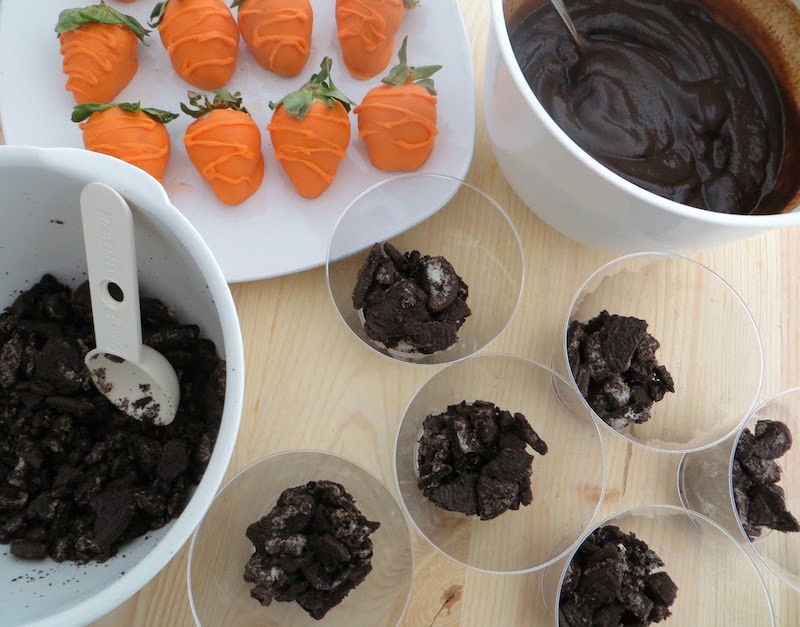 Directions:
Line baking sheet or pan with parchment paper. Melt orange candy melts. Holding strawberries by the stems, dip them into orange candy to coat and place on parchment paper.
Take a sandwich bag and cut a tiny tip of it off for the chocolate drizzle. Spoon remaining melted orange candy into the bag. Gently drizzle the chocolate from side to side over the strawberries on parchment paper.
Prepare the pudding cups by adding 2 tablespoons crushed Oreos to the bottom of each cup.
Make pudding as directed on box. Pour pudding into cup over crushed Oreos and then top with more crushed Oreos. Place carrot chocolate covered strawberry in center. Refrigerate until ready to serve.
What do you think about this Carrots In Dirt recipe?
Related Recipes: