With two teenagers, both suffering from standard teenage acne, I know how hard it is to find a solution that works and one they can comfortably remember to do every single day. There's a fine balance when it comes to acne solutions for teens and Curology not only was easy to order, but the results speak for themselves.
What is a good skincare routine for teenage acne? A proper skincare routine consists of a cleanser and a moisturizer.
Skincare Routine For Teenage Acne That Works For Us And Ships Right To Your Door
With Curology, not only do you get the cleanser and moisturizer, but you also receive a custom formula directly targeted at your teen's acne needs. The best part about this process was being able to speak with a dermatology provider – one on one – and email our personal concerns. It gave them drilled down information about my child's skin.
This critical information empowered them to come up with the best solution for my child, choosing the right products from their line to send to us via their monthly shipments. We discussed things like my teen's medical history, level of acne, dark spots, or even uneven texture. I had to send in photos of every angle of her face which I LOVED because I knew I had a second set of eyes looking at breakouts.
A far cry from shopping in the aisles of the store without knowing what to purchase! We all know that feeling – the grab-and-go desperation, hoping anything would stick.
With Curology, there are no office visits and no copays, but I can still reach out to a dermatology provider with my questions, which gives me peace of mind. If the formula needs to change because something different is happening with your teenager's skin changes, they will work with you to update your formula for your next shipment.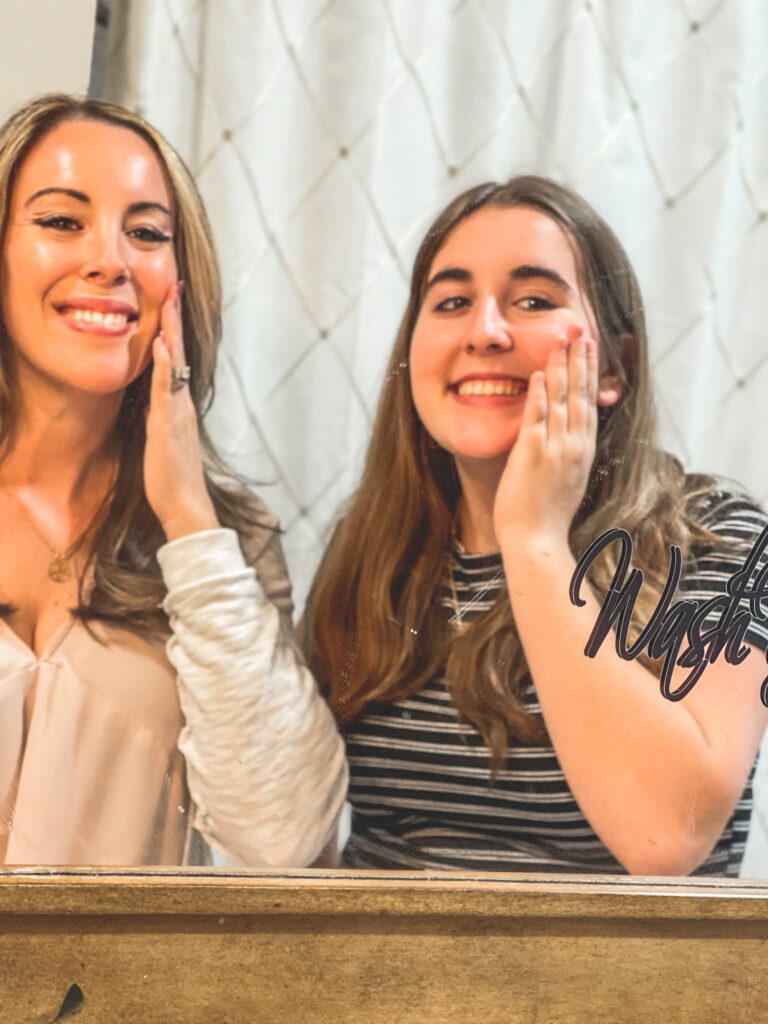 Teenage Skincare Tips For Acne
Curology creates custom formulas tailor-made for your teen's skincare concerns, but it can only help if your child uses it.
Get started at curolo.gy/verasweeney and go through the skin quiz to find out what Curology recommends for your skin
Stick to your morning and night routines, as in accordance with the program
Avoid eating overprocessed or greasy foods
Change your pillowcase sheets often
Shower often and make sure your hair is always clean and off of your face
Never go to sleep with makeup, dirt, or grime on your face
Keep your hands clean
Results After Keeping Up With The Routine
We made sure that Natalie really stuck to her morning and evening routine and followed all the additional outlined suggestions above. In less than two weeks, I saw a huge difference in her skin and her confidence.
I think the teenage years are probably the hardest for our littles, and the last thing they need to worry about are blemishes. If we, as parents, can do our small part in helping eliminate this, why not do that?
Can I use other skincare products while using these products?
If you'd like, you can add other products to this teenage acne skincare routine. I, personally love to use serums and always have Vitamin C on hand. If you'd like to add an additional layer of your favorite product to your child's routine, please make sure they aren't harsh and filled with unnecessary chemicals.
Sign Up For A Free Trial
Ready to sign up for a free trial? It will include a 1-month supply of a custom skincare formula—along with a cleanser and moisturizer specifically designed for acne-sensitive skin. As the end of the trial period approaches, you have the option to adjust the plan. After that, you'll receive your supply every two months, hassle-free and delivered to your door. Pause or cancel anytime.
Everyone's results will be different, however, Curology helped my teenager's skin and I am so happy that they are sponsoring this blog! Click here to get started!!