Back to school will look very different this year, but I still want to treat it the same way. Picking up new supplies, getting the children pumped about entering a new grade, and choosing some easy outfit ideas for school – regardless of where their lessons will take place.
This post is sponsored by Dick's Sporting Goods. All opinions are my own.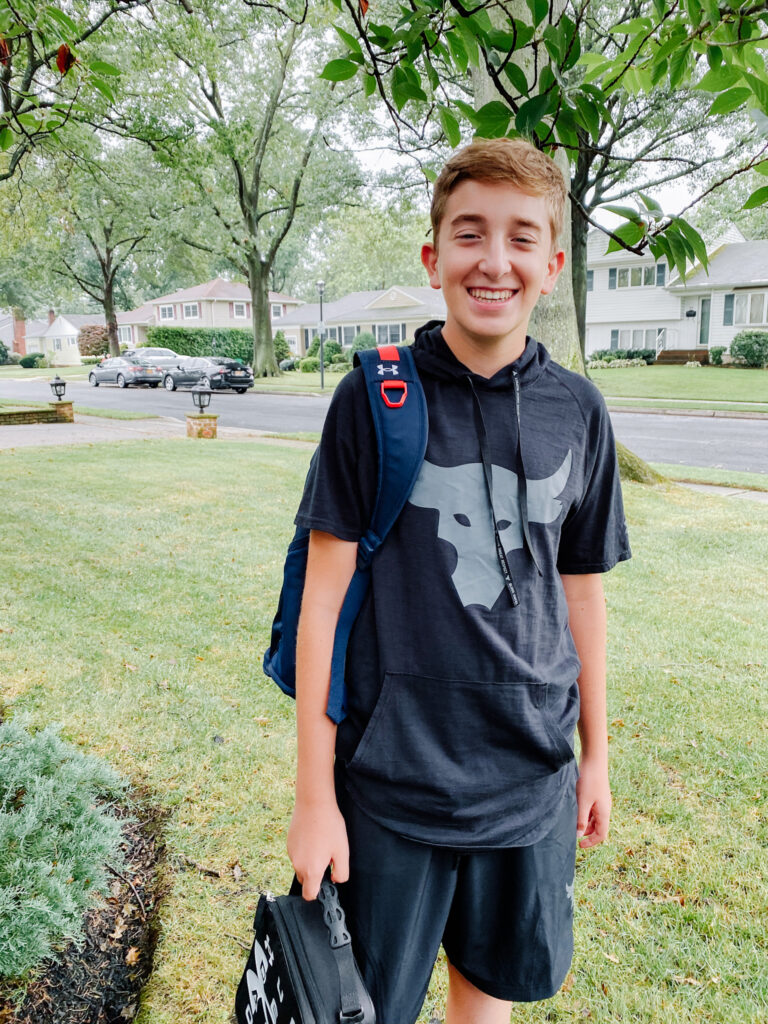 So, SINCE I live in New York and SINCE I have a feeling that we are going to spend a lot of time at home this year, I told the children the number one thing to focus on was comfort and then style. Odds are they completely ignored me because I am their mom… but whatever.
Easy Outfit Ideas For School From Dick's Sporting Goods
Luckily, we headed to Dick's Sporting Goods and I didn't have to worry about anything because that store was filled with every brand on their list! Under Armor, Champion, Adidas, Nike, and more…
Here's a look at some of the easy outfit ideas for school we put together.
Let's talk a bit about what each child needs. My little guy is a ball of energy. Here's a visual – he eats dinner standing up … well, jumping if I want to get really specific. So, I needed clothes that were light and ready for action.
We landed on a pair of Under Armor shorts and a t-shirt and guess what? Both were 25% off. Big score!
My daughter is super casual and picked up quite a few things to express that vibe. She opted for a Calia by Carrie t-shirt – which I will steal, a Jansport backpack – which I LITERALLY HAD WHEN I WAS IN HIGH SCHOOL WHAT IS HAPPENING OMG, and a matching lunchbox to start.
The dog was very interested in her lunchbox. That's how smart dogs are! There was nothing in there… but he KNEW there SHOULD have been. LOL!
We rounded out this outfit with Champion joggers and as I took this picture a time machine came down from outer space and whisked me away to 1995. Suddenly, I had braces on my face and I was using a rotary phone.
Everything that is old is new again, people. Don't fight it! Just own it! Why did we throw all of our stuff away? WHY? Ah, it's ok – Dick's Sporting Goods literally carries EVERYTHING. So, we are covered.
Liam bought an entire outfit from The Rock's Under Armor line – Project Rock. We are all obsessed with him – not going to lie, but Liam admires him the most. You can see the shirt in the very first picture I posted above. We also picked up a pair of matching shorts.
As far as accessories go, we chose a backpack and a lunchbox from Under Armor as well. Apparently, we really like this line. I did NOT realize how much we bought from this one brand until I started typing this post. It is actually hilarious.
Onto me. Me. Me. Me. I'm not even going to lie… I bought several things for myself. Yeah, I said it. 4 pants from Calia by Carrie and two tops. I'm telling you, this is my favorite casual / fit line on the planet and I'm not just saying that. I don't do that.
I wear jeans 99% of the time. I don't do sneakers and yoga pants – it's not in my DNA. It is NOT WHO I AM. Anybody who knows me knows this and I AM OBSESSED WITH THIS LINE OMG.
I bought all the things – all of them. So SOFT and comfy and CHIC. I will run errands wearing this, people! I am into it! I've gained 12 pounds since quarantine and these have no buttons – do you HEAR ME?! So, yeah – I picked up some casual outfits for school for ME as well. I'm a mom… who has to deal with school. It still counts.
So, no matter where learning will take place for you this year – whether it's your dining room table or some place more proper – head to Dick's Sporting Goods and stock up on some easy outfit ideas for school. You will find everything you need – backpacks, sneakers, lunch boxes, sweatshirts and pants, running shorts, water bottles, and more.