My family is such a huge fan of American Girl books. In fact, I think we own about 30 of them at this point. But who is counting? That's why it's always nice to hear when a new release hits the shelf because that means hours of entertainment for our little girl.
American Girl books are always inspiring, rewarding, and give my daughter an adventure to remember filled with one life lesson after the other. As a mother, what more can I ask for?
On August 28th, girls across the country will discover the world of Beforever – the newest addition to the American Girl Book collection.
Natalie is beyond excited. She LOVES her American Girl…both the dolls and the books. These are her absolute favorite books to read and she has American Girl doll parties with her friends all the time. It's so sweet…I just love seeing it!
American Girl Books – NEW Beforever Historical Dolls and Books
Beforever is American Girl's newly-enhanced historical line of dolls that connects girls ages 8 and up with inspiring characters and timeless stories from America's past.
The line was first introduced in 1986 as The American Girls Collection with the goal of having girls explore the past, yet find their place in the present and think about all the wonderful possibilities the future can bring!
It's just a priceless collection of beautiful, well-constructed, and lovable 18-inch dolls I think all girls can really enjoy and appreciate.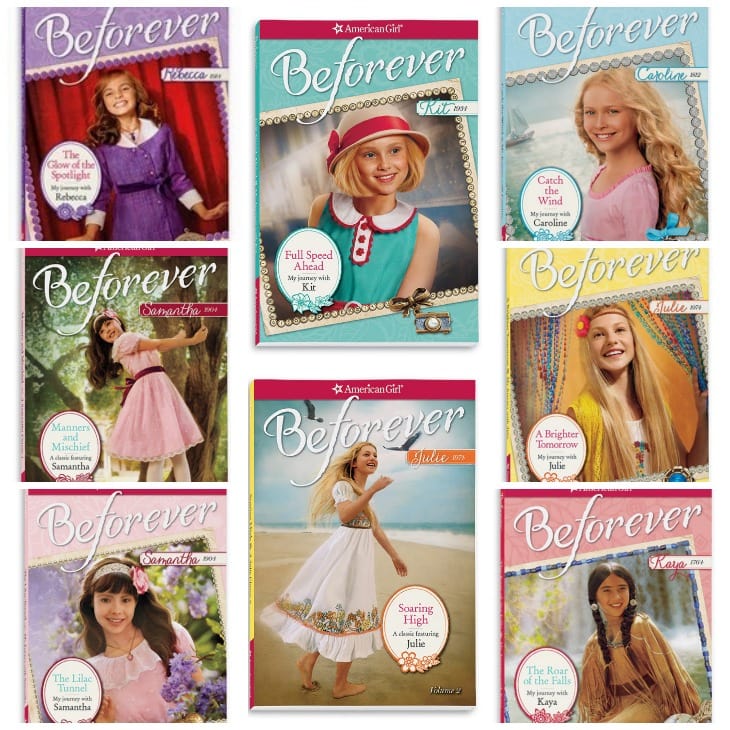 American Girl Beforever Lessons
Perhaps one of the most impressive parts of what is now Beforever, is that it really shows girls the common threads they share with the girls from the past…interests, challenges, dreams.
Each character brings with her a two-volume book series that brings her life and her era to modern times while focusing on themes we can all understand like: family, school, cultural celebrations, and the changes and challenges that every girls faces are she grows up.
Beforever Characters
There are currently eight Beforever characters in the line: Kaya, Caroline, Addy, Samantha, Rebecca, Kit, and Julie. Oh yes…for those that love Samantha Parkington…she's back!
American Girl decided to bring Sam back to celebrate the launch of Beforever!! Samantha was one of the original 1986 characters that was archived in 2008. She will be reintroduced within the American Girl Books with new products, including an ice cream parlor, a bike, a bedroom set, and several new outfits and accessories.
How many American Girl books are there?
Currently, the series has a total of 22 books all written by a variety of authors. Unlike Girl of the Year and other lines, they do not come with any doll or toy. Each novel is set in a particular period in time.
What age are American Girl books for?
The recommended age to start reading American Girl books is 9, but I want you to think about starting your child a bit earlier and reading them together as a family.
As soon as your child has an interest in the dolls, you should begin to pick up the books and start reading them as nightly stories. It will create wonderful bonding experiences!
Natalie absolutely loved her America Girl book Kit…one of her favorite parts was the ability to make decisions at various points in the book, leading to a new adventure almost every time you read the book.
It's great and it really keeps the girls interested. Fantastic idea…I used to love these kinds of books as a kid, too!
To find out even more about Beforever and American Girl Books, visit:
Related Posts: