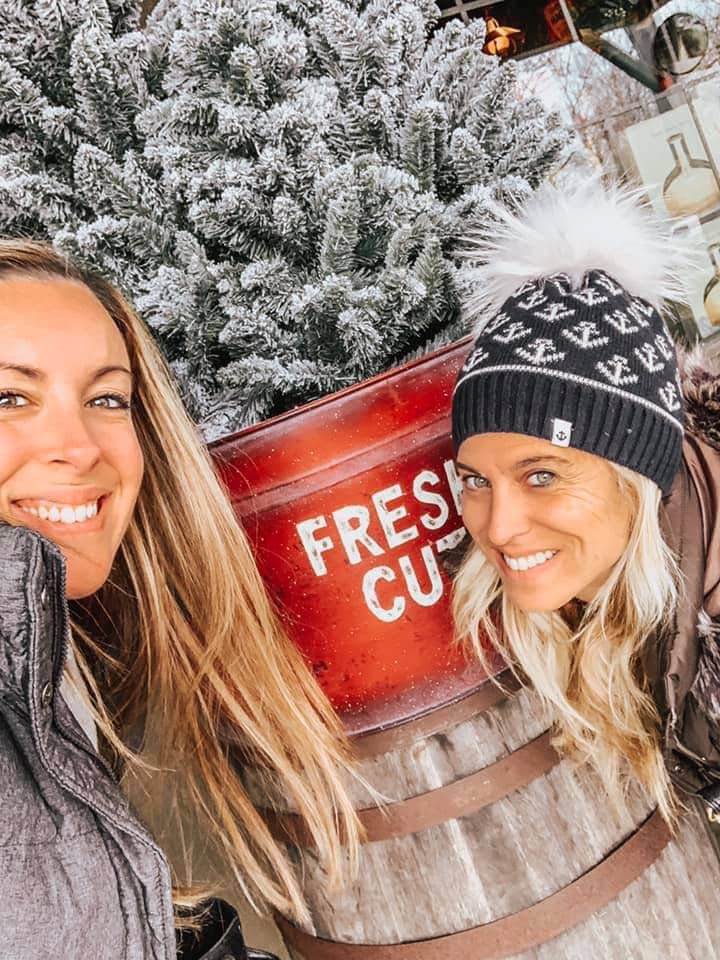 I just spent two days in Connecticut with my best friend and business partner, Audrey McClelland.  We do this every few months to make sure that we are on the right track for all the different platforms we run. These meetings are critical to our success. I'm someone who needs to WRITE THINGS DOWN to make a plan. The more detailed my map is the better. I joke about this quite often on this blog, but I tend to micromanage myself. It's the only way I know how to function in such a chaotic industry. And you know what? This method has kept me afloat since 2005. So, I can't complain.
Luckily, Audrey is the same exact way. I suppose that is why we mesh so well. We're the same in so many ways. Well, all except our personality. She is pixie dust and sunshine and unicorn floats – all blended together. I mean – really. She actually IS that all rolled into a 5-foot ball of sunshine. When we first met, I stopped her and asked her if she was for real? I told her that she didn't have to fake it around me. She could tone down the act. And… she was shocked because it wasn't an act. Audrey genuinely was kind and sweet and loving and wholesome and good. I'm … from New York City. I guess we don't run into a lot of people like that on a regular basis. In fact, I don't think I've ever met anyone like her. She is the ying to my yang and we work because of that balance.
I am a good person. Don't get me wrong! But I am sarcastic and quick-witted. I am a Scorpio and well, a Scorpio. I'm half Italian and from Queens. You get what I'm throwing? There are no rainbows in my back pocket. I'm loyal through and through. I'll tell you like it is, but I'll also be your best friend and do for you whatever you need me to. But if you wrong me, you are dead to me and there's no turning back. Unicorns aren't real and rainbows only come after the rain. Audrey and I have had very different lives I think. That's ok, though. God gave her to me because I needed some sunshine. God gave me to her because she needed some belly laughs. We work. We really do.
And on the business front – we REALLY work. We can build a brand, pitch a brand, and collaborate with a brand like no other. We can come up with new concepts on the fly. We can sit together and in a matter of 40 minutes, create a deck, send it out to 20 PR companies and hear back from a few with confirmed participation. We WORK. I am blessed to have that woman in my life and I don't ever take that thought for granted. She is my best friend, my business partner, and the sister I never had. There is just no other way to put it.
So, during our stay together, I confessed something to Audrey that has been weighing on me these past two months. Quarter four really reamed me. It knocked me on my feet. It broke me in half. It made me feel like a bad mom. It put me so far on edge that I found myself snapping at my children – being mean. Really mean. Like, so mean that I was aware of it. Have you ever been there? After you say something you hear it and you recognize how foul you sounded? That was me these last two months. Black tar spewing out of my mouth over and over again – to my children, to my husband, to anyone who got in my way.
My head wasn't right. I was so sick for so long which meant that my body was off. I was weak and yet I still had to work so much for the blog. So, I couldn't slow down which meant that I was fostering so much resentment. Why can't I take a break? I was physically and mentally ill – yet – I couldn't stop working because I had to pay my mortgage/bills/ Christmas / life. I was a puppet on a string getting dragged from one campaign to the next. All the while smiling, editing, posting, promoting. Smiling, editing, posting, promoting. It felt unbearable and I felt trapped. And so what does a trapped animal do? They lash out while trying to escape.
My family took those lashes. This house did not feel like a home. I was toxic. I can tell you this now because we are out of the funk. I have cried my way out of denial and anger. I am way beyond those steps. Looking back, I will say that I was aware of everything I was doing and yet I couldn't stop. I heard every hateful word and yet… I couldn't shut my mouth. A trapped animal lashes out while trying to escape and my cage was awfully small.
My meeting with Audrey allowed me to finally confess these truths to someone. I haven't had a chance to get any of it off my chest. And so, while together, before we started any work for the blog, I just DUMPED on how the last two months have been for me. Drowning. On fire. Trapped in a cage. Angry. Sick. Sad. Depressed. Overworked. Underappreciated. Desperate for a way to break the cycle.
And that was our focus. To try to find a way to break the cycle. To try to find a way to ease the burden while still maintaining my plan. I love what I do. I love my job. I wake up and I dive right into this blog head first. It is such a passion for me that I don't ever feel annoyed about creating for it. But, I need to work smarter. For the last few years, I've worked 16 hours a day. Yes, you read that correctly. Start at 8:03 – when my kids get on the bus – and then I don't officially clock out until I go to bed where I check my emails one last time around midnight. And you know what? That is freaking ridiculous. The THOUGHT that I should be readily available to anyone from 8AM to 12AM is absolutely preposterous. How dare I do that to myself! Of course, I feel overworked – look at how stretched out I was during the day. 
How can I fix all of this? By setting new ground rules. And you know what? I feel really good about them all. Here are some of the main ones that we set down on paper that relate to LATB. We did a LOT more for Permission to Hustle – but that doesn't really pertain to my sanity or this blog post. The meeting itself was highly productive for our women entrepreneur support group. But you will just have to wait and see what we are going to do over there! All begins 12/31!!
New 2019 Goals For My Business
Hired a new writer – I had several evergreen articles that I've ALWAYS wanted to write for LATB but have never had the chance to get around to them. These are articles that relate to content that I already have on the site. They are things that people ask for in passing.  I've always promised myself that I would get to those posts eventually. Well, I found someone that is going to help me get this content live. I am so excited about this – you have no idea!
Choose two days a week where I take OFF – I need this. I really do. I need to just have a Tuesday where I take my kids to school and then I just go food shopping and then maybe I hit the mall. Or maybe I do nothing and watch TV all day. Or maybe I will finally start to go for walks or runs or jogs? Who knows? But I LITERALLY need two days off a week. I won't NOT check email. I have to check email because I can't cut the cord entirely, but I won't WORK on my computer. This is a HUGE thing for me. I am a workaholic. That is not funny. Everyone has an addiction and this is mine. I NEED to break away from this world and give myself downtime – force it. I am sick. This blog is not my world. I need to get back into the real world with actual humans every now and then. It's important for my mental health. I had an insanely successful 2018… but at what cost?
I will no longer publish new content every day on the blog – And I have to be ok with this. When I used to own ImNotObsessed, we would publish 20 articles a DAY.  A D-A-Y. So, when I transitioned fully over to Lady and the Blog, I came down to about 5 blog posts a day and I thought I was slacking. Then I pushed it down to 2-3 a day. Now, I am around 1 a day. Sometimes I do more… But in 2019, I am no longer going to have any sort of expectation of COUNT. I don't NEED to post a new blog post every single day. I have to tell myself that. If I have a busy day and I don't get around to getting something up, I have to be ok with closing up shop. Again, this has to do with my workaholic obsession – I am telling myself this over and over again in my head. That it is OK to not post. The world will survive. You might be a blogger who is reading this thinking that I am insane. But we all have our burdens to carry. This is mine.
I need to do something special with my children once a week – I was talking to my husband and I asked him if he remembered the last time we baked with Caleb? He couldn't remember. I couldn't either. It's Christmas. We should be making the snowball cookies my mother used to make with me all the time when I was a child. I used to make them with my older two… but Caleb has never made them. He needs to make them. This week, special events begin.
I need to meet up with friends once a week – I have neglected 90% of my friend relationships. Isn't that pathetic and sad? So many of my friends – I don't even follow up with. A Facebook heart here and there. That is NOT enough. I am going to make sure we have plenty of pizza nights with the kids on our calendar. This is a MUST. I need to reconnect with these good people. It's been about 5 years for me. There is a handful that I am still friendly with – thank GOD –  but there are also so many that I hardly speak to and it's MY FAULT. This is going to change.
Movie date with Bill – I am an AMC Monthly pass holder. I don't know the official term. But you pay once a month and you can go as many times as you want. Bill is too. We don't use it nearly as much as we should. NEW RULE is we have to have date night/day/ matinee – once or twice a WEEK. This is NO JOKE. I am going to make FULL USE of my AMC Movie card (or whatever it's called) and I am going to see all the scary / action movies I want with my man while my children are in school. I mean,  they are all finally in school! Why wouldn't we do this?
No more travel unless it's worth it – This is a business decision. At 41, the most precious thing I have is time. I need to be with my children. If I have to be pulled away from my family, I need to hear why.
It's a start. I feel like if I follow these rules for myself, then I won't get into that "trapped cage" mentality again. I will have outlets and free time and personal experiences that will fill me whole. I refuse to live to work. I refuse to be that person. While I love my job with every cell in my body, that is NOT what life is about. Life is about my children and I don't want to be 65 and finally get that message. I'm not doing it for the gram. I'm doing it all for my babies and if I'm not around then what is the freaking point?
Open Heart. Clear Mind.
Please, Jesus –  keep me this still. Allow me to remember and not get caught up in the frenzy of a post or a pic or a video series or a like or a contest or a FB group. Make me never forget. None of this matters if I'm not here for them as a mom, a wife, a friend, a daughter. Keep me brave enough to stick to this plan. Keep my ego at bay. Hush her when she wants more. She has everything already. There's nothing more this world can give her. Show her. Just look…