Caleb had a Goldfish Swim School birthday party and what a blast it was! If you are in the market for a fun birthday space for your child, I want to tell you about all the great offerings this establishment has waiting for you and your family.
When I look for birthday spaces, I look for convenience, a fun environment, and ease. Goldfish Swim was the perfect spot! Not only did my son has a splashing good time (did you see what I did there?), but his older siblings and their friends had a blast as well. Something for truly everyone! Who doesn't love swimming?!
5 Reasons To Have A Goldfish Swim School Birthday Party
There are plenty of reasons to have Goldfish Swim School birthday party. For example, right on their website, they offer the following:
Two hours of private access to the facility
Certified lifeguards on duty to oversee all pool activities
Invitations with a map to our facility and matching envelopes
Table coverings, plates, cups, napkins and forks
Balloons, tropical decorations & centerpieces
Cupcakes and beverages for the children
Goldfish T-shirt for the birthday child
But I want to give you a bit of an insider's scoop. You know, from a vet!
5 Reasons To Throw Your Next Party At Goldfish Swim School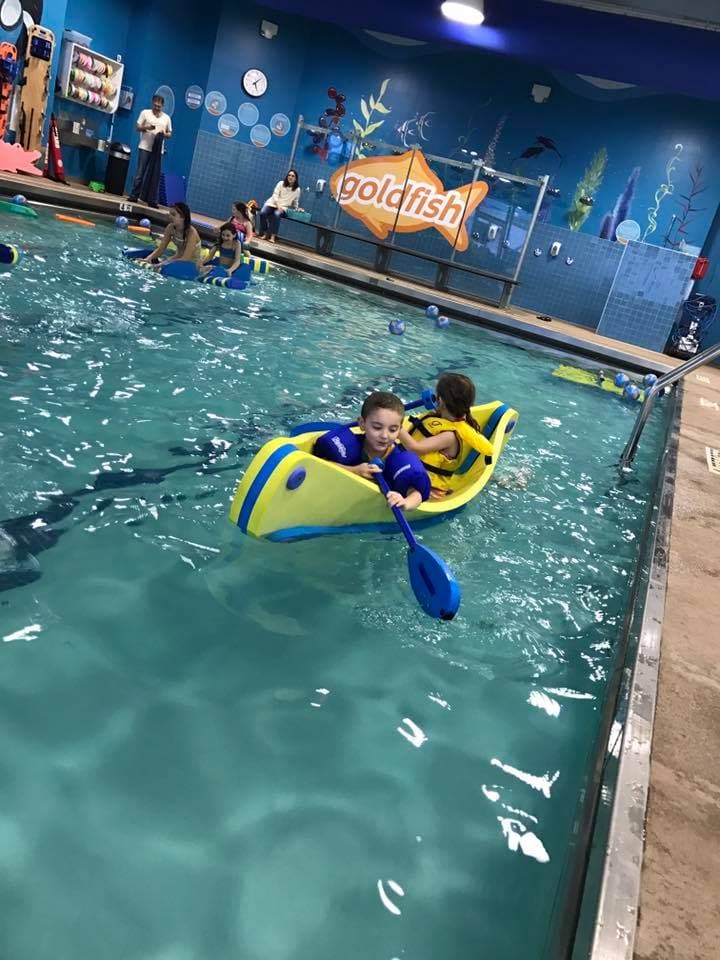 So many fun toys and activities are included inside the pool. From balls and rowboats to slides and floaties – your party group will have so much fun in the water. This is such a perk for party hosts. You don't have to worry about running around trying to find things for the children to use. Everything is waiting for them in the pool already. I'm always looking for EASY and believe me, this party was easy.
Goldfish Swim also takes care of all the food and beverages. You just tell them how many adults and children you are having and they will order your food for the meal. This cost is additional.
Cupcakes are included in your fee – so if you don't want to get a cake, there are sweet treats waiting for your little ones. But here's the deal – it's just the main meal. So, you have to bring appetizers like chips. Otherwise, the won't have any ready for you.
Life vests are also included!! So, if you have swimmers that aren't 100% comfortable in the water. Not to worry! You don't have to go out and buy swimmies.
These will be provided to you once you arrive. This made my party so stressfree. I was nervous about having such a young group come along, but once I Iearned about the vests, I felt so much better.
After the aquatic fun is over, there is an area for the kids to dry up. Changing stations and a dry bar – how thoughtful! Honestly, the blow dryers were half of the fun!!! So many kids got a kick out of this station.
And last but not least – this is a party for active kids who want to get a lot of energy out. Let them swim. Let them race. Let them throw balls to one another. After all, kids will be kids!!!
To book your next Goldfish Swim School birthday party, click here.
*company provided party for review
Related Posts: