In honor of its 30th anniversary, The Little Mermaid has returned and has made a splash this month back into stores for the first time digitally in HD, 4K Ultra HD and on Movies Anywhere. You can get the Blu-ray™ on Feb. 26. So, mark your calendar! If you want to make movie night special, I have an adorable treat to share with you that will even make Ursula belt out a festive song. Not only are these mermaid tail fairy bread treats sweet as can be, but they are also SUPER EASY to make. BOOM! My kind of dessert.
The Little Mermaid Movie Watching Treats – Mermaid Tails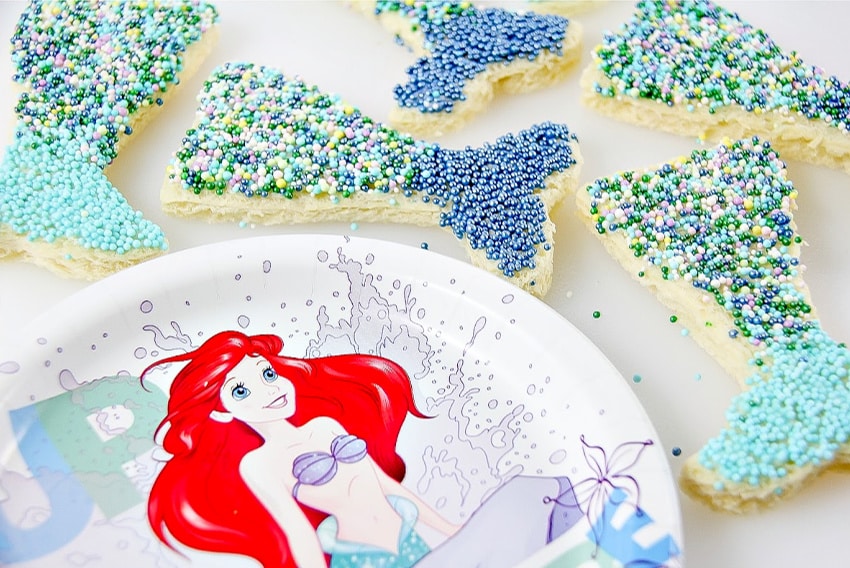 Did you know that fairy bread is a traditional Australian party treat? Essentially, it's nonpareil sprinkled over buttered bread. I prefer to mix up my own combination of colors though for just about every occasion, and using shaped cookie cutters is the perfect way to personalize it for any occasion, just like these mermaid tail fairy bread treats.
The Little Mermaid Fairy Bread Treats –  What You Need:
Bread – yes you can make these gluten-free too.
Butter
Non-pareils: I mixed up my own using light blue, a spring/Easter mix, green, and dark pearl blue
Mermaid cookie cutter (if you cannot find one, a whale and some fish will work too, just cut off the top.
How To Get Started Making These Little Mermaid Party Treats

You can do these a couple of ways:
Make the tail tip a solid color like I did, in which case you'll need separate bowls with those individual colors.
Do the entire mermaid tail in the mix of colors, so you will only need that one bowl full of nonpareils.
Cut out your bread using your mermaid tail cookie cutter.
Tip: Don't throw that excess bread away, turn it into breadcrumbs.
Butter your mermaid tails, and then dip just the end into the plain bowl of sprinkles first, and then dip the rest into the larger multi-colored bowl.
That's it! Told you it was going to be a fun and easy treat. And the kids will love them. What do you think about these Little Mermaid tails? Aren't they adorable? Looking for some Little Mermaid coloring pages to go with this treat? No problem! We have those too.
Pin this Little Mermaid Movie Watching Party Idea