When the weather is on our side, the kids head out to the driveway with a handful of chalk and let their imaginations run wild. These sidewalk chalk games are easy to create and fun to play. In a matter of minutes, your children can create a variety of activities to play alone or with friends.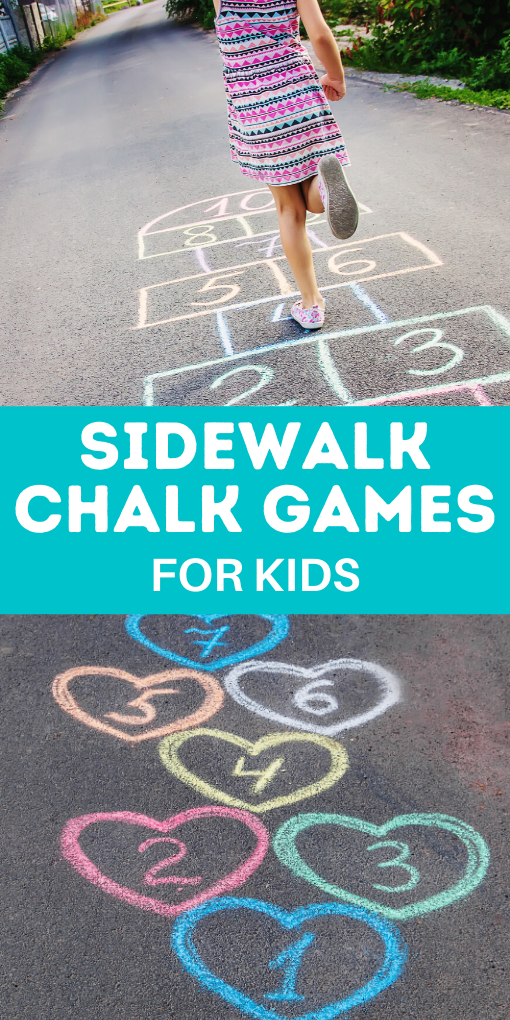 10 Sidewalk Chalk Games For Kids – Outdoor Play
I found 10 games to play with chalk for my own three kids, but I wanted to pass it along to you as well. I think everyone is hoping to get their kids outside more this year.
If you think about it, these ideas are great team building games for kids! Really gets everyone working together to create the course or complete the task at hand. Love it!
Chalk Obstacle Course
There is no right or wrong way to create a chalk obstacle course. Your children can put their own spin on this super fun activity. But I wanted to post this video so you can show them a few super cool ideas.
Every time someone lands on a "square" they have to do the activity that is marked. So, if you are on the "ROAR and STOMP" square… start roaring! It's lots of fun and the options are endless.
Hopscotch
Hopscotch is probably the most famous sidewalk chalk game of them all. In fact, I don't think there is an adult alive that can walk by one drawn on the floor and not jump through by habit. HA!
Chalk Bullseye
Chalk Bullseye feels the horseshoe game, but without having to buy anything! So, easy to do! All you need are a few socks (or a bean bag) and a will to win.
The Dot Game
I could NOT find a video online showing kids playing this outside, but this could TOTALLY be done with chalk. You just need TWO colors of chalk to play this game outside. Players take turns filling up the board until there are no places left to make squares.
Four Square
My children love to play four square at school. They don't do it with chalk. They actually have a little section created out back just like the one featured in the video. BUT, you can create a copy of this game just like this right in front of your house! This is a great sidewalk chalk game option – for sure!
Four Corners
I am from Queens. This was my literal life. We would all choose a concrete block and we would stand on a corner and this was the game that we would play ALLLLLL SUMMMER OMG.
Four corners was MY LIFE. You could easily recreate this game with chalk!
Art Exhibit
What about creating a full-blown art show for the neighbors? Here are 100 easy things to draw with chalk if you don't know where to start. I guess some wouldn't consider drawing part of sidewalk chalk games – but I do.
Related: How To Make Outdoor Chalk Paint
Tic Tac Toe
I couldn't find regular tic tac toe on YouTube using chalk – believe it or not. That makes me want to film a Tic Tac Toe video today because it is NOT ON THE billion video platform. LOL! But… I did find this newer version that uses numbers. Check it out.
Sidewalk Chalk Long Jump
Have competitive friends? Here is a great way for them to work out some energy. Not all sidewalk chalk games have to be so complicated. Sometimes, you just need to outjump one another!
Make A Board Game Made From Chalk
My goodness, where do these people live that their driveways are so big? That is all I want to know! NY has done me WRONG! I love this idea of creating your favorite board games outside and then playing them.
Plus these outdoor chalk games will keep the kids busy for a long time.
10 Games To Play With Chalk
So, to recap! The 10 games to play with chalk that you can suggest to your children are:
obstacle course
hopscotch
bullseye
dot game
four square
four corners
art exhibit
tic tac toe
long jump
make your own board game
I am all about getting the kids outside and away from video games. In fact, I have an entire post dedicated to activities kids can do that don't require a ball. Be sure to check that out as well.
Are you ready to get your kids excited about sidewalk chalk games? Whether your kids draw a line and create their own obstacle course or take over the entire block and make something made for TV – it really doesn't matter. As long as they are having fun!
Summer days are the perfect time to try out a new fun game with friends. And as you can see, I chose all simple games because I have littles as well as older kids. I wanted to make sure to include everyone into the mix. I hope you enjoy these chalk ideas.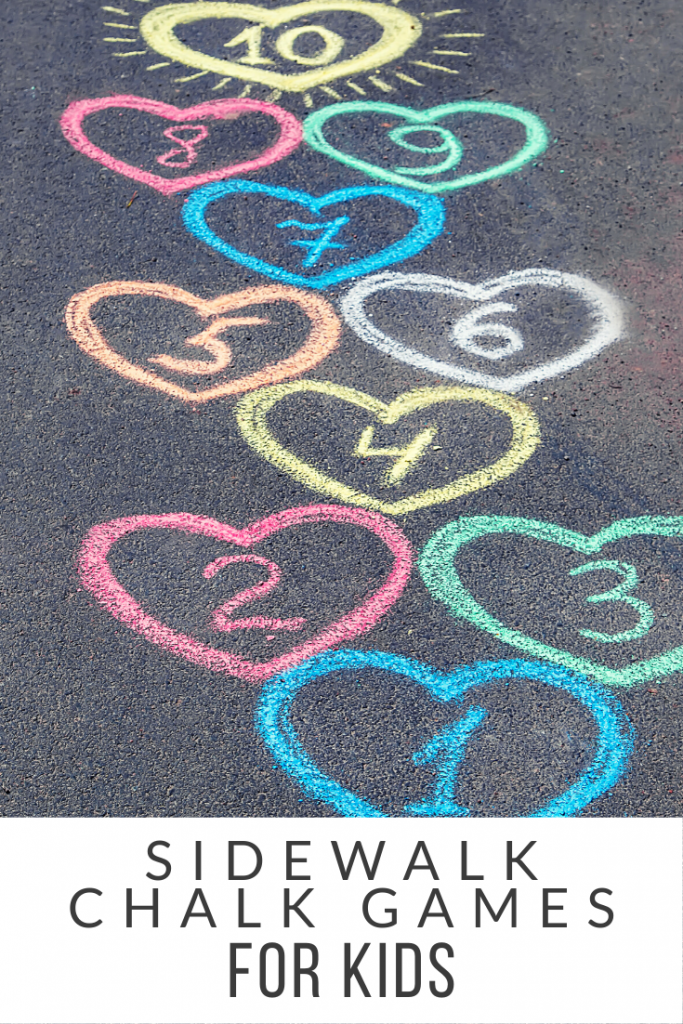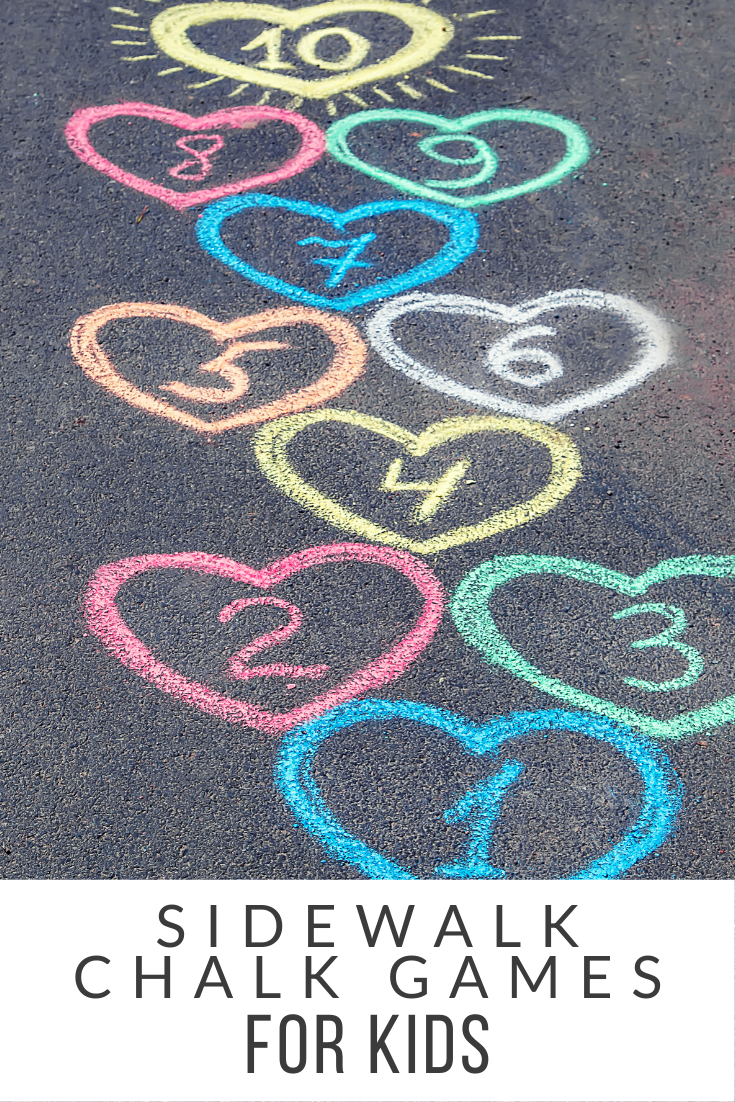 If You Liked These Games With Sidewalk Chalk, Try: