Even though we live in a digital society, coins are still needed for pretty much everything we do. We've rounded up the exact locations where to get quarters the next time you need to do laundry, grab a drink at a soda machine, pay for a toll on the road, or feed a parking meter.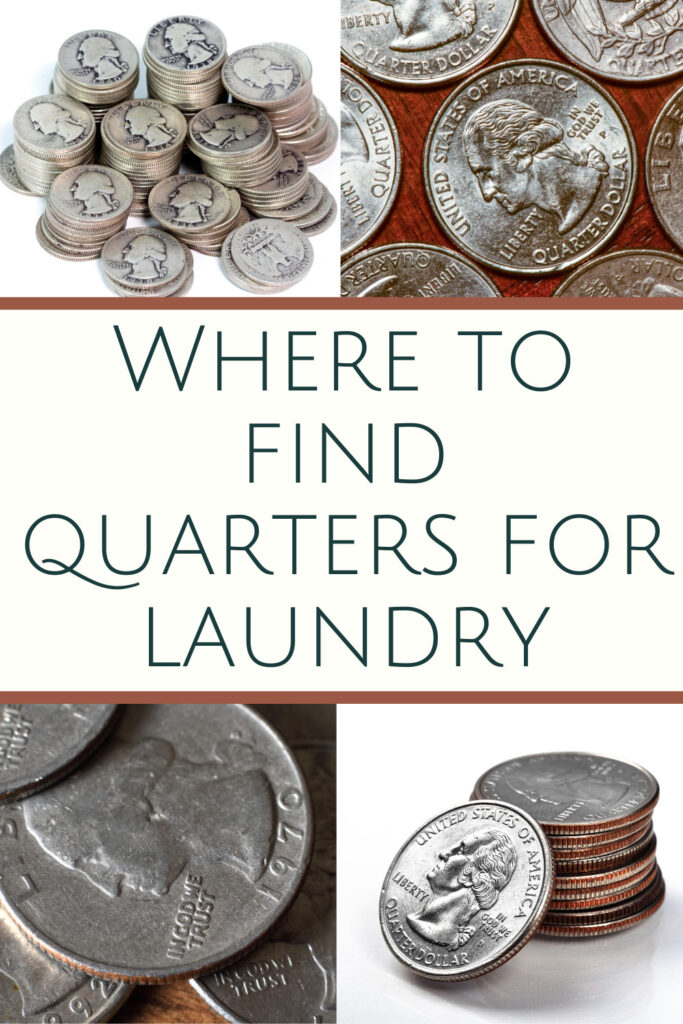 Where can I get a roll of quarters?
These days, almost everything takes place on either credit cards, Apple pay, or some other form of touchless system. Even small purchases like a can of coke can be charged on a credit card.
But, we all know that it's quicker to pay with change in quarters. Loose change is a lost art! Even though the need for quarters may not be so frequent, it's still good to know how to get quarters should the need arise.
Where's the best place to get quarters?
That's why we've rounded up some easy solutions for you to gain access to some coins whenever you need them. If you are wondering where to get coins, this post has you covered. It's not always easy to find a change machine, right?
The Bank
The fastest and easiest place where to get quarters (or a roll of quarters of $10, to be precise) is to visit your local bank branch. Luckily, if have a bank account with the branch, making a simple request for this type of money will be no issue at all. You can always just walk up and withdraw whatever amount of coins you'd like.
Just walk up to the cashier and ask to either exchange cash you have in your hand or make a withdrawal in quarters.
Most banks will exchange money for non-customers, but just to be safe, call ahead, and check specific brand policies. You don't want to make a trip for nothing.
Fast Food Establishments
A fast-food shop is also a place where to get quarters. It's doubtful that they have a customer service counter, so go to the checkout to get your change in coins.
Don't expect a lot, because it's unlikely that you'll get above a few dollars in change. But in a crunch, this is a location that works in high-volume based on a low-cost menu.
You probably will need to buy something to make the cashier want to open up their register. So, work off their dollar menu and grab a quick snack.
Grocery Store
A supermarket/grocery store nearby is also a good option when on the hunt to get coins for laundry. Head straight to the grocery store customer service desk and ask for change.
Again, in this situation, what you will receive back will be limited. But it will get you started! In some grocery stores, you may have to buy something in order for the cash register to open.
Grocery stores (or convenience stores) are perfect if you want a few dollars into quarters. As a reminder, if you require higher than $10, your best bet is to go to the nearest bank.
The bank is the best place where to find quarters. But you could always head to customer service and give them a shot. Even making a proper purchase and asking for cash back is a great option.
Car Washes and Laundromats
The advantage of car wash and laundromats is that most of them are open 24 hours a day, which means you can get change regardless of the time. Tons of car washes and launderettes still need coins/tokens to function.
That's great news for you! And odds are most will have change machines close by where you can exchange a 1 dollar bill into quarters. You can exchange your dollars for coins!
Before swapping your money, ensure the machine won't give you tokens that are only good for a car wash or laundry washing. What a nightmare that would be!
In some launderettes, a load of laundry must be washed before you can get your change. Check local rules and ask the attendant at the service desk.
Get Quarters Delivered To Your Home
As crazy as this might sound, there are also services online that will mail you rolls of quarters right to your house – for an added fee. Basically, for a $10 roll of quarters, you will spend $15.
That is a hefty convenience fee and I'm not sure it's worth doing. But I had to include it as part of this list.
In a pinch, remember that this option is available when you really need it. If you ever HAVE to buy quarters online, it's smartest to do it in bulk because all companies offer free shipping and a slight discount when you get several rolls of quarters at once.
Gas Stations and Pharmacies
If you are a bit far from the city center and an isolated gas station is the only thing you see, you might just be in luck. Pharmacies and gas stations have cash registers and service desks where you can often find small coins.
Again, it'll most likely only worth a few dollars. However, if make a small purchase – like a candy bar – and request for 4 quarters instead of a dollar, odds are they will oblige.
If the gas station or drug store proposes a cashback, you can also make use of this opportunity and receive $5 or $10 back in cash. Just tell the cashier to give you as many quarters as they can spare. But remember, a small purchase always helps in this situation.
Can you get quarters from Coinstar?
A lot of people often think of Coinstair when it comes to money. But you can't get change from a Coinstar machine. It's the opposite. You can turn your loose change and gift cards into cash with Coinstar and Coinstar Exchange!
If you have a ton of change that you are looking to get rid of, bring it to one of those machines and trade it in for gift cards.
Ask a Friend
If you're at work and dying to hit up your floor's vending machine, don't be afraid to just ask around for some loose change. Your co-workers probably have plenty of heavy coins in their purses that they are looking to get rid of.
Just remember to do the same the next time they come knocking on your office door. 😉
Related: Easy Ways To Earn Money At Home – Online Surveys, Rewards Programs, And More
If you're scared of running out of quarters for your next vending machine visit or laundry day, start saving all your loose change at home. Then, when you feel like having a soda at work, grab the coins you need and go!
Your easiest bet to make sure you have more coins in your house is to stop charging everything that you buy throughout the week. We get into such a huge habit of using our credit cards and debit cards- even for gum!
Related: How To Save Money: Easy Money Saving Tips That Anyone Can Follow
Decide to take out a few hundred dollars at the beginning of the week and pay cash for everything you do. Your coin pile will add up before you know it! This is the simplest way to get loose change for laundry. Work off a cash-only budget.
You will always know where to get quarters because they will be in your piggy bank. LOL!
By the way, this also limits the amount of time you need to go running around trying to hop from one store to the next looking for change. Everything will already be in your house. BLISS!
If you have a spouse, make sure they are doing the same as you to double your efforts. Bonus? No large credit card bills at the end of the month, too!