What exactly does Tide HE Turbo Clean mean? Have you ever thought about that? Really – what's the difference between HE and Tide HE Turbo?
It can all be so confusing, right? Well, Tide HE Turbo means a million different things, but one thing is sure – it's a great option for your clothes.
I wasn't allowed to do my own laundry until I was in college and that's not a lie. My grandmother wouldn't let anyone near her washing machine and because of this I actually enjoy doing my wash.
It's a pleasure! She wouldn't always follow instructions and now – as an adult – I thankfully have complete control over my loads.
Tide He Turbo And HE Washing Machines: The Education
My husband and I opted for an HE machine a few years ago because we felt that it was the best bang for our buck. But there's definitely a learning curve.
Here's the thing – I KNOW that I'm doing something wrong when I do laundry. I'm not measuring my detergent dose and without measuring, it really leaves it up to guessing and that's never a good thing! I understand now that by not using the cap, I'm compromising my results.
And I'm not the only one that needs to learn more about their laundry routine. In fact, a recent study from P&G found more than half of HE washer owners got 3 or more facts wrong about their machine, 97% got at least one fact wrong.
For example, nearly half (49%) didn't know that HE detergents actually don't clean clothes by creating more suds with less water. You might think that extra suds aren't an issue… but they really are!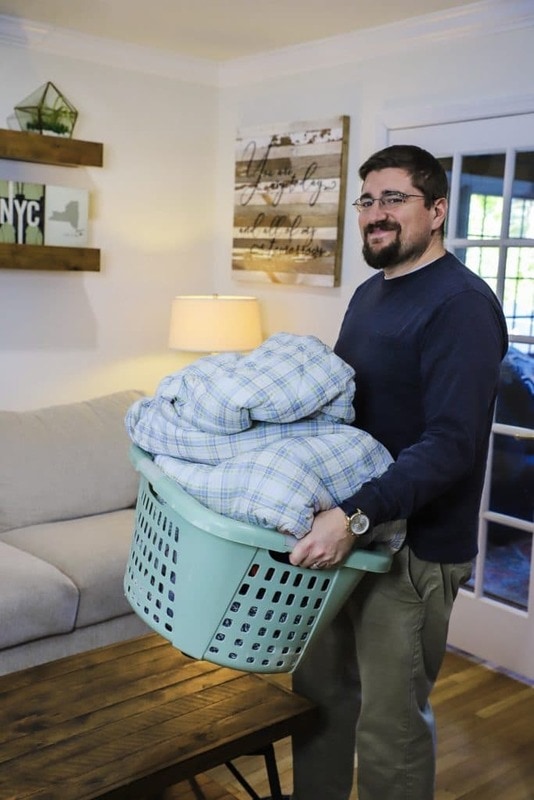 Extra suds don't equal extra clean. Think about when you wash dishes or your hair, you keep rinsing until all of the suds are gone to know that your dishes or your hair are really clean and that the soap is gone.
Well, your super-smart HE machine does the same thing. So, if you have a detergent that creates a lot of suds that don't dissolve, your machine can tell and will end up going into multiple rinse cycles trying to get those suds out or sometimes it just gives up entirely.
What does that mean? It means that your machine will either need to use lots of extra water (and time!) to get the suds out or it will leave some suds behind which end up as a layer of film on your clothes.
That extra rinse cycle means you are wasting water, energy and time. And who has TIME FOR THAT?!
SOLUTION:
I've learned that HE machines are GREAT – if you use them correctly. The formula we pick MATTERS because of sudsing. And listen folks, an HE machine will work BEST if you use the RIGHT detergent AND use the right dosage – that makes for the perfect laundry system.
Too much and you end up like me… too little and you aren't getting a proper cleaning. This is why it's important to just follow instructions (she says to herself).
See, Tide knows there are people like me out there who just can't let go of their old laundry ways. They decided to help us and put out a brand new detergent that is designed to create fewer suds and rinse cleanly in a single cycle.
WHAT!?! Made for ME! Tide HE Turbo will help us maximize the energy and water savings benefits from our machines – without overdoing it with suds.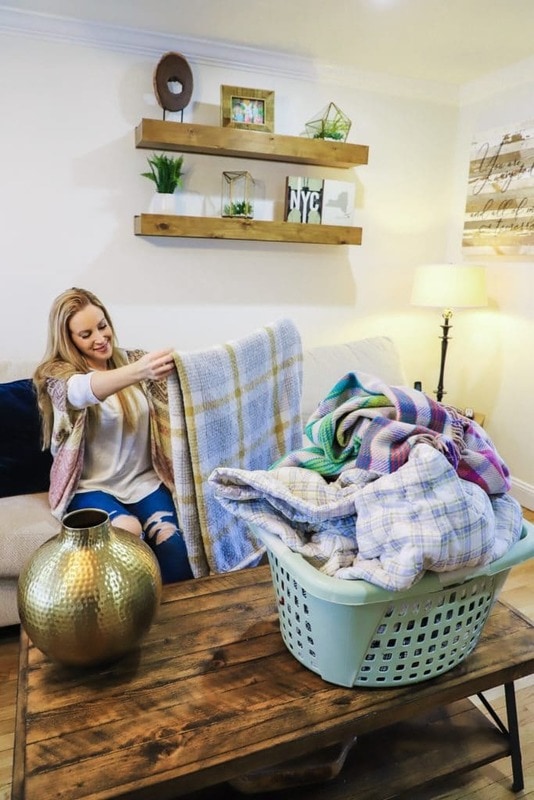 Here's Why I'm Excited To Try New Tide HE Turbo:
DOSE: With the load size of an HE Machine up to 4x larger than a traditional top loader, each load can contain 40%+ more dirt, which requires an appropriate amount of detergent to properly clean. Instead of blindly under-dosing or over-dosing, the most effective solution is to use the recommended dose of a Tide HE Turbo™ detergent, made simple with the newly designed HE Turbo™ cap. Boom.
CLEANING TIME: (Are You Ready For This?) A single cap of Tide® HE Turbo™ in the quick wash cycle cleans just as well as 6 cups of competitor detergent in normal wash cycle. WHAT?! That means you can start using the quick wash cycle.
I NEVER USE THE QUICK WASH CYCLE!!!! This is borderline life-changing. When I do laundry – it's a FULL DAY AFFAIR. Now, I can spend less time at home getting my family's clothes clean and more time getting them dirty. 🙂
The Official TEST:
Tide® HE Turbo™ starts hitting shelves on March 2nd. I've given you a little sneak peek about the product. What do you think about the new TIDE HE Turbo? Are you super excited to try it for yourself?
I love when companies see an issue that is occurring and create products to FIX IT. Too many suds? No problem! Tide has us covered. Spending too much time doing a wash? They'll take care of that too. WOOT! I'm going to test out the new Tide HE and let you know how it goes.
Stay tuned – I am going to show you exactly what I'm talking about in my next post. (And hey – if you want to take the Tide HE test, I'll have a giveaway for you on that second post as well) For more information about Tide HE Turbo, click here.
*I've teamed up with Tide to spread the word about Tide HE Turbo.
Related Posts: