What exactly does Tide HE Turbo Clean mean? Curious about the difference between HE and Tide HE Turbo? Tide recently introduced a new product to the market that will revolutionize the way we do laundry. Less suds, same clean.
Tide HE Turbo is a great option for your clothes because it was made by one of the most trusted names in laundry. I had the chance to head to Cinncinati and tour the labs where this new product was developed and learned a thing or two about conception and design.
What's The Difference Between Tide and Tide HE?
Believe it or not, the regular Tide formula and the Tide HE formula actually have the same cleaning ingredients. They are comprised as the same exact PUNCH – so to speak. The only difference is that the HE detergent is formulated to be low-sudsiding.
With HE machines, you will use less power and less water. You don't need as many … bubbles or soap to operate. It is a highly efficient formula that does the same kind of cleaning magic that works specifically in energy-saving washing machines.
So, if you are a Tide fan, then you will love their new HE Turbo.
Tide He Turbo And HE Washing Machines: The Education
My husband and I opted for an HE machine a few years ago because we felt that it was the best bang for our buck. But there definitely was a learning curve.
In the beginning, we were still using too much detergent because we always thought more was better. Isn't that a human's life motto?
With laundry and soap, that's just not the case. A recent study by P&G found that I am not alone. They learned that more than half of HE washer owners got 3 or more facts wrong about their machine, 97% got at least one fact wrong.
For example, nearly half (49%) didn't know that HE detergents actually don't clean clothes by creating more suds with less water. You might think that extra suds aren't an issue… but they really are!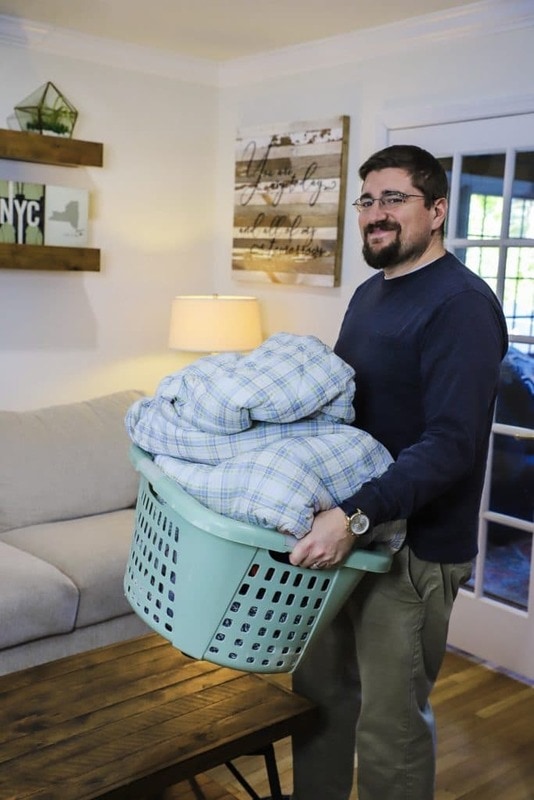 With HE machines, you aren't necessarily looking for a ton of suds. They don't need it! In fact, their detergents are designed to clean without having to fill your machines with bubbles. This was a learning curve for me as a mom.
What Does HE Turbo Mean?
Turbo means fast. So, this product is designed to get you through your chores quicker and using less resources. HE Turbo Clean is specifically designed for HE washing machines and will help you save time, water and energy.
How? By using proprietary, quick-dissolving Smart Suds™ technology! Science. Science. Science.
Can I use Tide HE Turbo in regular washer?
If you wanted to use Tide HE detergent in a regular washer, just know it is possible. But your washer isn't really made for HE detergent.
Remember, HE detergent was designed for energy-saving machines that use less water during the rinse cycle. Your REGULAR machine doesn't care about any of that. If you use a small amount of this product, you might not get the full cleaning benefit that an HE machine would.
If you have a regular machine, stick to regular detergent.
Tide Turbo Clean
HE machines are GREAT if you use them correctly. Choosing the right detergent and using the proper dosage will create a perfect laundry system that will suit your needs.
Too much and you end up like me… too little and you aren't getting a proper cleaning. This is why it's important to just follow instructions and not try to reinvent the wheel.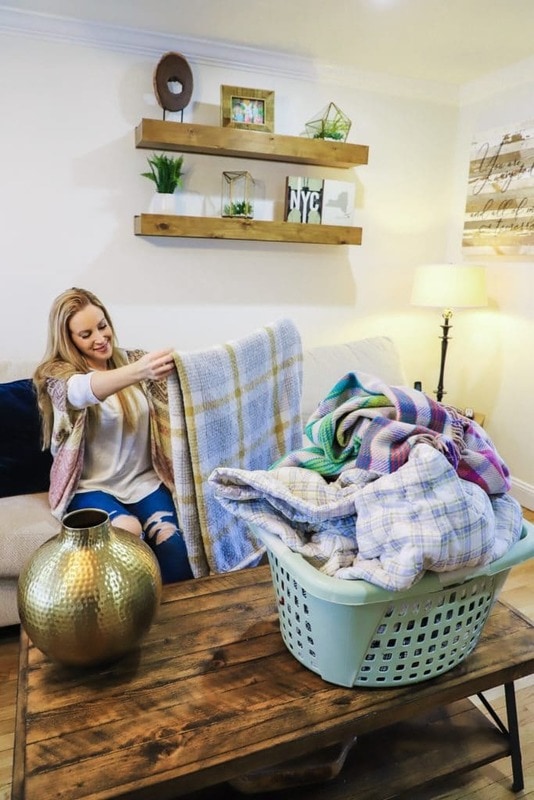 Here's Why I'm Excited To Try New Tide HE Turbo:
DOSE: With the load size of an HE Machine up to 4x larger than a traditional top loader, each load can contain 40%+ more dirt, which requires an appropriate amount of detergent to properly clean. Instead of blindly under-dosing or over-dosing, the most effective solution is to use the recommended dose of a Tide HE Turbo™ detergent, made simple with the newly designed HE Turbo™ cap. Boom.
CLEANING TIME: (Are You Ready For This?) A single cap of Tide® HE Turbo™ in the quick wash cycle cleans just as well as 6 cups of competitor detergent in normal wash cycle. WHAT?! That means you can start using the quick wash cycle.
I NEVER USE THE QUICK WASH CYCLE!!!! This is borderline life-changing. When I do laundry – it's a FULL DAY AFFAIR. Now, I can spend less time at home getting my family's clothes clean and more time getting them dirty. 🙂
The Official Tide HE Test
I am happy to say that I have tested out Tide® HE Turbo™ for several weeks and am covered! The product officially hits shelves on March 2nd. What do you think about the new TIDE HE Turbo? Are you super excited to try it for yourself?
*I've teamed up with Tide to spread the word about Tide HE Turbo.
Related Posts: