I've been a mom for 12+ years and I can tell you with absolute certainty that concern over home safety never goes away. It doesn't matter if my child is 2 months old or 12 years of age, I will permanently remain on high alert. It's important!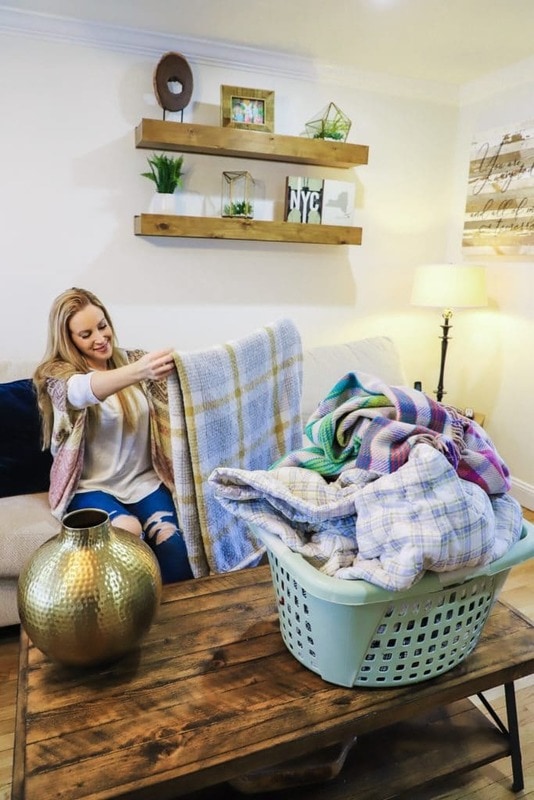 That's why I love to read home safety checklists because they make me feel like I am moving in the right direction. Have I missed anything? A second set of eyes never hurts, right? Home safety checklists are great reminders for anyone with children.
Today, I wanted to share with you my top ten home safety checkpoints. This list has a focus on the sections in your house that you should pay extra close attention to as a parent, like the laundry room.
I teamed up with my partner and best friend, Audrey McClelland, and came up with this printable for you to download for free. Reference it as needed and ensure you focus on those hot zones as often as you can.
This safety checklist focuses on all the important areas of our lives. Whether we are cooking or cleaning, entertaining or decorating – our children should always remain top of mind. One of the best advice I ever received from a fellow parent was super easy.
Get down on your knees and view the world like your toddler. Makes so much sense, right? Only then would I be able to see all the dangers that I easily pass by standing at my normal height.
We tried to think in this same fashion – think like a child. What interests them? What would draw them in? How does their curiosity differ from that of an adult? It all matters. Ok!! Let's break down the home safety checklist.
Top Home Safety Checklist
Store Charging Cords: Make sure all cords for your phones, tablets, and electrical devices are stored out of sight and out of reach from children.
Secure Screens: Make sure all screens in your house – desktop computers, TVs and gaming systems – are secured with brackets.
Small Items: Ensure small items aren't around for little children to put in their mouths – pennies, small toys, batteries, etc.
Laundry Safety: Make sure you keep detergent up high and stored out of sight from kids.

I love the Tide Child-Guard packaging because it provides an extra safety measure. The Child-Guard packaging is available on all Tide PODs products.

Gating Systems: If you have staircases in your house, please make sure you have a gating system in place.
Cabinets: Make sure you have a lock system in place on all cabinets in your house, especially ones that have chemicals inside of them.
Window Treatments: Make sure all cords hanging from window treatments are safely secured high up so children can't play with them.
Sharp Objects: Make sure all sharp objects are stored away from children.
Cover Outlets: Make sure all electrical outlets are covered.
Cooking: it's always safer to use the back burners when preparing food on the stove for extra safety.
As members of the Tide Fabric Care Advisory board, we love to talk about laundry safety – it's important to think about your laundry room and laundry detergent as you would with other rooms and household items. In fact, we pride ourselves in staying on top of the latest and greatest from the industry.
P&G is constantly reinventing packaging and better quality checks to ensure a safer experience for you and your family. I love that about the brand. Not only does Tide Pods make my life easier, are convenient, and they clean my clothes like no other brand, but Tide also cares about safety and education for their consumers. You can't ask for anything more!
Would you like to download this home safety checklist? Click here and then print! What do you do to ensure home safety in your house? Would love to hear!
*In partnership with Tide
Related Posts: