I love CVS! My CVS bill this week would have been $1.50 for all of these beauty items – but I needed that pill case which ran me $4.29. DAMN YOU PILL CASE FOR RUINING MY TOTAL!!! 🙂 LOL! Either way, there is no better place to bargain hunt than this place.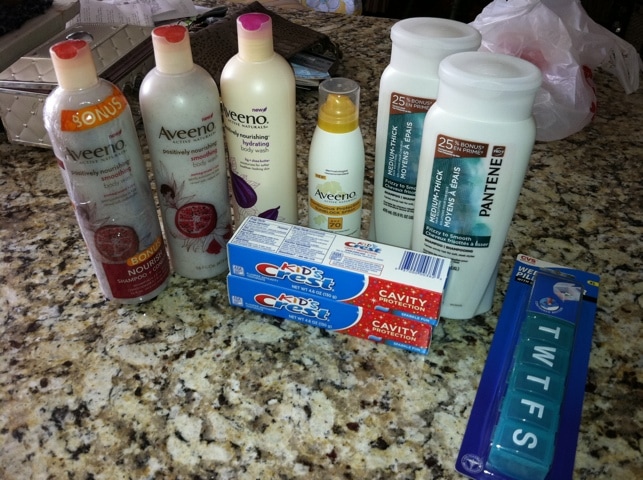 Ps – when I scanned my card I got $5 ERB from their machine. So that was awesome!
Ok here are my deals. Are you ready for this? I LOVE CVS!
Pantene – 2/$6.97 -I had a $3 coupon off PLUS I got $2 ERB
Aveeno – Spend $25 and get $10 in ERB. I had a buy 2 get 1 free body wash, and I had a $2 coupon for their sunscreen. Worked out to be $7 out of my pocket for 4 Aveeno items.
Kids Crest – $1.99 but you got $1 back. I had a $1 off of 2 coupon. So I ended up getting $2 ERB back for this one
I also received a $5 off $25 coupon in my email this week which I used. After all my coupons, I spent $5.65 AND received $14 in ERB for next week.
If you check the receipt, I saved $52 this week! Want more CVS deals?