We are potty training Caleb right now and thank goodness for Pampers Easy Ups Training Underwear. It is an entirely different experience than with my other two children and thank goodness for Pampers Pull-Ups! I don't know where I would be without them.
Caleb is taking much longer than I anticipated. Getting from diapers to underwear is turning out to not be an easy feat. Thank goodness I have some tools at my disposal to help ease the way.
New Pampers Easy Ups Training Underwear: 360 Degree Underwear Like Fit
In order to get my son excited about the whole process, Pampers decided to send him an underwear training surprise and we had so much fun filming the unboxing.
Take a look at the video to see what new changes were made to the Pampers Easy Ups to help make your potty training experience a more pleasant one for all. Pampers Pull Ups are just what we were hoping for.
We all know that potty training starts with the very first pair of training underwear, right?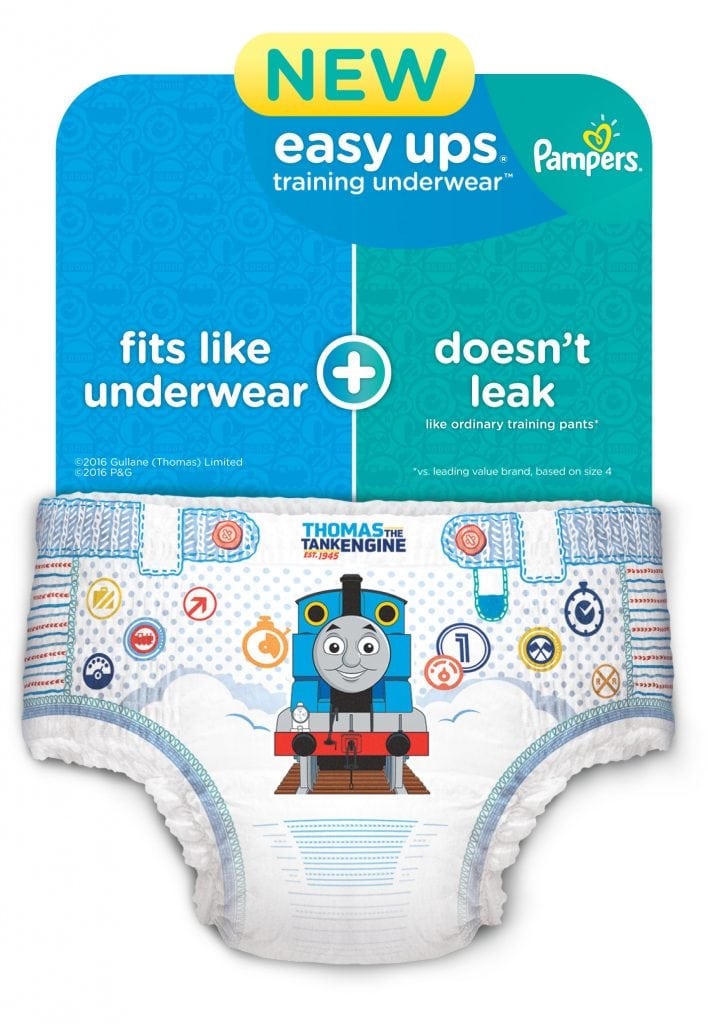 New Pampers Easy Ups are the easiest way to underwear and help little ones and their families during their potty training journey. And don't we all need all the help we can get? LOL!
Easy Ups fit, feel and look more like real underwear while providing the outstanding leak protection you'd expect from Pampers. Your little ones will think it's underwear, but you'll know it's Pampers.
I also love that their favorite characters are on the Easy Ups. Caleb just LOVES Thomas and Friends and now he gets to hang out with them all day long.


Because Pampers Easy Ups are special, they shouldn't be treated like diapers. Your child should look at them more like underwear.
Consider placing them in your child's underwear drawer so they realize that they shouldn't go to the bathroom in them. Connecting underwear with Easy Ups will be that much easier if your child sees them together at all times.
What can you Expect When Purchasing New Pampers Easy Ups?
Fit like underwear (360 degree stretchy waistband)
Feel like underwear (cottony feel on the outside)
Look like underwear (Thomas the Train and Dora the Explorer graphics all the way around the pant)
While having the protection of Pampers
The biggest change I noticed with new Pampers Easy Ups is the 360° stretchy waistband. This provides an underwear-like fit that's easy for your toddler to pull up and down.
Easy Ups are also super soft, like cotton underwear, to keep your toddler comfortable. And don't worry! Easy Ups still tear easily at the sides just in case it's needed.
Ready for a Pampers Pull UPs Coupon?
Looking for a $2 off 1 coupon good towards a pack of new Pampers Easy Ups Training Pants? You can clip the Pampers Easy Ups coupon at: http://www.coupons.com/brands/pampers-coupons/

Visit www.pampers.com to learn more about Pampers products, join the Pampers Rewards program, and find ideas and information to help your baby get the most out of love, sleep and play.
*This is a sponsored post
Related Posts: