A few years ago, Pampers created their Pampers Rewards program to reward you for every dirty diaper changed. As a parent, we know you've purchased your fair share of diapers! Are you taking advantage of this reward program, yet? You MUST! Especially since they have made it so easy to scan the in pack codes with a brand new must-have APP making the app a breeze to use.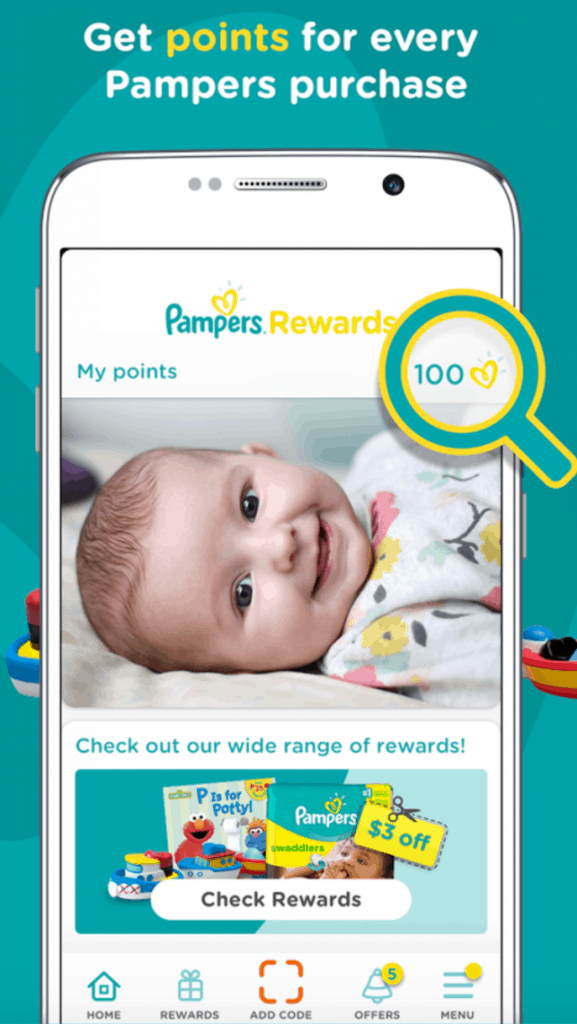 My Pampers Rewards Program
Can I make a confession? I didn't use this program with Caleb and I so regret it. I am such a coupon and deal fanatic. I sign up for every store member card that I can find. Racking up points is my slow jam!
I just never jumped into the Pampers Rewards program and I don't want you to make the same mistake because … let's be honest… we go through a LOT of diapers. It's part of being a mom or dad. You might as well get rewarded for your actions. LOL!
a Must-Have App for Parents
Pampers Rewards is a loyalty program available via a mobile app – a must-have app, in my opinion – that can be downloaded for Android or iPhone. Collect and redeem points to get gifts and coupons for you and your little one. Plus, new and existing members will get 100 points just by downloading the app and signing in! YAHOO! It is FREE to join and easy to enroll in. Click here to get started.
You won't need to carry around any membership cards with you. You just need your phone. And… who doesn't have their phone with them on a regular basis! LOL!
Earning points is EASY. Every time you purchase a Pampers product, open the app and scan the in-pack codes to earn points instantly. For certain wipes products, manually enter the code found on the bottom of the pack. Add up the points and redeem them for coupons and gifts.
The Ultimate #momhack (Or #dadhack !)
This summer, grab your app and start scanning your Rewards codes so you can redeem your points for the great items in the completely revamped Rewards catalog. It's a must have app if you have children in diapers. Now is the time to start reaping those rewards.
Say hello to the scanner!! It's so much easier to get the codes into your account now. Just point, shoot and log. Pampers can't make it any easier. They WANT to reward you for being their customer. LET THEM!!!
Example Of Rewards
I know you are probably curious to hear about what type of rewards the diaper brand has available through the app. There's everything from social good opportunities to coupons to free subscriptions and more! Family-centric and with your children in mind, Pampers has a wonderful array of options available.
Get Started Today
What are you waiting for?! Download the new and improved program app TODAY.
This post has been sponsored by Pampers. All opinions are my own.